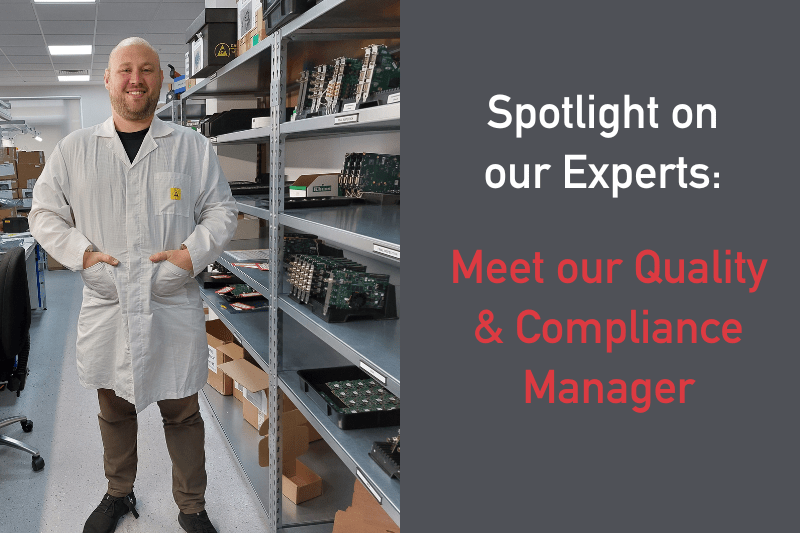 Spotlight on our Experts: Achieving Operational Excellence
June 28, 2023
For this chapter in our "Spotlight on our Experts" we spoke with Christian, our Quality and Compliance Manager, about his role at Active Silicon and how he ensures that we meet the consistently high standards expected by our customers and partners.
You joined Active Silicon just under a year ago, what have been your priorities since coming on board?
Fundamentally, my role is to ensure that the business meets customer and regulatory requirements. To achieve this, my priorities are to maintain our ISO 9001:2015 and ISO 14001 certification, and upholding the company's Quality Policy, and within this to seek continual improvement.
What does your role entail, day-to-day?
The role is incredibly varied. I work closely with all our staff to support the certifications we hold. In one day I could be working with R&D, Supply Chain, Operations and/or Finance.
It's my responsibility to ensure that the company understands and meets its commitments and so maintaining the Quality Management System is a large part of the day job. Additionally, I have to keep myself updated on relevant regulations and industry standards applicable to electronics manufacturing, so watching out for up-revisions is crucial.
I conduct regular internal audits to make sure all processes are giving consistent, expected outputs following the process approach as laid out in the ISO 9001 standard. Plan, Do, Check, Act is the mantra I encourage at the company.
The quality of products we source also comes under my remit, and so I'm always working closely with our suppliers and partners to ensure we get things right.
How has being part of the larger Solid State group changed the role of Active Silicon's Quality & Compliance Manager?
It's actually been really useful to work with other business units within the group to see how they ensure compliance through their manufacturing and supply chain. While we operate with a degree of independence, there are definite advantages in being able to call on a larger pool of expertise in some circumstances. Of course, it also means more work for me as any dealings we have throughout the wider group also have to meet our standards, and I have to have oversight of that too!
What about activities going forward?
As a business, we're always looking to continuously improve. It's my job to identify opportunities for process improvement to enhance product quality and optimize manufacturing efficiency.
We have set up our company processes to gather feedback from internal and external stakeholders so we can always be taking advantage of these opportunities. Finding out how we're doing now is the first step to improving.
What do you enjoy most about working at Active Silicon?
When I joined, I found that the operations team had a strong ethos for quality and they were happy to engage with the processes required to keep our production standards so high. It's also been great to have regular contact with our suppliers, and a recent trip to Poland helped cement our relationship with a leading supplier which makes addressing any issues that may arise in the future a lot easier.
Christian is a crucial link in our business, ensuring the goods we buy in are of the highest standard, that our staff are empowered to champion quality, our efficiency is optimized and, overall, that our products precisely meet our customers' needs. Our customers depend on the reliability and suitability of our cameras, frame grabbers and embedded systems to build first-class devices for highly regulated industries, and this wouldn't be possible without Christian's diligence.
See more of our certifications and accreditations, and get in touch to see how our computer vision products could enhance your vision application.