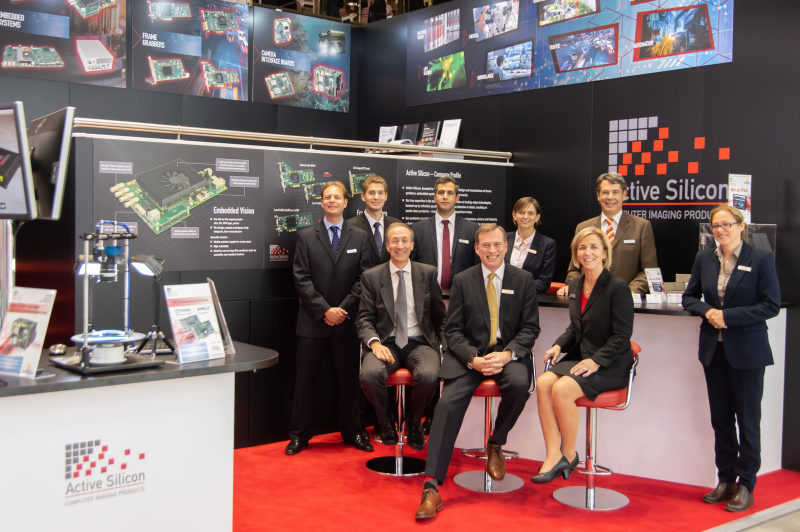 Being Visionary in 2018
November 13, 2018
The Active Silicon team, like many of you, have just returned from Stuttgart and the VISION 2018 show. The tag line of the event was "Be Visionary" and we certainly saw some interesting examples of this in the exhibition area. According to the organisers, the machine vision market in Germany grew 17.5% last year and this was reflected in the excellent attendance, with 472 companies exhibiting at the show from 31 different countries. Enhanced conveyor systems and robotic solutions abounded, suggesting that machine vision OEMs are certainly taking industrial automation seriously. The automotive sector is also playing its part in this growth as it's one of the fastest expanding markets for embedded systems, however, many more traditional users of machine vision are finding that this is adding increasing pressure on an already stretched supply chain. Deep learning is becoming more accessible and easier to implement; several start-ups attended alongside established providers to share new software developments.
Speeding up image processing
We had a great deal of interest at our booth from a variety of companies looking to increase the processing speed of their vision systems. Our live demo of processing using a frame grabber in combination with a GPU answered many questions and offered a solution to several OEMs needing to acquire images at increasing speeds. Production lines are moving faster than ever and it's increasingly important that inspection and quality control does not become a point of hold-up. See our GPU processing resource page for more details on just how much faster processing via a GPU could make your system. Our newest FireBird frame grabbers support the latest CoaXPress v2.0 standard, offering data rates up to 12.5 Gbps through each link.
Reaching further
Also attracting attention was our Harrier demo – visitors could see in reality the excellent image quality sent in real-time over long cables using our revolutionary camera interface board. Transmitting digital or analog signals over coax cables of up to 700m is now possible using a combination of our hardware and HD-VLC™ technology – watch our video to understand more. This application has been developed with the pipe inspection market in mind but is also ideal for industrial inspection in general, surveillance, nuclear facility management and other sectors.
The overriding certainty that we all left VISION with is that machine vision is booming. Exciting new technologies are entering the marketplace opening up previously inconceivable opportunities. Adoption of these technologies is expanding both within traditional sectors and across more diverse ones. Now we'd better get back to working on our own industry-leading visionary products!