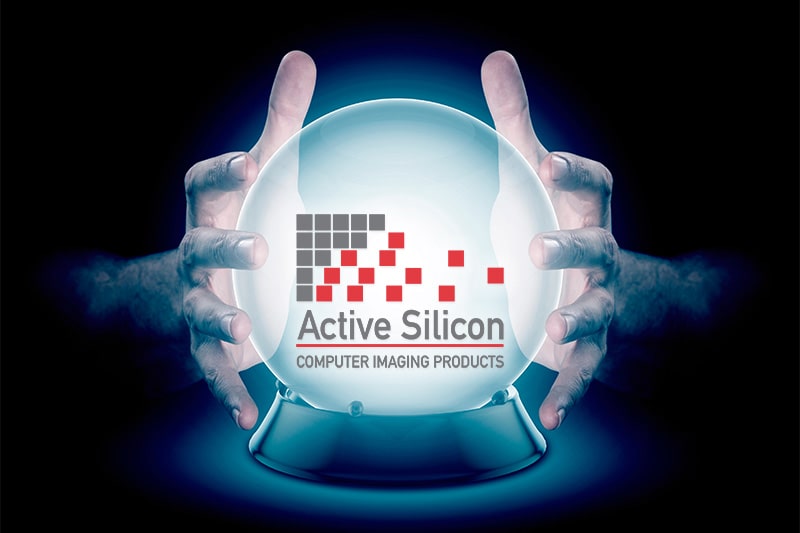 Outlook 2021
February 2, 2021
As the world looks to recover from the economic and emotional impact of a global pandemic, Active Silicon is proud to be forging ahead with new innovations and renewed energy. We take a look our journey to 2021 and expectations for the year ahead for Active Silicon and the wider machine vision industry.
The road to 2021
Following a record year in 2018, 2019 was also strong for Active Silicon – we achieved double digit sales growth, the open order book grew steadily and in February 2019 broke the company record for order book value. When the pandemic took hold in early 2020, we braced for a difficult year and, indeed, the start of the financial year was challenging as we adapted to new methods of operation and unpredictable fluctuations in orders. However, by the end of 2020, sales were back to a "normal" level and we fulfilled a record number of orders in September and October, continuing to support both our regular customer base and service new business. We're particularly proud of how our Business Development Manager for the Asia Pacific Region, Ye Liu, was able to continue to support the APAC market and contribute to the growth in China that's likely to be reflected worldwide in the coming months.
New machine vision solutions
Product development at Active Silicon has continued apace through the pandemic, and 2020 saw the release of several pioneering camera solutions as well as improved frame grabbers.
Our Harrier family grew, with a new USB/HDMI interface board and a range of innovative autofocus-zoom cameras. Camera features include multiple output options, compact size, global shutter, powerful zoom and our own range of Harrier cost-effective block cameras. Our interface boards offer USB/HDMI, 3G-SDI and HD-SDI outputs, and are compatible with Sony, Tamron and other block cameras. Our compact autofocus-zoom cameras have been particularly well received in applications requiring high-speed image processing over long cable lengths including remote monitoring and industrial inspection.
The 4xCXP-12 acquisition card (PCIe Gen3 x8; CoaXPress v2.0) is our newest frame grabber. With speeds up to 12.5 Gbps per link, it supports the fastest cameras on the market and allows acquisition of high-speed, high-resolution images in real-time. The board is ideal for single or multi-camera solutions in high-speed industrial inspection applications.
What's next for the wider industry?
AOI is definitely driving growth in the machine vision market as well as robotics become more widespread and adaptable. Our Harrier and BlueBird products offer a range of solutions as the world electronics sector develops and requires faster and smarter devices. We predict growth across 3D vision and robotic applications as well increased demand for embedded machine vision and edge computing products.
The requirement for more computing power to manage larger amounts of data in 3D imaging means that products must be able to process faster and smarter – this is where frame grabbers add value.
Embedded machine vision solutions also require higher compute power in ever smaller packages and our Harrier and Bluebird product development is focused on addressing these needs while offering a variety of outputs to support varied (including legacy) vision systems.
Wider availability of more affordable sensors from manufactures such as Sony is driving the adoption of hyperspectral imaging across a broader array of applications and it's no longer seen as an expensive or complicated solution. This ease of implementation will boost sales and development in many industrial settings.
What's next for Active Silicon?
Our goal through 2021 remains to release more products in our Harrier range of cameras and interface boards to offer ever smaller, faster processing with multiple output choices. We're also excited to be preparing for the release of our Harrier H.264 IP camera processor boards for edge computing which will widen our target market even further. A new product range of video adapters, the BlueBird range, was launched with the BlueBird SDI Adapter as first product and more to follow soon. Additionally, we'll be innovating our frame grabbers to meet the increasing need for speed in vision systems.
At Active Silicon, we continue to build on our strengths and ensure that our cameras,  embedded systems and frame grabbers offer robust, reliable and customizable solutions. Watch for new product announcements over the coming year and please do contact us if you have any requirements for a specific type of video adapter.
Let us add speed, accuracy and efficiency to your vision system.