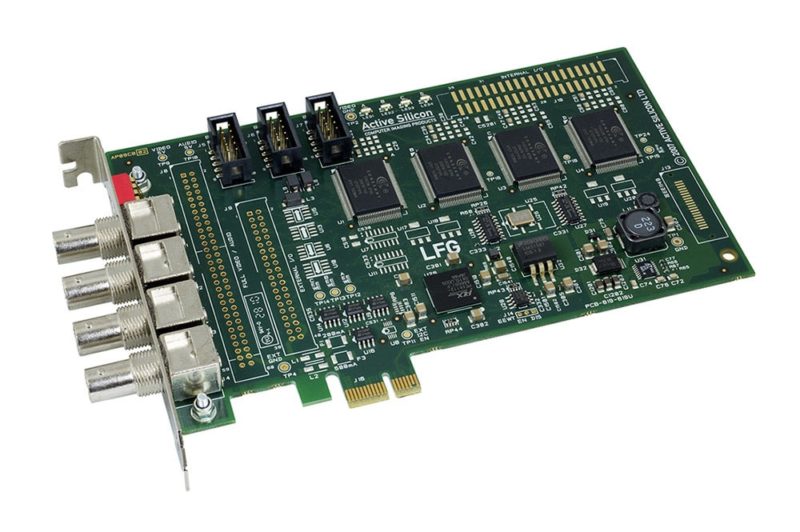 Click image to enlarge
Analog Quad Channel Frame Grabber (MM)
Part Number: Part Number: AS-LFG4-MM-PE1
Designed for multimedia applications.
Acquires standard 50Hz or 60Hz analog video (mono / color).
Maximum PCI Express burst rate of 190 Mbytes/sec.
Optional expansion allows up to 16 inputs on BNC connectors.
Windows, Mac OS X, Linux support.
RoHS compliant.
Enquire About This Product
Description
Downloads
LFG4 combines four of Active Silicon's proven LFGs into one card, allowing simultaneous acquisition from four cameras. Even if simultaneous acquisition is not required, LFG4 allows successive acquisition from the four sources without the synchronization delay normally expected. The LFG4 is software compatible with existing LFG applications.
Full resolution color (PAL / NTSC / SECAM) or monochrome images are digitized in real time and transferred into system memory under master mode DMA without any software intervention.
There are four BNCs fitted as standard, to allow four composite/monochrome sources to be digitized simultaneously, each of which has a switch to select an optional 75Ω termination. Expansion connectors allow three additional sets of four BNCs to be fitted (again with termination switches). These expansion connectors allow four out of sixteen composite/monochrome sources to be digitized simultaneously.
Raw video data may be optionally converted into one of several formats suitable for image processing or direct display. These include 32-, 24-, 15- and 16-bit RGB (using the internal colorspace converter and formatter), as well as grayscale and YUV 4:2:2. Image transfer is done by DMA in hardware with no CPU intervention, along with optional hardware de-interlacing, region of interest generation and scaling, thus requiring no software overhead.
All hardware is provided with a one year warranty.