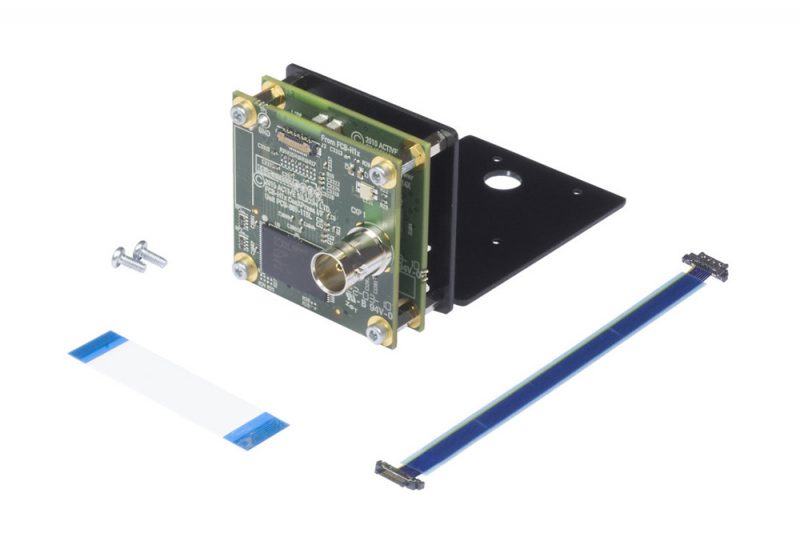 Click image to enlarge
CoaXPress digital interface kit for Sony FCB-H11
Part Number: AS-CXP3-IFKIT-A
Single coax solution for interfacing to Sony FCB-H11 or FCB-H10 block cameras.
Includes interface board, cables, and bracket.
Uses the digital output on the Sony FCB-H11 to give optimum image quality.
Supports all HD modes of the FCB-H11 – 1080i and 720p at 50Hz or 60Hz – in real time.
Single 2.5 Gbps CoaXPress link.
Compatible with FireBird CoaXPress frame grabbers with support for various operating systems.
Compliant with CoaXPress-TD protocol.
RoHS compliant.
Enquire About This Product
Description
Downloads
The Active-FCB-CXP is a complete interface solution to acquire digital images directly in real-time from the Sony FCB-H11 and FCB-H10 series of block cameras.
This interface module provides a cost effective solution to take full advantage of the high definition digital video provided by the Sony FCB-H11 and FCB-H10 block cameras. Unlike alternative solutions which re-digitize the analog output from the camera, this solution directly connects to the camera's digital output to provide superior image quality. All camera HD modes are supported e.g. 1080i/50Hz, 1080i/59.94Hz, 720p/50Hz and 720p/59.94Hz.
The kit consists of the small interface module, a mounting bracket and cable.
Active Silicon can also supply a range of video capture cards for interfacing to this module. As well as zero CPU acquisition, these cards provide serial communications and access to the camera's reset line for control of standby mode. These cards are available in a range of formats – not only standard PC formats (PCI & PCI-Express) but also in compact form factors such as PCI/104-Express for embedded applications.