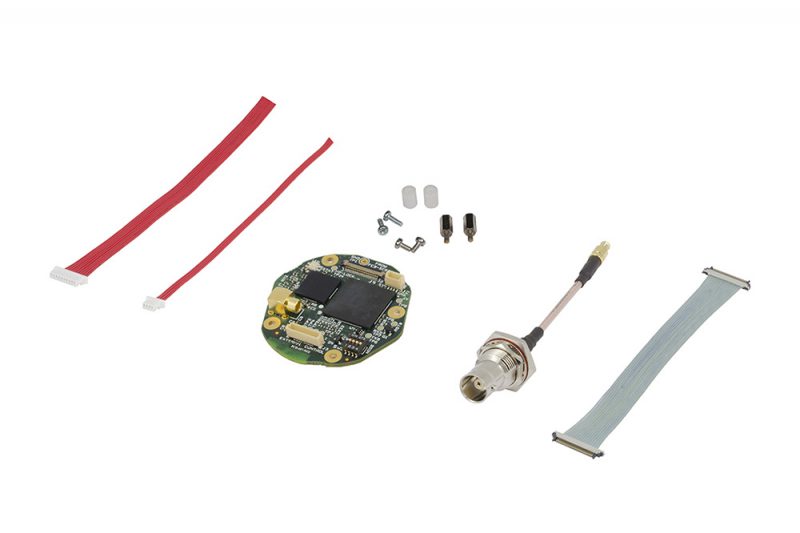 Click image to enlarge
HD-SDI digital interface kit for Sony FCB-SE600
Part Number: AS-HDSDI-002-IFKIT-A
HD-SDI interfacing solution for the Sony FCB-SE600.
Includes interface module, cables and mounting kit.
Minimum order quantity is 25 units.
Uses the camera's digital output to give optimum image quality.
Supports all available HD modes – 1080p, 1080i (PsF) and 720p at 25Hz, 30Hz, 50Hz and 60Hz.
Compliant with SMPTE 274M and SMPTE 296M.
Video mode selection switch and built in test pattern.
RS-232 communications port for camera control.
Hardware focus and zoom controls.
Compatible with Active Silicon's frame grabbers.
RoHS compliant.
Enquire About This Product
Description
Downloads
The Active FCB-SE600-HDSDI is a complete interface solution to provide real-time HD-SDI video from the Sony FCB-SE600 camera.
This interface module provides a cost-effective solution to take full advantage of the high definition digital video provided by the Sony FCB-SE600 block camera.  The interface board connects directly to the camera's digital output to provide superior image quality.  All camera HD video modes are supported: 1080p/30, 1080p/25, 1080i/60 (30 PsF), 1080i/50 (25 PsF), 720p/60, 720p/50, 720p/30 and 720p/25.
A DIP switch located on the rear of the module allows the HD video mode to be changed without the need to send serial commands to the camera.  Other convenient hardware control features include the ability to dynamically change the camera's focus and zoom settings, again without the need to send serial commands.
The Active FCB-SE600-HDSDI has a built in test pattern which conforms to the SMPTE RP-219-2002 specification.  The pattern generation feature is controlled via connector J3.
The product is supplied as a kit consisting of the interface module, mounting kit and cables, though the board alone may also be ordered without the mounting kit and cables if required.
The physical outline of the Active FCB-SE600-HDSDI precisely matches the rear profile of the FCB-SE600 camera and the supplied mounting kit allows the module to be securely and neatly attached to the camera.
Please note that this product is built to orders only, with a minimum order quantity of 25.