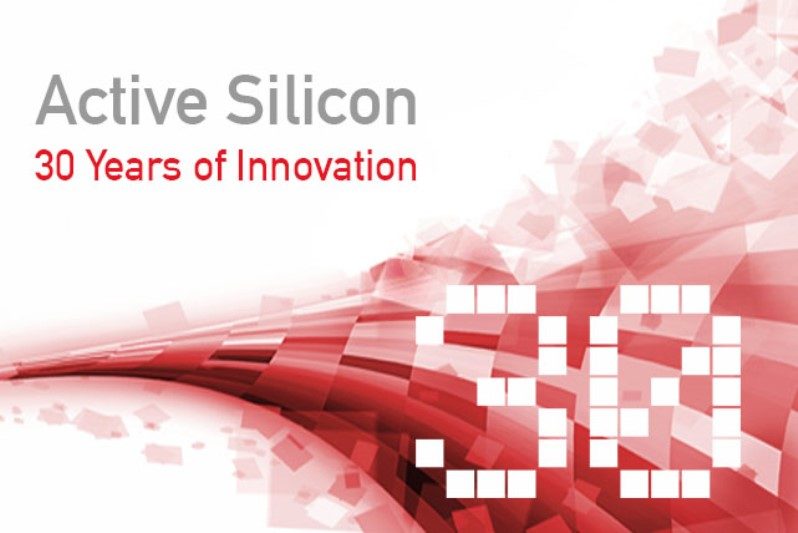 30 years and still going strong – how do we do it?
October 11, 2018
If you've kept up with our social media platforms, you'll know we've been celebrating our 30th anniversary. You'll also know that we're still bringing to market some of the most innovative and robust machine vision components available worldwide. So how have we managed to stay ahead in an industry so heavily influenced by technology giants?
Active Silicon was created in 1988 as a consultancy in the FPGA sector. This was at the time when Intel introduced their first flash memory and Apple released their first A4 flatbed scanner, capable of a 4-bit image with 16 levels of grey in a maximum resolution of 300 dpi. Within just a couple of years, we had incorporated technology of this level into our machine vision components and were already looking at how to process higher resolution images with less memory drain. Autofocus lenses and disposable cameras were also making an appearance, bringing new solutions to industrial and commercial image creation.
Keeping up with the changing face of vision
Expansion in the scope and adoption of standards, developments in image compression and PC bus advancements are the factors which have driven most change in the vision industry over the past 30 years.
Vision standards have come a very long way since our emergence. Active Silicon is one of the founder members of the CoaXPress consortium which led to the international standard and we continue to influence the development of the standard and encompass this expertise in all our CoaXPress products.
Our first venture into embedded systems was in 1998 when we patented a new method of sorting coloured objects and applied it to automation in the gaming industry – the resultant chip sorting machine became and still is the dominant machine in the industry. 20 years on, our embedded vision systems are used in a multitude of applications, including brain surgery and radiology.
Where to next?
You can meet us in Stuttgart at VISION 2018 – the industry's leading international event. We'll have live demos of our latest innovations and look forward to participating in discussions around the future of our industry. We plan to maintain our position as a world-leading manufacturer of vision components through organic growth and tireless effort, bringing outstanding products and expert support to new and existing customers worldwide.
View our products here and contact us to see how we could help enhance your machine vision systems and image processing practices.