Where to Buy
Active Silicon's products are sold worldwide through a combination of direct OEM sales, distribution, resellers and agents. The sales channel is dependent on the product type, application as well as location. Some products are sold exclusively by third parties through partnership agreements and in these cases we would direct you to the appropriate company.
The following provides general information for each of the main geographical areas in the world:
---
North America
All sales in North America (USA, Canada, Mexico) are managed by Active Silicon, Inc. from our Maryland office. Whilst the majority of sales are direct to OEMs, we do work with distributors on a case by case basis and generally speaking, any sales channel arrangement via distribution is then exclusively through that channel.
The contact details of our North American office are here.
---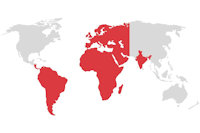 EMEA (Europe, Middle East and Africa), India,
Central & South America
Whilst the majority of sales are handled directly with Active Silicon Ltd in the United Kingdom (Iver, England) we also work with distributors.
Please contact Active Silicon at the UK Headquarters and we can advise on the best sales channel.
---

Asia-Pacific
We work with a variety of partners throughout Asia, with each one typically focused in a particular market sector, or product family. Our partners and distributors are listed below, but please contact us at the UK Headquarters in order to advise the most appropriate route.
China
Beijing Image Technology Development Co., Ltd
Realtimes Beijing Technology Co., Ltd
Dongguan MiVision Technology Co.
Optiger Optoelectronics Technology Co., Ltd.
Rocketech International Corp Ltd
Japan
Forte Solutions Asia
Solution Systems
South Korea
Taiwan
Singapore