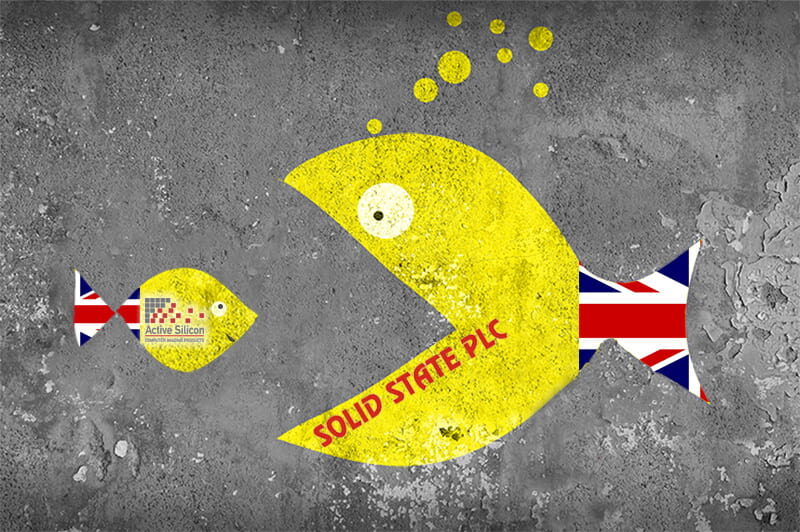 Active Silicon and Solid State embark on a new chapter
March 1, 2021
We have always kept you informed of merger and acquisition activity in the vision industry, and today we're excited to share our own news. Following a successful acquisition, we're becoming part of the Solid State group.
Solid State plc is a value-added electronics group supplying industrial and military markets with ruggedised and durable components, assemblies and manufactured units, often for use in harsh environments. Operating through two main divisions, Manufacturing (Steatite) and Value Added Supplies (Solid State Supplies and Pacer), the group specialises in complex engineering challenges often requiring design-in support and component sourcing for computing, power, communications, electronic and optoelectronic products.
Our expertise in the design, manufacture and supply of industry-leading vision components will enable Solid State to further their operations in the areas of machine and computer vision, as well as provide us greater potential to develop our embedded computing and AI capabilities. The timing of this acquisition fits perfectly with the expansion of our Harrier range of camera solutions, opening access for us to a wider and more diverse marketplace.
We'll continue to operate as Active Silicon with sales, production and customer support continuing without interruption or change. We'd like to thank all our staff who have continued to support and grow the business, and who will now benefit from the opportunities provided by the larger Solid State group.
We are also grateful to all our customers who have placed their trust in us to deliver innovative, quality-driven vision components. This acquisition ensures that we'll be able to continue to invest in the research and development needed to keep your vision systems evolving and adding value to your applications.
We are really looking forward to a shared and bright future as an independent entity within the industrial computer portfolio of Steatite's manufacturing division. More details on the acquisition can be seen on the Solid State website www.solidstateplc.com, or get in touch to hear from us directly.