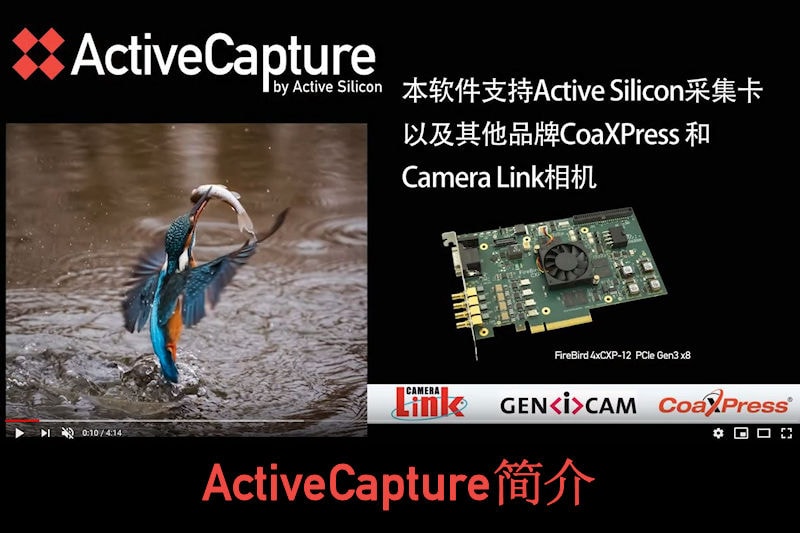 ActiveCapture tutorial video now available in Chinese
October 7, 2020
Our tutorial on the use of ActiveCapture software is now available in Chinese (Mandarin). ActiveCapture is our front-end software for Firebird Camera Link and CoaXPress frame grabbers and cameras.
View the video on our YouTube channel, or on the Chinese sharing platform YouKu. Watch the English version on YouTube or on our website.
The video demonstrates the software controlling a CoaXPress frame grabber and shows how to display, analyze and record video sequences. The software provides quick access to any installed Active Silicon frame grabbers and the cameras connected to them. With CoaXPress cameras, no manual setup of the camera or frame grabber is required, and images can be acquired by simply connecting to the camera and selecting the Live control function.
Key Features of the software:
GenICam GenTL program so can be used with cameras supporting GenICam using CLProtocol.
Feature Browser showing and allowing control of the GenICam features for the frame grabber and the camera.
Comprehensive image display features such as zoom and color sampler.
Real-time histogram and statistical information for the selected image or region within the image with a simple click, and the 1D Profile button shows the intensity profile of all or part of a line or column.
Command line allowing direct register access to the camera for low-level debugging.
Events Controller controlling all asynchronous events that can be generated by the hardware.
Ability to capture and play back image sequences.
We're delighted to share this tutorial with our customers and distributors in China to demonstrate the benefits and the functions of ActiveCapture to our Chinese speaking users.
View our range of FireBird frame grabbers and cameras and contact us to see if ActiveCapture could simplify your machine vision project.