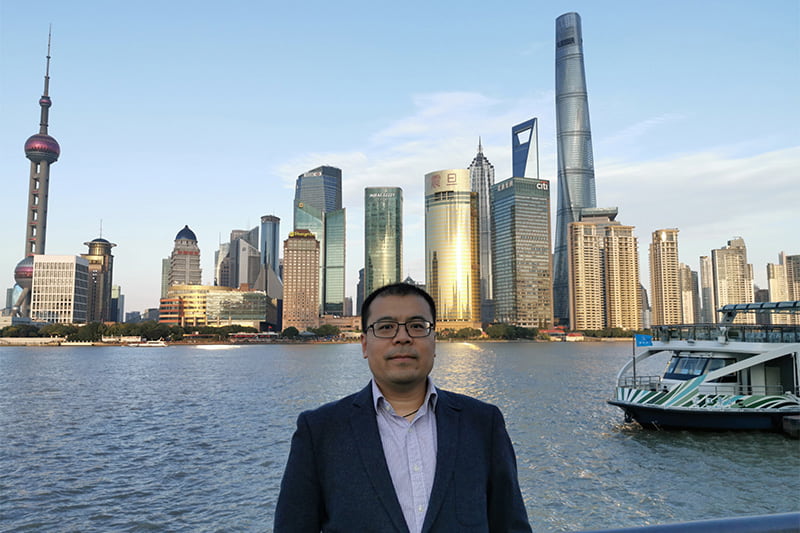 Asia BDM drives sustained growth
December 15, 2020
Ye Liu joined Active Silicon as Business Development Manager, Asia Pacific in July 2019. Little did he know that, 6 months later, his region would be the focal point in a health crisis impacting every corner of the globe.
Regional challenges
When Covid-19 first emerged in Asia, Ye's planned trips from the UK to China, Korea and Japan were immediately affected and his ability to meet face-to-face with our customers and prospects in the region was curtailed. Trade shows were cancelled, postponed and moved to virtual events, and we were no longer able to physically demonstrate our products. Manufacturing in Asia Pacific was reduced and even halted almost overnight, leading to a huge decline in demand for vision systems. China's National Bureau of Statistics (NBS) stated that the country's GDP in the first quarter of 2020 fell by 6.8% year on year, which was its first contraction since 1992[1]. Neighbouring countries were similarly hit in early 2020.
Finding a solution
However, according to the World Bank, growth in China is projected to slow to 1% in 2020 but then rebound to 6.9% in 2021[2]. While much of the Asia Pacific region may take a little longer to catch up, the economic outlook is still promising.
Product development at Active Silicon continued apace through 2020, and this year saw the release of several pioneering camera solutions as well as improved frame grabbers. So, how could Ye continue to introduce our latest products and services to customers on the other side of the world who were about to enter periods of growth and innovation?
Ye has worked hard to build relationships with distributors and partners across the APAC region. Through these channels, our products have been shipped across the globe, being present at some of the first live trade shows to return to the calendar, and demonstrated to a range of customers through our reseller network. Ye's prior experience with Advantech and as his connections with local influencers, associates and media has helped him to maintain levels of support and service throughout this difficult time.
Predicting growth
Our Asia business is in safe hands and Ye predicts double digit sales growth in the region. Our products add critical speed and accuracy to systems in medical, pharmaceutical and logistics applications so it's been imperative that we've been able to operate as close to normal as possible and assist industry in overcoming this incredibly challenging chapter in global history.
We're immensely grateful to all our staff, who have adapted to changing working conditions to keep our cameras, embedded systems and frame grabbers getting to customers quickly and safely, and we're particularly proud of how Ye has been able to continue to support the APAC market and contribute to the growth in China that's likely to be reflected worldwide in coming months.
Want to know how our solutions can enhance your vision system? Take a look at our products online and get in touch to understand how we can deliver faster, higher resolution imaging wherever you are in the world!
[1] http://www.china.org.cn/business/covid-19-economic-impact/node_8018307.html
[2] https://blogs.worldbank.org/eastasiapacific/outlook-east-asia-and-pacific-eight-charts-coronavirus-covid19