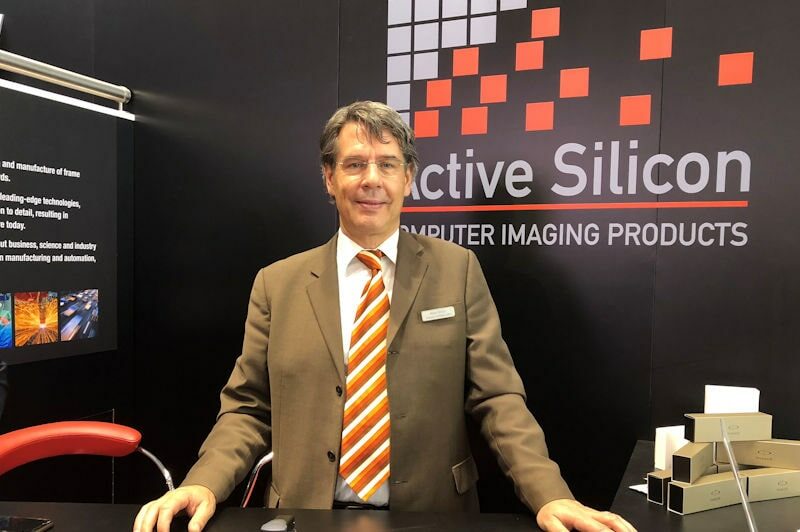 Spotlight on our experts: building new partnerships
August 3, 2021
With so many exciting events going on within Active Silicon at the moment, we thought we'd ask our experts to explain more about their current projects and future plans.
This month, it's the turn of our Head of Sales and Marketing, Frans Vermeulen, to share a little about his role and what drives his enthusiasm for vision technology. Frans lives and works in the Netherlands but oversees business development globally.
You've been with Active Silicon for over seven years so have seen some ups and downs! How have sales fared through the pandemic?
When the pandemic took hold, sales declined steeply, as they did for many industries, but recovery came quickly too and we will exceed pre-pandemic levels this financial year. We're seeing growth in Europe and the US due to the extended offerings in our Harrier camera range and increased demand for embedded systems. Sales in Asia Pacific have been growing steadily since we strengthened our sales team and contacts in the region, and this is mainly around our FireBird frame grabber products.
We're also very optimistic about the increased capabilities we have now as part of the Solid State group. We've started work on our first joint project – a transport application where Active Silicon's custom embedded system design skills were essential in order to win the tender.
 How do you think recent activities will shape the future of the machine vision industry?
Like pretty much everyone involved in engineering and technology, we've seen challenges over the past 18 months, particularly in component supply. It's great to see global companies responding to the chip shortage with increased foundry output and new building projects, and our Operations division has done a fantastic job in securing components and managing stock.
Going forward, I think the main drivers for growth in the machine vision and medical imaging market will be AI, deep learning and edge computing. These have been influential for some time, but I believe developments will gather pace in the coming months and years driven by a desire for increased automation on the factory floor and the need for faster, more accurate and less labor-intensive medical diagnostics and treatments.
Have you seen changes in the uses that computer vision is being put to?
As I mentioned, we're definitely seeing applications extending beyond traditional machine vision as components become smaller and faster. Increased factory automation requires high-speed imaging at the edge and on-chip image processing is playing its part. As vision system costs are being driven down by simpler systems and greater competition, they're becoming more accessible to a wider customer base. There's also clear growth in UAV and ROV markets due to increased onboard imaging capabilities combined with better performance from power and computing components.
What do you enjoy most about working in the vision sector?
It's a super dynamic market and so much is happening that, as a company, you have to constantly determine where you want to head as you can't do everything; it's important to focus efforts in the right area. I enjoy watching constant developments of new technologies and seeing how these can be applied to our products to better meet the needs of our customers. There's always something new and exciting going on and it really keeps me on my toes!
What do you enjoy most about your role with Active Silicon?
Despite our recent acquisition, Active Silicon remains a small and agile company which can respond quickly to customer requests within our area of expertise.  Dealing with customers from Australia to Zurich and everywhere in between is really exciting and I love working with the team of enthusiastic and inspiring engineers.
What's new, and what's in the pipeline at Active Silicon?
This year has seen our Harrier family expand with new autofocus-zoom camera modules being added, bringing powerful 40x zoom, 4K imaging and cost-effective 10x zoom options.
In the coming months we'll be launching innovative BlueBird processor boards based on an NXP IMX8 SoC, as well as Ethernet IP and MIPI CSI-2 Harrier boards. These will help us address the demand in the market for smaller, faster image processors and open doors to new applications.
Everyone seems to want to go to space these days, but what technology would you like to see more investment in?
Good question! My first choice would be to see more investment in computer vision and AI for medical diagnoses and for use with medical robots for surgery. These have come a long way in the last 10 years but we're only really seeing the tip of the iceberg in terms of what can be achieved. I'd also like to see a focus on imaging and robotics for agricultural applications, which can help meet the demand for less environmentally damaging farming.
Want to know more about our team and expertise? You can see more about our products and services on our website, get in touch or follow us on social media to keep up with our news.