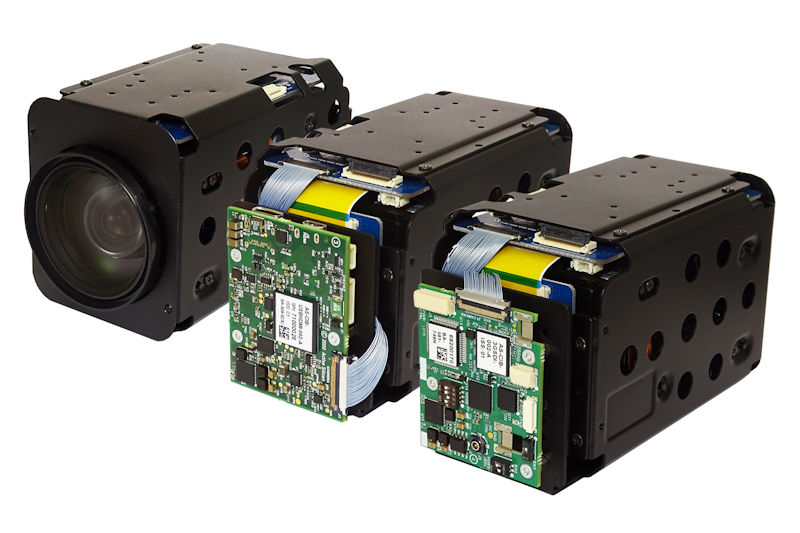 High performance cameras with powerful 40x autofocus-zoom
October 14, 2021
Our Harrier family continues to grow as we add more compact and cost-effective autofocus-zoom modules. This model brings 40x optical zoom to a camera measuring just 101 x 54 x 64 mm (LxWxH).
Camera capability
The Harrier 40x AF-Zoom Camera is fitted with a 2MP Sony CMOS sensor and offers real-time full HD 1080p – 60/30 fps or 720p – 60/30 fps video output. It's compatible with all our Harrier camera interface boards, which can convert the camera's LVDS output to video formats including 3G-SDI, HD-VLC, USB3 (UVC), HDMI and, coming soon, H.264 IP Ethernet and MIPI CSI-2.
Special features of this autofocus-zoom block camera include Digital Image Stabilization, Digital Noise Reduction (2D+3D), Privacy Mask Function, High Light Compensation, Intelligent Motion Detection, Defog Function and Day & Night mode (Infrared Cut filter Removal, ICR). Serial VISCA or Pelco-D/P Control Protocol are available to control the camera.
Suitable applications
The Harrier 40x AFZ camera is compact and light yet powerful enough to be ideal for a range of applications including surveillance, defense, transport, industrial inspection and remote monitoring. The HD-VLC® model supports high-speed video transmission up to 3Gbps over very long cable lengths and slip rings, further increasing its flexibility.
Due to their high speed and ease of control, the cameras are particularly well-suited for use in applications where real-time data acquisition is essential, for example, mounted on AUVs, UAVs and ROVs.
Camera units can be supplied pre-assembled with the required Harrier interface board closely integrated, enabling output in several formats so vision systems can be upgraded with minimum effort and expense.
Innovative customization and support
Our engineers can design or customize hardware and firmware to perfectly suit your requirements, and our support team are on hand to assist with set up and long-term assistance. View the full range of imaging components online and contact our experts for creative solutions for your vision system.


Follow us on social media: