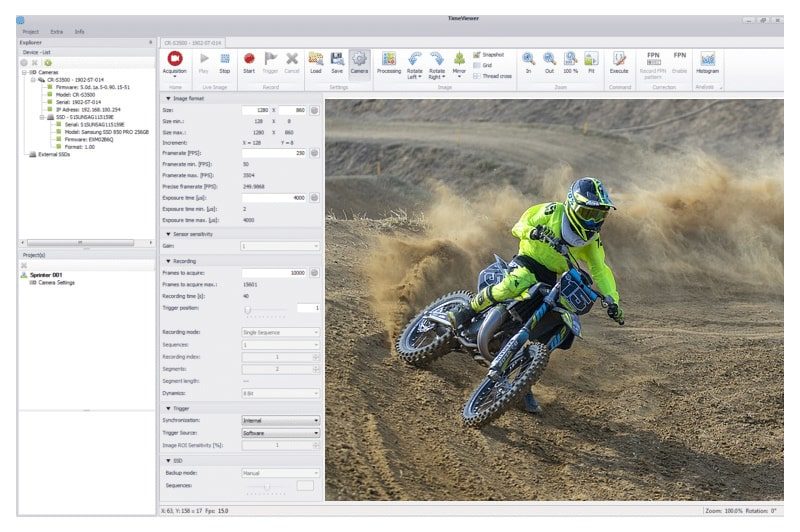 Active Silicon frame grabbers support TimeViewer from Optronis
October 10, 2019
TimeViewer is professional, intuitive analysis software from Optronis – experts in the field of ultra-fast optical measuring systems. It is ideal for recording and analysis, protocol sequences and project management. TimeViewer integrates an object tracking function to automatically extract trajectories. Features include:
Image trigger for automatic recording start-up
Logo and text overlaid into the sequences
Fully adjustable pre- and post-triggers
Export of AVI formats
Preview images for simplified navigation
Synchronous multi-camera control
Object tracking
Using TimeViewer together with Active Silicon's FireBird Quad CXP-6 frame grabber, all Optronis CamPerform CP high-speed cameras can be operated to capture sequences without any additional programming. The FireBird Quad CXP-6 frame grabber is an eight lane Gen2 PCI Express interface and supports up to four individual cameras simultaneously. DMA Engine technology "ActiveDMA" guarantees zero CPU intervention, high speed and low latency image data transfers. This frame grabber and camera combination enables object tracking, speed and distance measurement, and capturing sequences straight to PC memory, supporting cutting-edge applications in 2D and 3D metrology, motion analysis and broadcast with simple installation.
Additionally, Optronis have recently launched their CamPerform-Cyclone series which features a CXP-12 interface, the new CoaXPress standard speed, enabling potential data rates of 50 Gbps. We're looking forward to continuing our partnership with Optronis to support even faster image processing.
View our range of CXP-6 and CXP-12 frame grabbers or get in touch to understand more about our industry-leading boards.