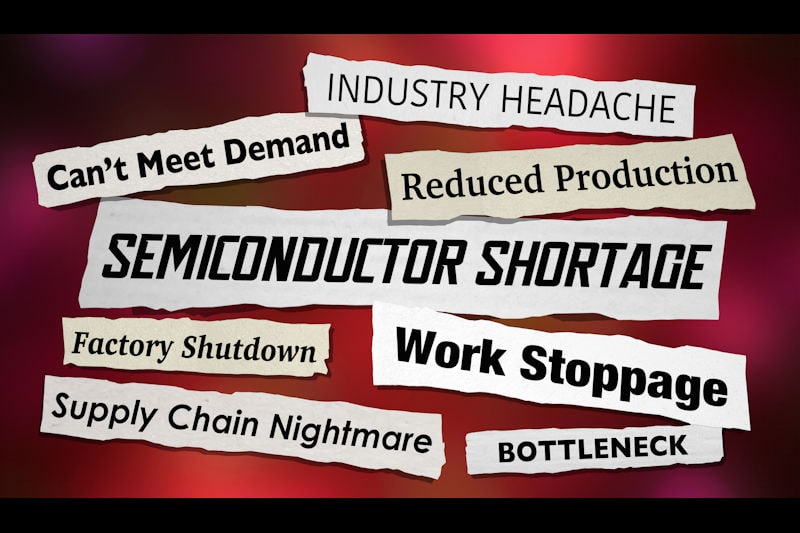 Global semiconductor shortages
May 10, 2021
It's no secret that the electronics industry is facing alarming shortages of components critical to the operation of industrial and consumer gadgets. Well, actually more than gadgets – vehicles, phones, machines in general – just about everything!
At the moment, the shortage is leaving more questions than answers: why did this happen, how long will it last, what's the scope of the impact – so we've taken a look at some of the causes and effects.
More chips please!
The electronics industry has been through a period of boom. In January 2021, global semiconductor industry monthly sales reached US$40bn, an increase of 13.2% compared to the same time in 2020[1]. There are a few reasons for this increase in demand.
The coronavirus pandemic has been blamed for just about everything in the last 18 months, but in this case it's fair to point the finger at the virus as one of the reasons for the global chip shortage. With staff being sent home to work from their kitchen tables, the demand for laptops, phones and communication devices soared. Add to that the fact the weekends opened up to endless online gaming instead of getting out and about, and the world depended more than ever on electronic interaction. That, and the drop in demand from the automotive sector, made many suppliers focus their chip resources on the consumer market instead.
And, of course, some of those workers sent home were the production staff at some of the foundries (fabrication plants, or fabs) across the globe.
However, even before the pandemic, supplies were put under pressure by tension between the US and China which led to trading embargoes and increased tariffs. For example, Huawei placed large orders with Taiwanese semiconductor giant TSMC to build up stock ahead of the embargo kicking in, reducing availability for other customers. Additionally, US firms that had chips made in China were under pressure to move to other fabs outside the country, further adding to demand.
Taking on mother nature – and losing
No matter how advanced technology is, there are some forces of nature that it just can't beat, and February 2021 proved this.
Samsung's foundry in Texas was forced to close for a month after an unseasonal freeze caused power outages across the state, affecting the production of 71,000 wafers. NXP Semiconductors and Infineon Semiconductors fabs were also shut down.
Renesas Electronics Corp., the world's third-largest automotive chipmaker, and Shin-etsu Chemical, which fabricates silicon wafers, had their plants forced into shutdown following an earthquake in north east Japan. Then, an even more devastating fire broke out at Renesas' Naka factory in March, reportedly taking at least 17 machines offline. The plant isn't expected to be back to maximum output until July 2021. As a supplier of 30% of the world's automotive chips, this delay could affect recovery for car manufacturers.
Taiwan is usually pretty wet as it's prone to typhoons and monsoon rains. However, 2020 missed out on the seasonal rain and the country is currently experiencing its worst drought in 56 years. At the Baoshan No. 2 Reservoir in Hsinchu County, one of the primary water sources for Taiwan's US$100bn semiconductor industry, the water level is at 7% – the lowest ever recorded[2]. High-volume industries are being requested to reduce their water consumption by 13% and that's having a knock-on effect on semiconductor production.
So there were significantly fewer chips being manufactured in the early part of 2021, while demand surged. Raw material shortages are also affecting production of some components, in particular a shortage of copper is leading to extended PCB lead times because of laminate shortages, and a 10-year-high market price of over US$10,000 per metric ton for the metal.
Who's most affected – and why
End manufacturers who've featured in the news are widespread, but perhaps none more so than automotive producers. A high-end car is likely to have up to 100 microprocessors in it, and that's set to increase with the uptake of part-automated and electric cars. With fewer chips available, and with an estimated 40% of the cost of a new car being down to the electronics, end prices may rise. Automotive production lines also tend to hold less stock than higher-volume goods producers, and shortages are being felt with immediate effect.
At the end of 2020, Volkswagen disclosed it expected production output to fall by 100,000 vehicles in the first quarter of 2021. Ford has ceased production in 12 plants across Europe and North America, and Jaguar Land Rover has temporarily closed two in the UK. Renault and Daimler have also confirmed cuts to their labour force. But there is hope and adaptability is the key here – Stellantis is putting analogue speedometers back into their Peugeot 308 models instead of digital ones to relieve some of the pressure.
It's not just cars that are going to be harder to get hold of though, pretty much anything with a computer chip will be affected, and that's, well, pretty much everything! Computers, phones, TVs, games consoles, key fobs, washing machines, central heating programmers, video doorbells – the list goes on. And these items aren't just getting scarcer, they're getting pricier too, with a hike of up to 15% for CPUs and a massive 70% for certain memory components expected[3].
What's the answer to the chip shortage?
The bad news: there's no quick fix for this one – issues with supply chain could trail into 2023 as foundries take years to build and the levels of global production are unlikely to meet demand any time soon. Lead times for most semiconductors are now over 30 weeks, with 52 weeks or more on some parts.
The good news: there are things we can do to mitigate the shortage without having to hike prices. At the heart of this is improved forecasting and stock management.
Longer term, many countries, most notably the US, have decided that reliance on Asia for semiconductor supply is a risk they're no longer willing to take. Following the disruption caused by the US/China tariff war, the US Administration promised financial aid of over US$22bn to nurture the American microelectronics industrial base in order to make more of their own chips[4].
How are we meeting the supply challenge?
At Active Silicon, we've built close relationships with our trusted suppliers and partners over 30 years. We've been in constant contact with our semiconductor suppliers to ensure as consistent a supply as possible.
We increased our in-house stock at the start of the year when the shortages started becoming apparent, but with the stronger than expected demand we're now seeing, growth this year may be restricted by semiconductor supply, and in the short term, lead times may, in some cases, be longer than we would like. We're grateful for the understanding of our customers, and their support in making us aware of upcoming requests so we can continue to deliver our industry-leading products as reliably as we can. Please let us know if you've got requirements over and above normal levels so we can plan to meet demand.

[1] https://www.zdnet.com/article/the-global-chip-shortage-is-a-bigger-problem-than-everyone-realised-and-it-will-go-on-for-longer-too/
[2] https://www.bbc.co.uk/news/world-asia-56798308
[3] 2021 IEI Global Supply Chain Survey
[4] https://www.ibm.com/blogs/industries/global-semiconductor-shortage-solutions/