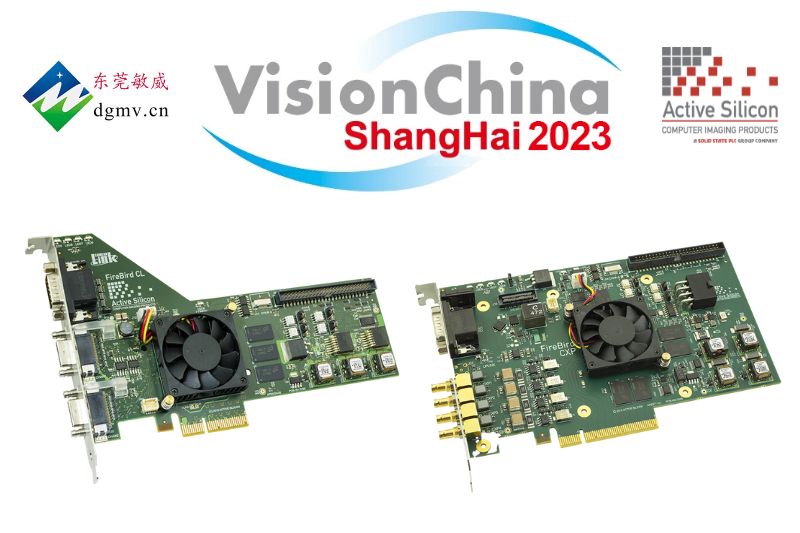 Machine vision takes center stage in China
July 10, 2023
The Vision China Show comes to Shanghai on 11-13 July and our partners Dongguan MiVision Technology (DGMV) will be displaying our state-of-the-art frame grabbers on their booth, 5.1B512.
The event is sponsored by the China Machine Vision Union and large numbers of visitors and exhibitors are expected to attend. DGMV are well-placed to present the benefits of our CoaXPress and Camera Link frame grabbers to attendees.
Our flagship frame grabber, the FireBird Quad CXP12-3PE8, is a high-performance four-connection board, supporting CoaXPress v2.1. This 8-lane Gen3 PCI Express frame grabber enables CoaXPress speeds up to 4 x CXP-12, resulting in data rates of up to 12.5 Gbps per connection.
DGMV will also display our most popular Camera Link frame grabber, the FireBird Camera Link 80-bit (Deca) card, which is fully GenICam compliant and supports the latest version 2.1 Camera Link specification, including both 80-bit modes: 8-bit 10-tap and 10-bit 8-tap modes.
Our FireBird frame grabbers also facilitate GPU processing, so image processing can be done on the GPU leaving space on the CPU for other functions. This makes real-time data acquisition possible without impacting on the overall processing speed of the computer.
If you're visiting the show, be sure to stop by the DGMV booth. Want to learn more now? See our full FireBird range and contact us for more details.