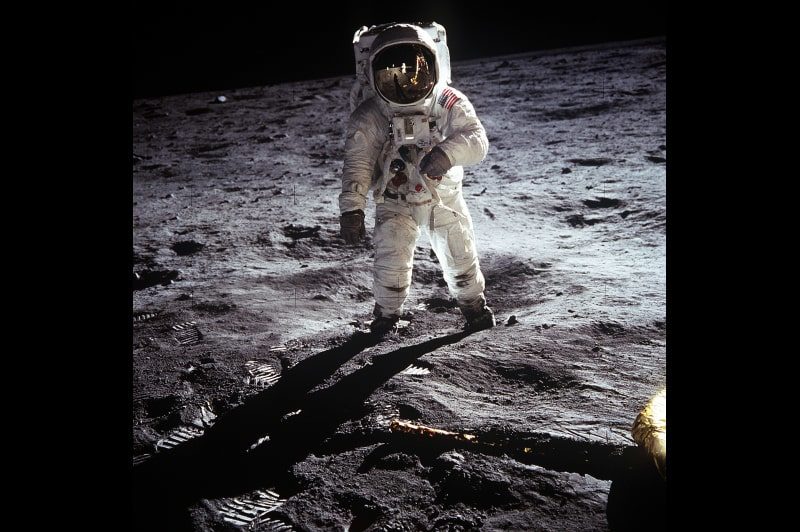 Image processing techniques discount the doubters
July 22, 2019
The world has plenty of conspiracy theorists who have continually tried to disprove that the celebrated Apollo 11 lunar landing of 50 years ago actually happened. We've looked at three leading arguments in relation to the photographs in circulation.
A shady picture
Many people have pointed to the fact that some of the shadows cast by the astronauts are not parallel. Surely you would expect parallel shadows to be created in an environment with only one light source – the sun? In reality, the uneven surface of the moon captured in a 2D image played havoc with perspective, creating what appears to be misaligned shadows. This is a condition which can be easily recreated with a single light source and is not proof of a lunar hoax.
Why can't you see the stars?
Doubters have questioned the absence of a starry sky in the photos of 1969, but this can be explained with some basic knowledge of photographic techniques. With the intense sun reflecting off the pale moon surface, the subject of any pictures taken by the astronauts would always be in a bright environment. Therefore, a small aperture and fast shutter time were selected to obtain the best quality close-up images. With this short exposure time, the starry background would not have been bright enough to be captured in any photograph.
It was all filmed in a studio
Could the whole thing have been staged in a studio environment? Not according to an interesting article by University of Hertfordshire's Howard Berry. He explains in detail how the filmmaking technology of the era just wasn't capable of producing the 143-minute-long 10 fps footage which the astronauts recorded.
While it's fun to imagine ways in which we could fake a moon landing, all the evidence suggests that NASA didn't in this case! And we were amused to see Buzz Aldrin deal with one of these conspiracy theorists a couple of years ago.
Active Silicon products support space exploration
We're proud that Active Silicon frame grabbers have been used in space research. In 2007, we designed our cPCI 6U LFG frame grabber specifically for DARPA's Orbital Express space mission. MDA Corporation asked us to develop a space qualified version of our LFG board to digitize images from the robotic arm mounted camera. You can watch a video of the camera system inspecting the spacecraft immediately after launch here. Additionally, our hardware can be found in the Thai National Observatory, the National Solar Observatory and has even made it to the edge of the atmosphere aboard a NASA scientific balloon.
We also enable more down-to-earth applications with our range of Camera Link frame grabbers and CoaXPress frame grabbers, you can view our full range online. Our products are known for their high-reliability and ruggedness, making them ideal for long-term projects in challenging environments.