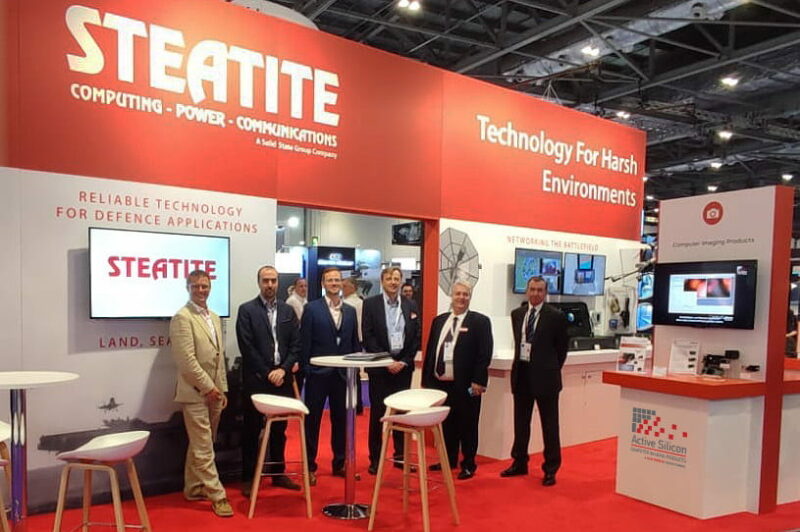 Opportunities in Defense
September 19, 2023
Last week our team exhibited at DSEI in London, the UK's largest show for government, military and industry representatives from the Defense sector. We joined the Solid State Group stand, exhibiting alongside Steatite and Solid State Supplies for our maiden visit to the show.
Anyone who has visited the event knows that it's a show like no other. Thousands of high-ranking military personnel, international politicians and official industry suppliers gather to compare capabilities and discuss the latest technologies in the military and defense sector.
While many come to view the armored vehicles, warship features and large ammunition systems, the interest this year was noticeably in smaller devices such as UAVs and underwater ROVs. This was great news for us as our Harrier autofocus-zoom cameras are ideal for bringing vision to drones and submersibles. Our UK Sales Manager, Nordin, was able to demonstrate the incredibly low latency offered by our Harrier 10x AF-Zoom IP/HDMI Camera streaming high-resolution wireless IP video. Based on the Tamron MP3010M-EV, this block camera is extremely compact and lightweight and is being successfully deployed in UAV applications. Our frame grabbers on display also attracted interest from a global defense equipment manufacturer due to their super-reliable high-speed imaging features.
Our sister companies, Steatite and Solid State Supplies, had a busy time too. Of great interest was the Communication team's display of their cutting-edge command and control center, the CRiB, and Persistent Systems' MPU5 tactical radio. We even had Ghost Dynamics' VISION 60 quadruped robot and Drone Evolution's tethered drone on the stand, both controlled by an MPU5. We also had referrals from Steatite's Batteries and Computing business units so we were able to present the benefits of being part of a larger group with extensive engineering capabilities.
Overall, it was a very successful showcasing opportunity for us and we've forged several relationships in this dynamic and fast-moving sector. It's also great to see so much scope for the industry in the UK with large-scale investments being discussed involving both SMEs like ourselves and larger global players.
You can see more of our imaging products for the Defense and Military sector on our website, or contact us to challenge us with your own requirements.