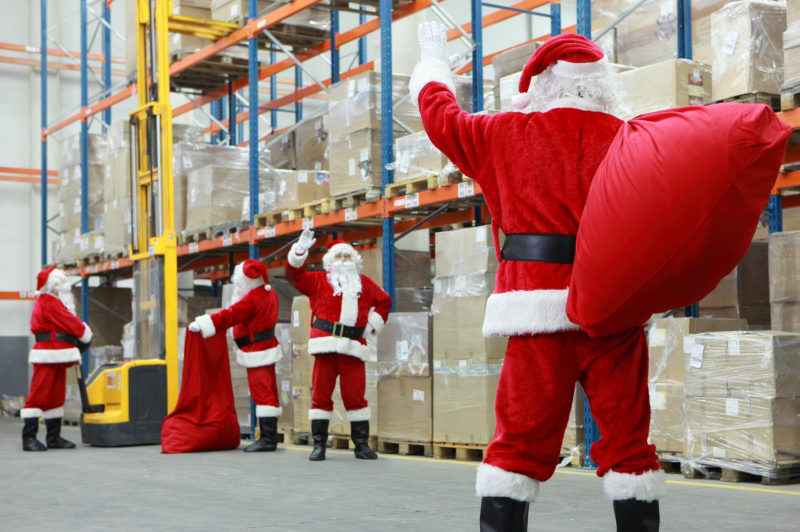 Santa's little helper – vision in supply chains
December 13, 2018
As Christmas approaches and supply chains across the globe start to take the strain, we look at how machine vision and smart logistics are helping to get global gifts from factory to family.
At the point of production
Automated optical inspection (AOI) has long been used in manufacturing for item counting, quality control and general industrial inspection. Enhanced software in the shape of deep learning tools is now also being added to the camera, lighting and image processing components to aid high-speed inspection and allow even faster production lines. In reality, faster categorization of "good" and "bad" items means that quality control no longer needs to be a bottleneck in the manufacturing process. We looked at Adaptive Vision's software solution in August, NEC's new "One Class" technology is another example. Use of processing via GPUs is also allowing conveyors to move faster and keep the outlet shelves replenished with superior produce.
We've also written widely about robots on the factory floor, and enhanced sorting and bin-picking are now an expectation rather than an aspiration. 3D scanning and on-the-fly vision combine to perfect picking and facilitate orientation. Ironically, automation company ABB have recently committed US$150m to build a factory in Shanghai where robots will make even better robots – production lines will produce state-of-the-art devices which utilize AI and connected technology to increase the abilities of global robotics.
In the warehouse
Warehouse Management Systems (WMS) use machine vision in such operations as barcode and Radio Frequency Identification (RFID) scanning to assist inventory tracking, automated guided vehicles (AGVs) to move goods efficiently around the floor and satellite imagery to optimize route planning. Add in predictive analytics software and demand forecasting and inventory management is increasing in accuracy and accessibility. inventAIRy XL is an aerial inventory drone which uses optical technology and sensor capability to reduce the burden on manual inventories. But warehouse employees need not fear; Tye Brady (Amazon's Chief Technologist) believes human staff are still needed for their "common sense" and cites an example of warehouse robots continuing to drive through spilt popcorn butter rather than cleaning it up, slipping over and triggering an error code!
The last mile
We all know about the prospect of automated delivery vehicles, from Marble's compact pizza delivery to Uber's short-lived but successful self-driving trucks; computer vision is playing a key role in the development of human-free delivery. While a range of embedded vision, radar, lidar and other technologies are being used to create the physical possibilities, IBM Watson has gone to work reading its way through volumes of legislative documents to enable automated customs declarations and ensure that even border controls can't halt the supply chain.
So, as you're ripping the wrapping from your gifts this year, don't forget the instrumental role that our industry plays in getting them to you. I think we can all take pride in being Santa's little helpers!
Sign up to our newsletter to stay up to date with more industry developments, or contact us to hear how our innovative technology could take the pain out of your supply chain.