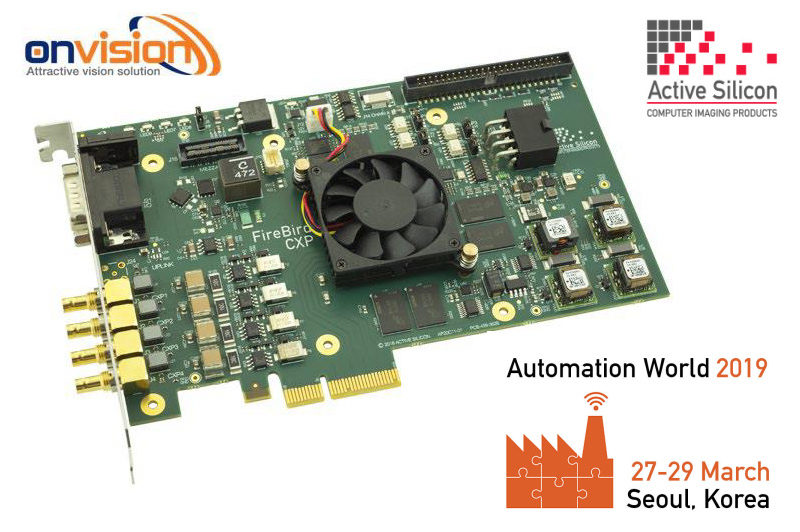 See our latest CoaXPress CXP-12 frame grabber at the Korea Vision Show
March 7, 2019
Our Korean partners, OnVision, will demo a selection of our FireBird frame grabbers on their booth at this year's show. The Korea Vision Show is held as part of Automation World, taking place in Seoul on 27-29 March. Last year, the event attracted nearly 30,000 visitors and offered over 1,400 exhibition booths to browse.
Our 4xCXP-12 acquisition card is the latest addition to the FireBird family and supports speeds up to 12.5 Gbps per link in line with the new CoaXPress v2.0 standard. Each link also supports device power up to 13W and device control at up to 42 Mbps. For faster devices, the links can be concatenated to provide multiples of the single CoaXPress bandwidth, making a maximum transfer speed of 50 Gbps. It has a Gen3 PCI Express interface and, like all of our FireBird boards, uses Active Silicon's proprietary DMA engine technology "ActiveDMA", applying RISC-based processor techniques to guarantee zero CPU intervention, high-speed and low-latency image data transfers.
Also on view in a live demo will be our 4xCXP-6 quad CoaXPress board, an eight lane Gen2 PCI Express interface, offering four CoaXPress links each at 6.25 Gbps. Up to four individual cameras, or combinations of cameras requiring multiple CoaXPress links, can be supported simultaneously.
You will also be able to see our Camera Link frame grabber, 1xCLD-2PE4. This 80-bit (Deca) acquisition card supports the latest v2.0 Camera Link standard, enabling capture from two simultaneous Base Camera Link cameras as well as single Base, Medium and Full 80-bit configurations.
OnVision are our distributors in South Korea and we hope you'll be able to visit their booth and benefit from their extensive knowledge. Interested in 4xCXP-12 but not attending? Get in touch with us to understand how the frame grabber can deliver faster speeds and higher quality imaging. See our full range of frame grabbers on our website.