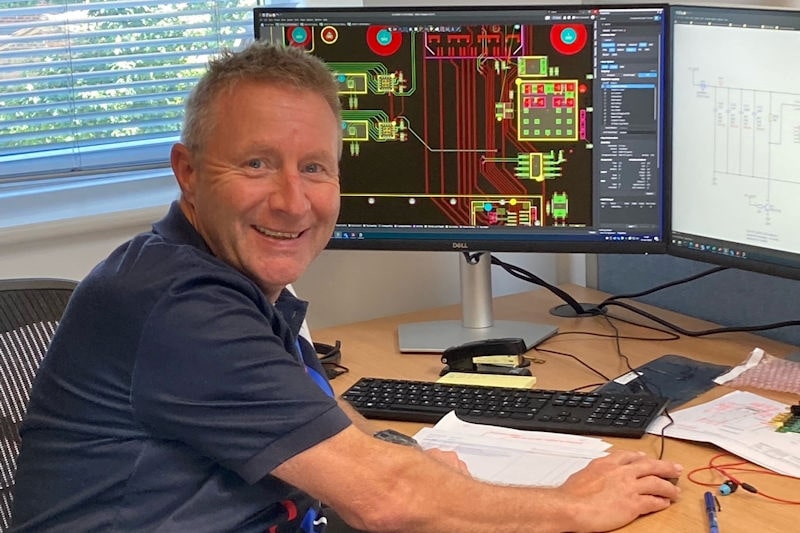 Spotlight on our Experts: Meet the specialist behind our hardware design
November 15, 2023
This week we're introducing our Senior CAD Engineer, Russ. Russ joined the company 18 months ago, bringing over 30 years of experience in PCB design. He tells us more about his role at Active Silicon and how he helps bring our engineering innovation to reality.
Can you tell us a bit more about your role?
In terms of product development, I work closely with our R&D team to understand the requirements for each new product including form factor, power consumption, and other specific needs. Once we have a clear understanding of the project requirements, I use CAD tools to create detailed schematics and PCB layouts.
These designs need to account for the integration of processors, image sensors, connectivity interfaces, and power management components. My goal is to ensure that the hardware can effectively handle the demands of computer vision applications.
I then collaborate with the PCB assembly team in our Operations facility to ensure that our designs are practical and cost-effective. I need to consider factors like signal integrity, thermal management, and EMI/EMC compliance throughout the design process. We then iterate on the design, addressing any issues that may arise during the prototyping and testing phases.
What are you currently working on?
Growing the family of FireBird frame grabbers is a priority, and much of my time right now is taken up with the CAD work for our single and dual connection CoaXPress v2.0 frame grabbers. We have two variants of a 4xCXP-12 frame grabber already in serial production, but these new models deliver additional flexibility to our range.
A background task is updating some of our older CAD drawings as the chip in another product is now end of life, so of course I have to create new files with the new chip. Even a slight change to the hardware can have a large knock-on effect for me, so I'm always kept busy!
 What are some of the challenges you face in your work?
An important part of PCB design is considering power consumption and thermal management, especially in embedded systems. These products may need to operate in harsh or resource-constrained environments, so achieving a balance between performance and power efficiency is critical.
Staying up to date with the latest components is essential to deliver competitive and innovative solutions, and today's fast-evolving supply chain can make that interesting!
What do you enjoy about working at Active Silicon?
During my career I've spent time working for huge organisations, such as Cisco, and more niche suppliers – most recently an audio equipment designer. So I've seen both ends of the spectrum when it comes to volume off-the-shelf design and smaller, more customized projects. Active Silicon combines both of these as some of the products have been in use for many years and, due to applications in highly regulated industries, have only changed a very little during this time. On the other hand, the R&D team is highly innovative and working hard to remain at the forefront of computer vision in a rapidly developing sector, so the demand for "better" is ongoing.
Our recent acquisition by Solid State plc brings us into a much larger group and, as we collaborate in more and more projects with the Computing, Power, Communications and Antenna business units, is likely to result in wider projects making use of our computer vision skills. So we're looking forward to an exciting journey with our sister companies, pooling design expertise from across the UK and US.
CAD work requires immense concentration and a lot of screen time – what do you do to balance this?
Away from my desk I enjoy football, golf, cricket, rugby, squash and live music, all of which demand a fair bit of socialising and helps to keeps me on the ball.
Want to know more about our team and expertise? You can see more about our products and services on our website, get in touch or follow us on social media to keep up with our news.