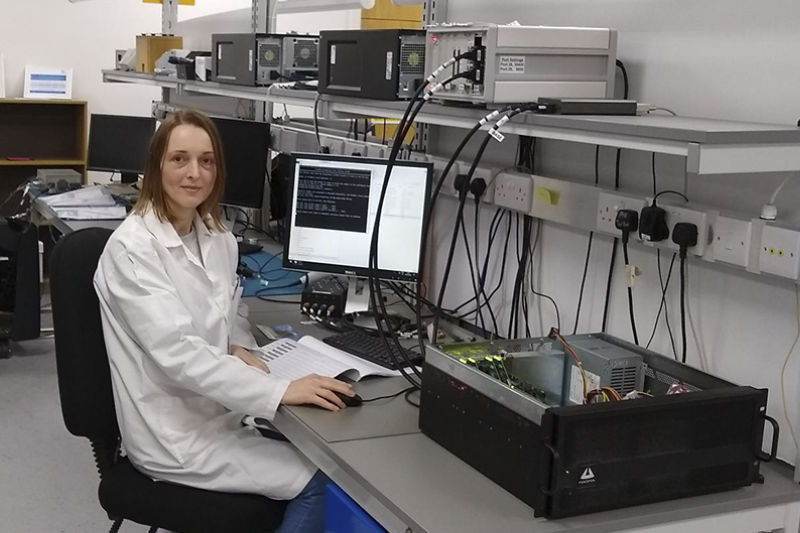 Spotlight on our Experts: Raising the Quality Bar
February 9, 2023
11th Feb is International Women in Science Day so we wanted to put one of our very own women in science under the spotlight! Lumi has been a Senior Test Technician for Active Silicon for over seven years. Here, she tells us more about her STEM career.
 Active Silicon prides itself on its reputation for high quality products, what's your role in maintaining these standards?
My job is to assemble and test our frame grabbers, camera interface boards and embedded systems to make sure they're built robustly and function exactly as expected. Unlike many of our competitors, all final assembly is done here in the UK with the latest test equipment and highly trained staff. We issue a two-year warranty with our products because we're confident of their reliability and quality.
Essentially, I'm responsible for thorough testing, which includes programming using a boundary scan test platform and functional testing of our market-leading imaging products while making sure that they have been correctly customized to meet the varied requests of our customers.
I also work on RMAs to discover why a board may not have worked as expected in our customer's vision system. There's always a bit of detective work involved which is interesting, but as we have a very low RMA rate, this is only a small part of my role.
Our wider portfolio and a recent spike in sales has meant that we're busier than ever and with my fellow test technicians, we strive to meet tight deadlines while remaining committed to quality by providing consistent levels of expertise.
 Where did you acquire your broad skill set?
I have a degree in Electronics Engineering, and previous experience in admin and management environments. This, alongside my engineering knowledge gained from working as a Test Engineer for CEMs (Contract Electronics Manufacturers), gives me a strong understanding of our workflow, operational strategy and company vision, which I proudly share. Contributing to the success of the business motivates me not only to maintain the same level of performance but to continuously upgrade my skills.
Do you think STEM companies offer equal opportunities to women and men?
I think these industries have moved faster and further in recent years to acknowledge the need for a diverse workplace, and nowadays most Science & Technology firms recognize the value that women bring, from board level right down to the factory floor.
I think it's still true that initially we might need to work harder to establish credibility in the workplace but once this is achieved our problem-solving skills and actions undoubtedly contribute to the smooth running of any business – women can often suggest competitive alternative solutions or work-arounds that otherwise may not have been thought of. Also, many of us are the primary child carer outside work and have learnt to balance time, work tasks and emotions to a tee!
This year, Active Silicon employed its first female Software Engineer, and our male:female ratio is around 3:1, which is pretty good for an Engineering company.
I enjoy working in a Production & Operations team which has several strong and capable women. We push the boundaries and pave the way for the next generation to come.
What's the best thing about being part of the Active Silicon family, and – now – the wider Solid State group?
A lot of us, especially on the Operations side, have been with Active Silicon for many years – with seven years under my belt I'm a relative newbie! Which means it really feels like an extended family, we've all celebrated weddings, babies and milestone birthdays together, and enjoyed taking part in charity and social events.  I have noticed that Solid State has a similar ethos, recognizing and valuing individuals.
Being able to work as part of a bright and supporting team enables me to meet our customers' needs more effectively in this evolving and demanding technical environment.
See more about Active Silicon's highly-reliable imaging products and expert custom design skills, and contact us to understand the value we can add to your vision system.