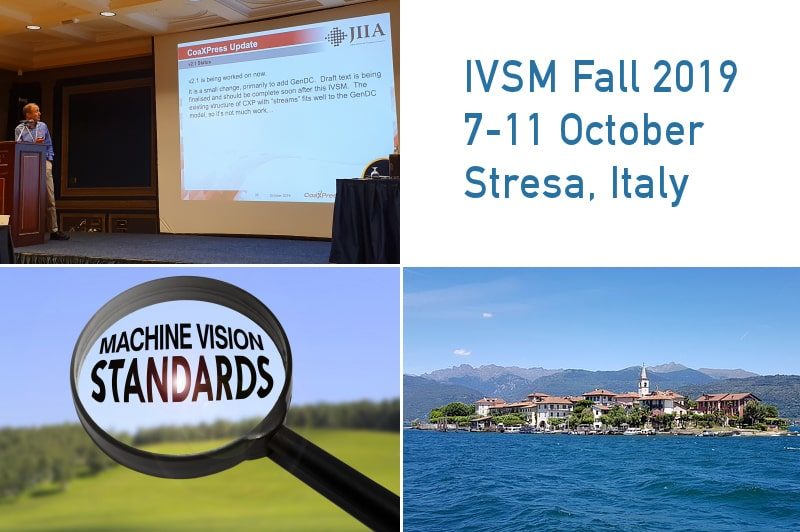 Update from the IVSM
October 17, 2019
Last week saw the Fall 2019 assembly of the International Vision Standards Meeting (IVSM) in Stresa, Italy. Our CTO, Chris Beynon, is technical chair for CoaXPress and lead author on the standard. He fills us in on the discussions.
GenICam
The GenICam meeting initially discussed the delays to the release which had been expected in the summer but isn't yet ready. A change in the release process is needed to make the release process quicker in future! More work is going into the Python-based validation frameworks, which are increasingly being used by the physical layer standards as well as GenICam. There was also discussion on updating the GenICam license and procedures, allowing more oversight by the EMVA.
CoaXPress
The day before the CoaXPress meeting, CoaXPress had its first PlugFest following the release of CoaXPress v2.0, and 24 combinations of camera and frame grabber products passed interoperability tests at CXP-12, which is an excellent initial result. Frederik Voncken of Adimec was appointed Technical Vice-Chair, to reflect all the work he has been doing for several years in assisting Chris by managing the Trac collaboration site, and organizing technical group meetings.
The meeting, with 45 attendees from 33 companies, initially concentrated on v2.1 of the specification, which is primarily to support the new GenDC standard and therefore allow CoaXPress to support many more types of data such as 3D. The group was presented with an initial draft text for discussion, which we plan to finalize by the end of the year.
The initial Python-based validation framework was shown. We then switched to discussing support for adding optical transmission to CoaXPress, with an elegant proposal to very easily map the existing CoaXPress packet structure to XGMII.
The meeting wrapped up with updates from the two physical layer suppliers, Macom and Microchip.
USB3 Vision
v1.1 of the USB3 Vision standard was released in September. Work is now concentrating on adding GenDC support, and studying the possibilities offered by the newly released USB4 standard which intriguingly incorporates Thunderbolt.
GigE Vision
GigE Vision is also working on GenDC support, as part of a v2.2 release. The group also discussed switching from UDP packets to TCP ones in a future release to better support higher speed connections.
Setting standards
Machine vision standards ensure compatibility of major components and allow simple, fast and cost-effective implementation of vision systems. We're proud to be involved with setting standards and bringing machine vision to an even broader range of applications.
We'll keep you up to date with all the important developments across the standards – sign up to our newsletter or follow us on social media to stay informed.