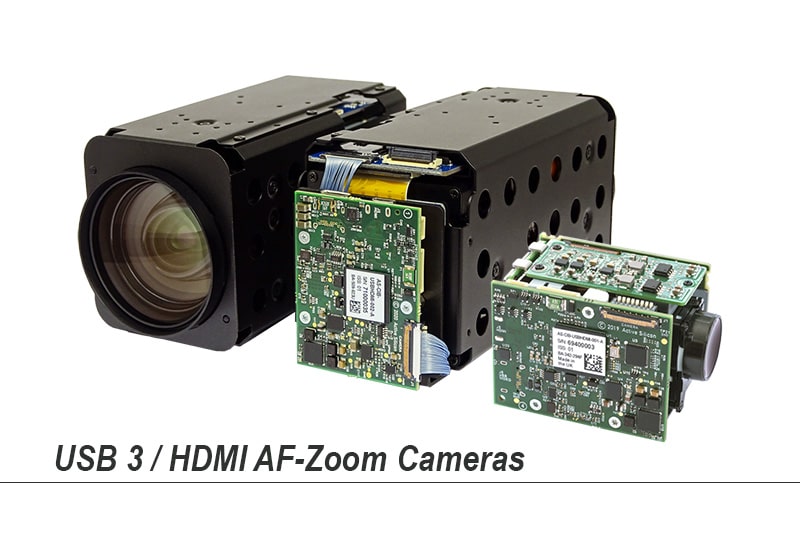 Harrier USB/HDMI autofocus-zoom cameras deliver more choice for a variety of applications
April 7, 2021
Our Harrier USB/HDMI cameras support up to 1080p60 full HD video output and provide simultaneous HDMI and USB Video Class (UVC) v1.1 video. The USB interface serves as (UVC) video output, USB based control input port and power supply. We offer USB/HDMI block cameras with a variety of features. Find the smallest and lightest AF-zoom camera in our portfolio, as well as cameras with 10x optical, 30x optical, 36x optical zoom and both rolling shutter and global shutter.
The USB Video output is enabled when the board is connected to a SuperSpeed USB 3.x host. When a HDMI cable is connected, the HDMI output is enabled. The camera video mode may be selected by the DIP switch settings on the board. Camera video modes, along with other camera and interface board functions, may also be controlled by serial communications over RS-485/RS-232/TTL, or by using USB commands over the USB connection. For developers who are new to creating UVC based applications, there is a working example UVC application and software API in the Harrier USB Software Development Kit.
Our Harrier range
Harrier products extend camera capability for challenging vision applications such as pipe inspection, robotics, ROVs, UAVs, medical imaging, law enforcement and remote vision in general. Our camera solutions deliver high-resolution video in real time. Take a look at our camera product range that includes 3G-SDI, HDMI only, Ethernet IP H.264 and MIPI CSI-2 video output options. We also provide solutions for long-reach HD video transmission.
View our full product offering online or contact us to understand how our frame grabbers, cameras, embedded systems and innovative solutions could enhance your vision system.