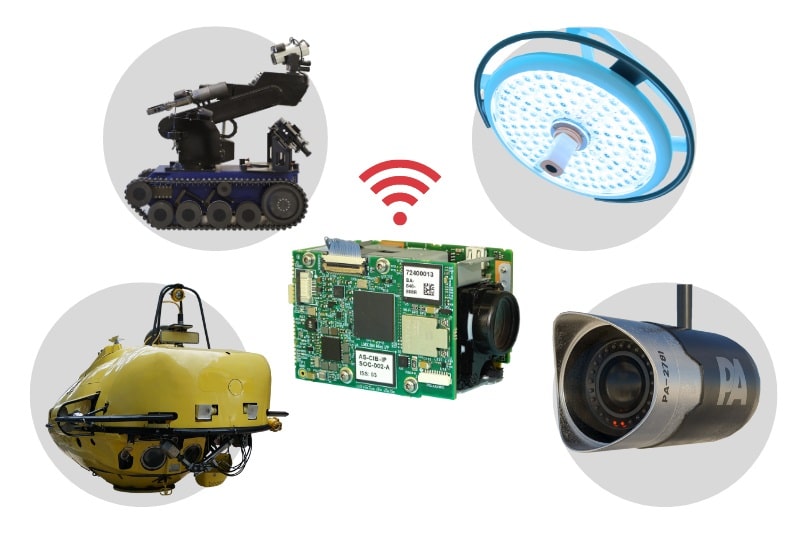 Wireless IP Autofocus-Zoom Cameras
July 5, 2023
An Internet Protocol (IP) camera transmits video and audio data over an Ethernet network. Being connected to a network means the camera, or cameras, can be accessed remotely and integrated with other devices and systems that are on the same network.
We recently launched our Harrier IP camera series to meet the demanding environments in which our customers wish to capture and transmit image and video data. With the addition of wireless modules, our autofocus-zoom cameras have added even more capability to vision systems.
What to expect from a Harrier IP camera
A Harrier IP camera transmits and receives data over a network using Harrier IP Camera Interface Board technology. The interface board compresses the camera LVDS video signal (using H.264), converts it to an RTP video stream and sends it to a physical connection to external Gigabit Ethernet systems (using CAT5/6 Ethernet cables), or an optional WiFi wireless module integrated on to the Harrier IP board.
We've created a video to show how easy it is to set up a Harrier IP camera, and add the IP camera to a network.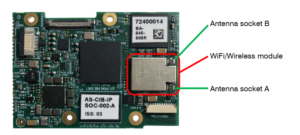 Harrier IP Camera Interface Boards that carry a wireless module, support 2.4/5GHz WiFi communications, and have two microcoaxial MHF4 connectors for antenna connections. Suitable antennas can be sourced from our sister company, Solid State Supplies Ltd.
To connect the Harrier IP board to a  wireless network there must be a DHCP server running as, by default, the Harrier IP wireless module is set to acquire an IP address from a DHCP server. In a custom wireless network the IP address can be set to a fixed value.
In favorable environments, our Harrier IP wireless cameras will allow uninterrupted transmission over significant distances. Factors which may reduce this include structural barriers, interference from other devices that use the same frequency band or adverse environmental conditions such as extreme weather. Poorly configured networks will also slow down transmission so it's important to ensure your network is optimized.
Advantages of WiFi-enabled cameras
An IP camera uses its own IP address to connect to a network and doesn't rely on being connected to a PC or alternative host device. A network of cameras in various locations can be accessed via a single interface, similarly, several users can access one or more of the cameras simultaneously. This makes a WiFi enabled camera ideal for remote surveillance operations.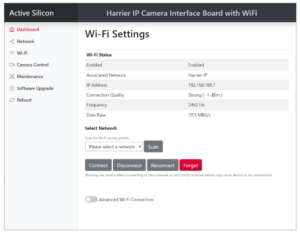 Harrier wireless IP cameras are ONVIF Profile S compatible so any Profile S compatible user-developed software or 3rd party application can be used to control the camera over the IP connection. However, the Harrier AFZ camera modules offer more capabilities than the Profile S API, these additional camera features can be controlled by sending VISCA commands from the Harrier IP Website (served by the Harrier IP Camera Interface Board), or an ONVIF DeviceIO service API function. Many of the camera's advanced features, such as day/night functionality, optical zoom and WDR, can be controlled in this way. In addition, the IP video stream can be set to one of three different profiles, each with different video compression settings. The Harrier IP website is also used to view and set the WiFi network settings.
Applications for wireless IP cameras
The range of wireless Harrier IP cameras includes models with 10x up to 40x optical zoom, global shutter and rolling shutter options and Full HD output. This means there's a suitable camera for almost any application, but many of our enquiries come from these sectors:
Surveillance and Law Enforcement
Networked cameras bring flexibility and added assurance to security operations requiring precise surveillance and tactical communication.
AUVs and ROVs
Harrier IP cameras offer real-time imaging and advanced control for automated inspection vehicles and mobile robots. Being able to control the camera at distance is ideal for hazardous environments such as monitoring nuclear facilities or inaccessible locations including underwater operations.
Medical imaging
Real-time video acquisition and transmission is widely used for training purposes in hospitals and healthcare facilities. Removing the need for additional cabling reduces both risk and cost in an operating room.
Why Harrier?
Harrier autofocus-zoom IP cameras benefit from extremely low latency. We've compiled a guide on how to obtain the lowest possible latency from your vision system, which also includes measurements of recorded latency for our Harrier 10x AF-Zoom IP Camera (info on more models will be included shortly).
The wireless module in Harrier IP cameras has support for 802.11 ac/a/b/g/n and dual band 2.4/5 GHz. It includes extensive DMA hardware support for data flow to reduce the CPU load and advanced power management for optimum power consumption.
Harrier IP cameras are also amongst the most compact autofocus-zoom cameras on the market. Our smallest module, based on the Tamron MP3010M-EV, measures just 70 x 38.7 x 43mm and weighs less than 120g. This makes them ideal for use in applications where a low SWaP ratio is required, such as mounted on drones and ROVs.
Take a look at our range of wireless Harrier IP cameras and get in touch to see how to bring networked imaging to your vision system.