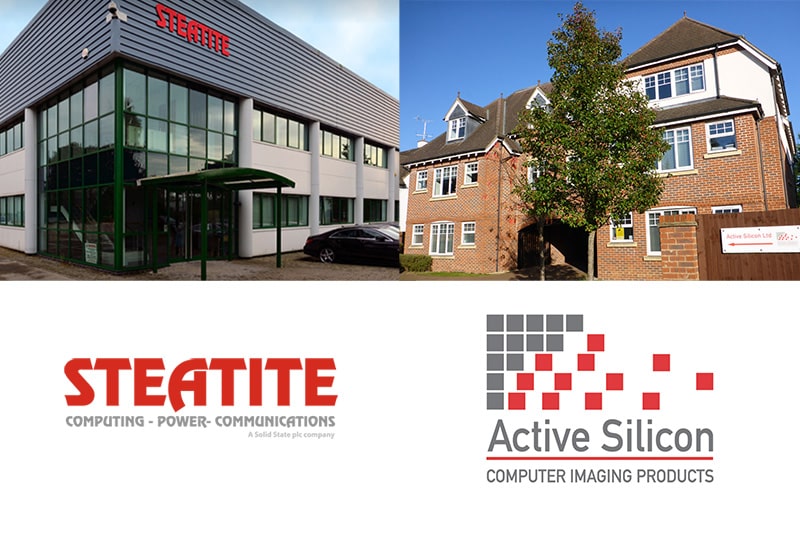 Active Silicon and Solid State two months on
May 4, 2021
At the beginning of March we were delighted to announce that we've become part of the Solid State group, integrating into Steatite – the manufacturing division of Solid State Plc. So how, and where, is the relationship going?
Now that we've made our socially-distanced introductions it's becoming clearer how our products will support Steatite's ongoing growth. And an exciting alliance is blossoming.
From the ocean floor to the edge of space, Steatite technology is enabling critical applications to operate consistently, reliably, and above all safely, around the clock in extreme environments. Steatite's products range from rugged portable and industrial embedded computing, to lithium batteries and custom power packs, secure communication systems and antennas. And our role within Steatite perfectly complements this as we've added our rugged vision hardware and reliable software to the portfolio. We're looking forward to launching one of our Harrier autofocus-zoom cameras on a submarine, or sending one of our embedded systems into mission-critical military action.
But it's not just our computer imaging products that we'll be sharing. Our expertise, established over 30 years serving the vision market, is second to none. Our skills in custom design are supported by agile development and production teams who are able to respond quickly and innovatively to new requests and ideas. Steatite are already benefiting from our know-how in imaging and our capability to customize our hardware and create full custom turnkey solutions from scratch.
And in return? In the true spirit of give and take, we're enjoying being part of a larger company, enabling us to support a wider range of customers and lean on the experience of a bigger pool of engineering talent.
If you have a requirement for power, vision, computing or communication – then chances are, we can help!
Active Silicon and Steatite are going from strength to strength – take a look at our websites to see our joint capabilities and get in touch now that we can offer solutions to even more vision challenges.