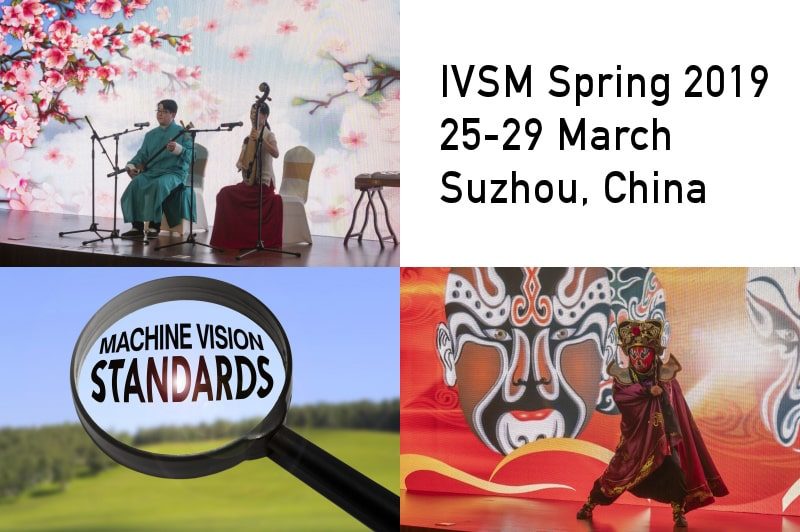 China hosts the latest IVSM
April 4, 2019
The China Machine Vision Industry Union (CMVU) welcomed delegates for the first time last week for the Spring 2019 International Vision Standards Meeting (IVSM) in Suzhou. The city is steeped in over two thousand years of history and its Classical Gardens and traditional waterways have been listed as UNESCO World Heritage Sites. In contrast, Suzhou Industrial Park and Suzhou New District are testament to the modern wave of development which sits alongside the ancient monuments. In a location which truly blends traditional with modern, machine vision experts discussed established techniques and cutting-edge developments in the world of machine vision standards.
CMVU members benefitted from a training session from the chair of each of the standards committees and in turn, along with sponsoring company Bozhon, treated attendees to a fantastic dinner featuring live music and a masked dancer.
GenICam
The GenICam meeting worked on the updates needed for the next main release, provisionally to be named 2019.06.  This will have several changes, including adding the new GenDC (Generic Data Container) standard and updates to the SFNC (Standard Features Naming Convention) to support GenDC.
CoaXPress
The CoaXPress meeting, chaired by Active Silicon CTO Chris Beynon, solved the remaining three issues blocking the CXP v2.0 release, setting a timescale for voting leading to a planned release in June, before moving on to planning the addition of GenDC in v2.1. The committee also discussed an interesting proposal to add high speed optical support to CoaXPress.
Camera Link
While Camera Link is still in maintenance mode, options for v2.2 were discussed again to see if there is support for adding GenCP to standardize camera control via GenICam, but no conclusion was reached. Following Steve Kinney formally stepping down as Camera Link chair, Chris Beynon was appointed as vice-chair – which has actually been the de-facto status for a few years.
See more about machine vision standards and details from previous IVSM conferences here. At Active Silicon, we're constantly pushing the limits of machine vision with our outstanding products and exceptional support services, sign up to our newsletter to stay informed.