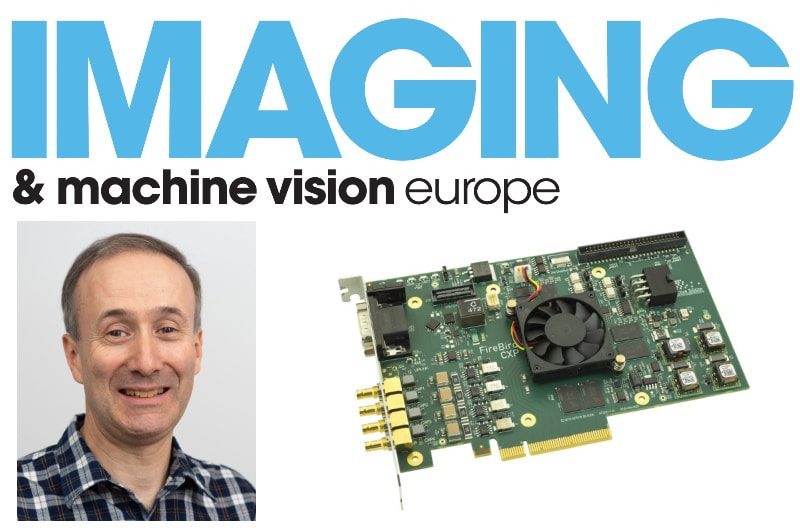 The inside view on CoaXPress 2.0
April 26, 2020
Subscribers to our newsletter received our Tech Focus in September explaining the latest release to the CoaXPress (CXP) machine vision standard, v2.0. IMVE recently published further details in an article co-written by our CTO, Chris Beynon, who is also Technical Chair for the standard.
You can read the whole article, or view the newsletter for full details, but the key changes are:
Speed: CXP v1.0 introduced a maximum speed of 6.25 Gbps per link. v2.0 increases this to 10 Gbps for CXP-10 and 12.5 Gbps for CXP-12. Links can also be concatenated so a 4-link frame grabber can now receive data at up to 50 Gbps.
Connectors: The preferred connector for v2.0 is a Micro-BNC, also called an HD-BNC. This smaller connector can be incorporated into more compact hardware.
Uplink speed: This has been doubled to 42 Mbps so trigger rates over 500kHz are now possible. Real-time triggering is a well-known benefit of CoaXPress and a key feature in many industrial inspection systems.
Multiple cameras: The standard has always offered excellent support for the use of multiple cameras. v2.0 has introduced multi-destination capability so that data can be output from a single camera to multiple frame grabbers which can be located in different PCs.
GenICam: Mandatory support for GenICam has always been part of the CXP standard, including GenTL, but new event packets now allow the camera to send status information.
What's next?
Future versions of the standard are expected to include formal support for GenDC, compatibility with prospective optical interfaces and support for serial comms. Speeds are likely to increase in line with developments in technology. Sign up to our newsletter to stay up to date with planned changes.
How can you embrace faster machine vision?
Our CoaXPress frame grabbers enable the very fastest image acquisition along with enhanced camera control. Get in touch with our experts to understand the benefits of CoaXPress for machine vision and how your vision system could run faster and smarter.