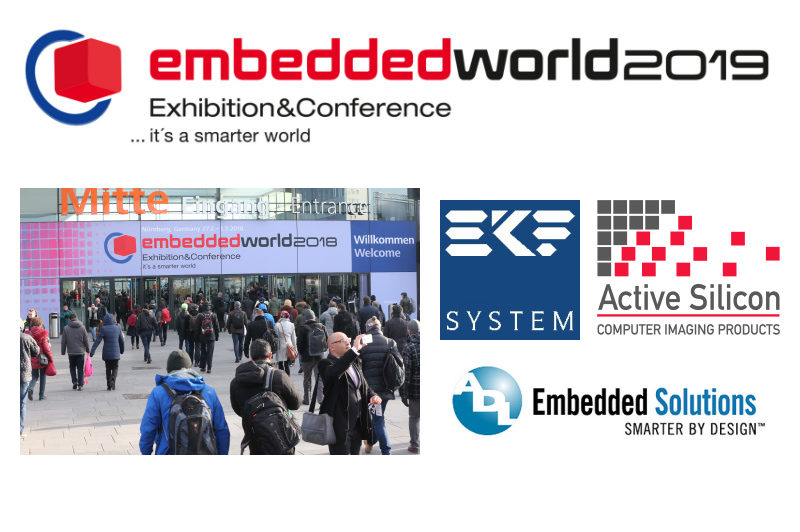 Keeping up with the Embedded revolution
February 4, 2019
Embedded World returns to Nuremberg on 26-28 February and Active Silicon are pleased to confirm that our partners, ADL Embedded Solutions and EKF Elektronik will be presenting our products at the show.
On ADL's booth, you will be able to see our Phoenix PCI/104e Camera Link frame grabber and FireBird Quad USB 3.0 Host Controller. Our frame grabbers include our ActiveDMA technology which transfers data directly to PC memory without any host CPU intervention, offering faster processing for data acquired from a variety of Camera Link sources, including digital frame capture and line scan cameras. The host controller uniquely configures each pair of its four USB 3.0 ports to use a single lane Gen2 PCI Express interface, thereby eliminating inconsistencies resulting from shared bandwidth.
On display alongside EKF's industrial computers will be our FireBird Camera Link 3U cPCI Serial frame grabber. The board is designed for ultimate performance and reliability, providing the very fastest image acquisition without any CPU intervention using the latest FPGA families, DDR3 memory and a fast Gen2 PCI Express interface.
Embedded vision systems are being deployed in more application fields than ever as even more sectors are embracing the opportunities of faster and more connected image processing. Partnering with established and successful organizations such as ADL and EKF helps us to support more projects in science and industry and bring lightning-fast solutions to vision systems around the world.
View our full product range here and contact us to understand how we can ensure your imaging systems run at their maximum efficiency.