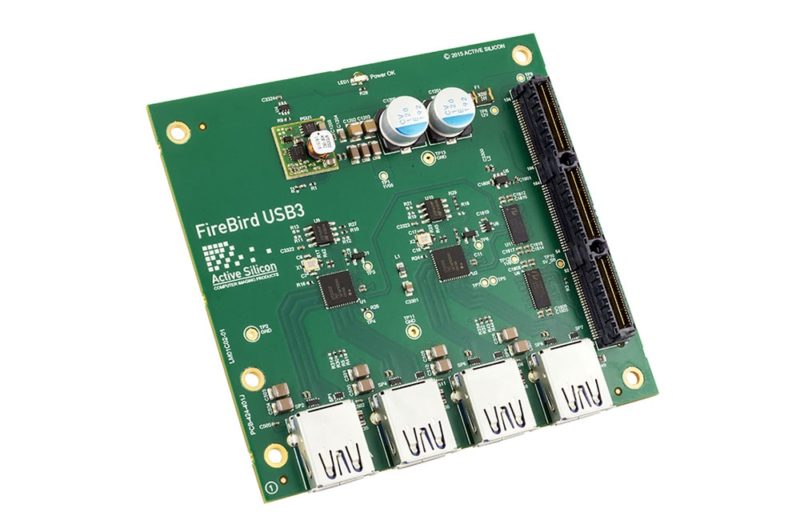 Click image to enlarge
FireBird Quad USB 3.0 Host Controller
Part Number: AS-FBD-4XUSB3-5-104-2PE2
4 x USB 3.0 compliant downstream ports.
Dual full USB 3.0 bandwidth architecture with each channel split into 2 x USB 3.0 ports.
Based on proven Renesas™ USB 3.0 Host Controller.
Compliant with USB 3.0 specification Rev.1.0 and Intel xHCI specification Rev. 1.0.
Support for USB3 Vision cameras.
Dedicated USB power supply allows for long cables.
Rugged PCIe/104 form-factor.
Universal operation: Type 1 or Type 2 hosts.
Supports stack up or stack down configurations.
Windows and Linux support.
Enquire About This Product
Description

Product Specs

Downloads
Description
Products Specs
Downloads
The FireBird Quad USB 3.0 Host Controller supports four USB 3.0 ports arranged as two ports per host controller with each controller having its own PCI Express x1 Gen2 interface to give a combined total data throughput of 10 Gbps. The USB 3.0 Host Controllers used are the proven Renesas™ μPD720202.
Many USB 3.0 Host Controllers found on motherboards and processor modules share bandwidth with other devices typically resulting in inconsistent performance in demanding applications such as high-speed acquisition from USB3 Vision cameras. The FireBird Quad USB 3.0 Host Controller solves this problem by configuring each pair of USB 3.0 ports to use a single lane Gen2 PCI Express interface. Similarly this architecture provides a balance between cost and performance – so that two USB 3.0 devices may operate simultaneously at full bandwidth, or four devices operating simultaneously sharing the combined bandwidth of two full speed links. The board incorporates a dedicated power supply for USB to ensure reliable device operation independent of the main system power supply. The output is set to 5.1V to compensate for voltage drop along long reach USB 3.0 cables.
Software support is based on the proven Renesas™ driver stack which provides the high throughput required by USB3 Vision cameras. Combined with the GenICam standard, these international vision standards in turn provide compatibility with a wealth of third-party applications allowing rapid product development and integration.
Specification summary
| | |
| --- | --- |
| USB 3.0 Interface: | Renesas™ μPD720202 USB 3.0 Host Controller supporting the following modes: SuperSpeed (5 Gbps), High Speed (480 Mbps), Full Speed (12 Mbps) and Low Speed (1.5 Mbps). |
| USB Connectors: | USB 3.0 Type-A connectors. |
| Power Output: | A dedicated power supply for USB VBUS provides each USB 3.0 port with a nominal 5.1V at 900mA. To cope with very long cables, this voltage can be increased as a hardware option. |
| PCI Express: | Two single lane PCIe Gen2 interfaces support a combined total bandwidth of 10 Gbps (5 Gbps per single lane Gen2 interface) from the USB 3.0 Host Controller to the host PC. |
Conformance
USB 3.0

Compliant with USB 3.0 specification Rev.1.0 and Intel xHCI (eXtensible Host Controller Interface) specification Rev. 1.0.

PCI Express:

PCI Express Base Specification Revision 2.0.

PCIe/104:

PC/104 Specification for PCIe/104 Revision 2.1.

Approvals:

EU:

CE-mark for compliance with EMC EN 55022:2010 (class A) and EN 55024:2010 in accordance with EU directive 2014/30/EU.
RoHS compliance to RoHS3 directive 2015/863/EU.

USA:

The printed circuit board is manufactured by UL recognised manufacturers and has a flammability rating of 94-V0.
Physical and environmental details
Dimensions:

PCB:
PCIe/104 standard size: 3.8 x 3.6 inches (96.5mm x 91.4mm).

Weight:

70g.

Power consumption (typical)

+3.3V
128mA

+5V
90mA

Does not include power provided to USB devices. This power is provided from the 12V rail.

With two USB 3.0 devices connected and running at SuperSpeed (5 Gbps).

Storage temperature:

-40°C to +85°C.

Operating temperature:

0°C to +70°C (ambient environment).

Relative humidity:

10% to 90% non-condensing (operating and storage).
Ordering Information
| Part number | Description |
| --- | --- |
| AS-FBD-4XUSB3-5-104-2PE2 | FireBird Quad USB 3.0 Host Controller interface card. |