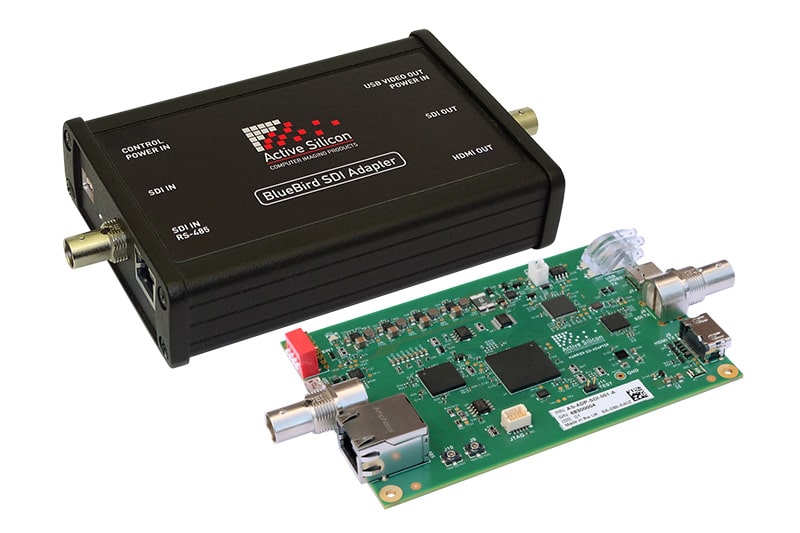 Solutions for industrial SDI-USB/HDMI video capture and conversion
April 28, 2021
Upgrade without replacing your entire vision infrastructure
The BlueBird SDI-USB3 Adapter is designed for format conversion of 3G-SDI, HD-SDI and HD-VLC video streams; it operates as a USB/HDMI/SDI converter and external frame grabber for video streaming and video capture.
It provides a quick and cost-effective solution for industrial vision systems with SDI cameras where a frame grabber or accompanying software is no longer supported or going obsolete.
The adapter is also ideal for upgrading legacy systems where the intent is to move to USB/HDMI output cameras, or systems where currently only SDI cameras are suitable (such as those where legacy coaxial cabling would be difficult or expensive to replace).
What can it do?
The video input signal is supplied via the BNC connector, or via the Ethernet (RJ45) connector. Three simultaneous video output formats are supported: 3G-SDI/HD-SDI or HD-VLC (via BNC), HDMI (via standard HDMI connector), and SuperSpeed USB/USB Video Class (UVC) v1.1 output (via USB Type-C cable). A remote camera connected by RS-485 may be controlled via the USB connection. The RJ45 connector enables RS-485 camera control signals, camera power supply and HD-VLC compressed video input (over twisted-pair).
As well as standard 3G/HD-SDI streams, the BlueBird SDI Adapter automatically decodes HD-VLC encoded video streams; these can be delivered by one of our 3G-SDI/HD-SDI AF-zoom block cameras. Compared to 3G-SDI coaxial cable-based solutions, this end-to-end HD-VLC solution enables the use of longer cable lengths (see our White Paper on long-reach HD digital video solutions with this technology).
The benefits of USB3 based video
USB is a well-established connection standard, supported in all recent PCs (including embedded PCs) and with a readily available off-the-shelf cable supply. It will be supported on Windows and Linux for a long time and offers an inexpensive, simple, plug-and-play option for most vision systems.
USB can support video transmission over long distances using standard USB extender cables. For situations requiring very long distances and/or electrical isolation/EM noise protection, optical fiber based cables are available. Finally, it's easy to change cameras by simply dropping in a replacement, applications use standard USB software so a different camera will just plug in and immediately deliver video to a USB video capable application like MS Camera (delivered with windows) or VLC player.
The benefits of the SDI adapter
Powered by the USB cable, the BlueBird SDI Adapter supports high quality 1080p60 uncompressed video and offers simultaneous SDI output and HDMI output for local monitoring. It has an option for camera connection over twisted pair cable, enabling video, power and serial control in one CAT5/6 cable. Video over twisted pair uses HD-VLC compression to deliver 1080p60 and support for long cable lengths to the camera.
The adapter can be purchased as a standalone board, or housed in a rugged enclosure for harsher environments. The built-in test pattern generator, auto-sensing of active input and compliance with SMPTE 274M and SMPTE 296M are just some of the features which make this adapter immensely versatile and simple to add into existing vision systems.
Applications that the BlueBird SDI Adapter is perfectly suited for include:
simultaneous low latency video interface conversion (SDI to HDMI/USB3/SDI).
long-reach video cable applications where video needs to be stored/viewed in real time at the end of the SDI cable (e.g. viewing with a standard monitor and storing using a PC in parallel).
applications requiring SDI video to be transferred over low cost twisted pair cables (e.g. Ethernet cable).
We offer custom design services and can adapt the product if it does not meet all your requirements. We are happy to discuss your system requirements and are looking forward to delivering the product you need.
Get in touch to find out more about how the BlueBird SDI Adapter could enhance your existing system, or add flexibility to a new one. It perfectly complements our Harrier range of autofocus-zoom camera solutions to bring extended capability to vision applications.