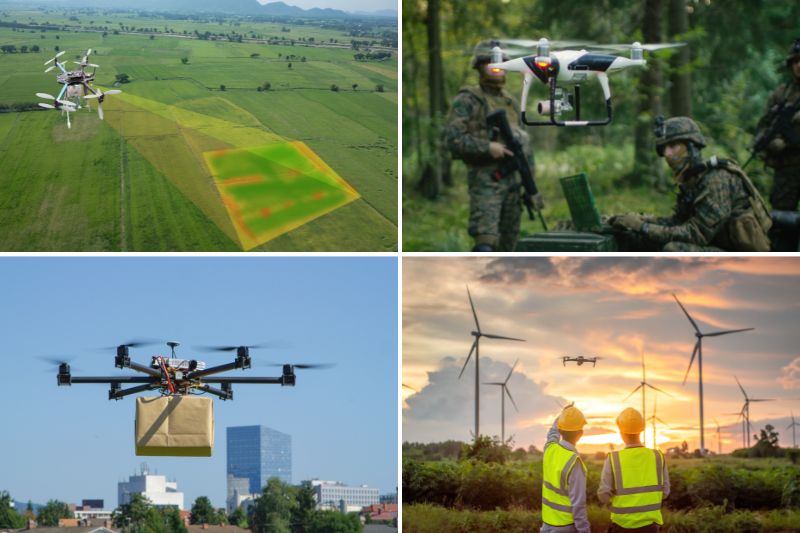 Applications and imaging solutions for drones and UAVs
January 24, 2023
Technology for UAVs is developing rapidly as an increasing variety of applications adopt the flexibility and extended capability offered by drones. Our autofocus-zoom block cameras and board cameras are ideal for integrating into remotely-operated and autonomous devices across a range of applications. Our Harrier series even includes global shutter options to capture fast-moving objects without blurring or distortion.
UAVs in Defense and Security
Staying one step ahead of threats and security breaches requires a vigilant eye, and requests for imaging solutions in high-spec drones for defense and surveillance is one of our principal new business areas. In December 2022, Beyond Visual Line of Sight (BVLOS) autonomous police drones were deployed for the first time in Israel[1], proving the appetite for adopting leading-edge technology.
UAVs for military applications vary greatly in size, from large drones such as the Global Hawk, able to carry heavy payloads including weapons and fly at high altitude, to tiny drones like the Black Hornet, designed for stealthy surveillance. To meet the varied requirements of these drones, our Harrier autofocus-zoom camera interface boards offer flexible outputs and real-time video transmission in a variety of outputs. Ideal for smaller drones, Oriole board cameras include a switchable IR filter to support the Infrared Cut Filter Removal (ICR) feature to provide good day or night vision.
Drones for Industrial inspection
One of our very first volume orders for our Harrier AF-Zoom HD-SDI Camera came from a pipe inspection company who wanted to integrate our camera module into their crawler robot to transmit real-time video along long lengths of inaccessible pipes. Since then, we've been approached by a wide remit of companies looking to add inspection UAVs to their armoury for tasks including inspecting wind turbines for defects, monitoring external structural integrity and even gas leak detection.
Previously, such inspection tasks have required a visual check to be carried out by someone at the top of a very large scaffold or suspended on ropes. Deploying drones to do these jobs saves hours of expensive labour, overcomes huge logistical challenges and eliminates the element of risk to life. UAV drones for inspection and defect detection is a massively growing market with a very enticing ROI. These drones may not need to transmit live video but rather record their footage for future review so very high-resolution cameras are needed to detect the smallest of hairline cracks. Our Harrier camera series includes zoom options from 10x to 40x and resolution up to 4K, ideal for such tasks. Their light weight and low power requirement allow more image storage capacity to be included in the drone's payload.
Logistics and delivery drones

From the UK's Royal Mail to global logistics giant, Amazon, delivery drones and their associated imaging systems are big business, and the healthcare industry is offering some of the greatest advantages. Delivering medicine and essential care to remote communities can be extremely challenging, especially in politically unstable and far-flung regions. The good news is that these locations are often not limited by the need to comply with as many aviation regulations and healthcare providers can use UAVs over long distances to deliver first aid, vaccines or critical supplies.
For example, a drone testing corridor opened in Malawi in 2017 allowed BVLOS testing in a territory over 5000 km² and up to 400 meters above ground level. Rwanda later became the first country in the world to regularly use drones to deliver blood and other essential medicines. The Muhanga drone centre has 14 drones serving 21 hospitals in western Rwanda[2] and it was on the front line during the pandemic, delivering COVID-19 vaccines.
UAVs are being deployed at the start of supply chains too, being used to check stock in warehouses for faster and smarter inventory management. Precise navigation tools are needed for these confined spaces, along with heightened collision avoidance technology. With highly controllable camera functions and extremely low-latency image transmission over Ethernet, our Harrier AF-Zoom modules are a perfect solution for these remote warehouse workers.
Airborne Agribots

We reported previously about the incredible benefits that hyperspectral imaging is bringing to agricultural applications. Well, of course our April Fool post about harvesting pasta wasn't quite fact-based, but it is true that UAVs with hyperspectral and multispectral imaging capability are being used to monitor crops for disease and to ascertain the exact levels of water, fertilizer and pesticide required for optimum yield. The overuse of farming chemicals has been a sizable culprit in environmental pollution in recent years, and this method of optimizing the levels required is a very good reason for investing in imaging systems on board drones for agricultural applications.
UAVs also allow livestock farmers to monitor herds and flocks over great distances. In this case, real-time video transmission may be required in order to pick up anomalies in behaviour or appearance amongst hundreds or thousands of animals while the subject is still in the field of view.
However, pilots are advised not to let drones fly too close to the animals they're filming – this tweet from H0W_THlNGS_W0RK captures what can happen when things don't go according to plan!
Imaging solutions for drones
These are just a few of the wide spectrum of applications currently investing in drone technology. As UAVs become smaller, lighter and more powerful, so must the imaging technology onboard. To maximize flight times, payloads must be lightweight and power-efficient, and our family of Harrier autofocus-zoom cameras and Oriole board cameras offer excellent solutions for commercial and military drones.
For computing, navigation and power solutions for drones, our sister company, Steatite, can assist. Download the white paper Selecting the Right Technology for UAVs to see how to combine the best batteries, computing, comms and imaging tools to create the optimum UAV.
Contact us to discuss your drone imaging requirements, check out our camera solutions and capabilities for the UAV market and sign up to our newsletter to stay up to date with industry developments.

[1] Beyond-visual-line-of-sight (BVLOS) autonomous police drones deployed for the first time in Israel | Military Aerospace
[2] Healthcare by air: Rwanda's life-saving medical drones | Global development | The Guardian