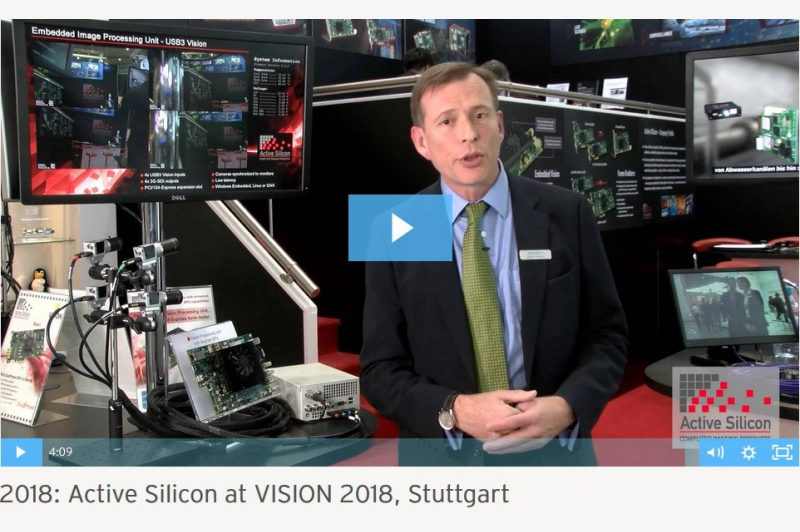 CXP-12, GPU processing and embedded vision in action
December 5, 2018
In our 30th year of operation we brought our state-of-the-art components to Stuttgart to demo cutting-edge vision technology. CEO, Colin Pearce, talks us through the demonstrations. Watch the video here to see our embedded systems, frame grabbers and interface boards in action and hear how they can result in accelerated and enhanced image processing.
Our first demo shows our flagship software, ActiveCapture, running on a CoaXPress frame grabber to display live, simultaneous acquisition from four separate cameras from different manufacturers. We brought our newest additions to our CXP family to the show – a single link board optimized for cost-effectiveness and a CXP-12 quad frame grabber, capable of processing data at 12.5 Gbps per link, offering an overall high-speed data rate of 50 Gbps. We also have a range of Camera Link frame grabbers.
Colin then presents our Vision Processing Unit embedded system which is currently enabling Augmented Reality (AR) in surgical operations. Encompassing a GPU, images from up to four USB 3.0 cameras can be processed and then displayed via HD-SDI outputs.
Finally, our Harrier 3G-SDI camera interface board is in the spotlight. This compact board is designed to fit perfectly onto Tamron MP1010M-VC and MP1110M-VC, Sony FCB and other autofocus zoom cameras, widely used in pipe inspection, surveillance and medical imaging. Our innovative adoption of HD-VLC™ technology means that our board, along with our bespoke converter, can transmit high-quality, real-time images over coax cables up to 700m, using analog and digital signals simultaneously where required.
Also on display at the show, although not featured in the video, was our demo of accelerated image processing using our FireBird frame grabbers and a GPU. Frans Vermeulen, our Head of Sales and Marketing, delivered an informative presentation on GPU processing, giving insights into getting the utmost out of your vision system.
If you missed us in Stuttgart, this video synopsis is a must-watch. We've been providing reliable and robust products for 30 years; contact us to hear more about the technology on display and the solutions we can offer.