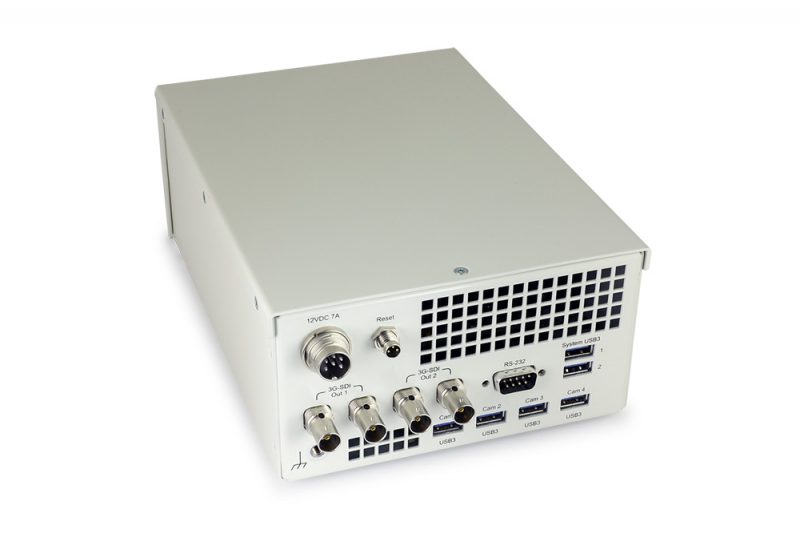 Click image to enlarge
USB3 Vision Processing Unit
Part Number: AS-LM01-CME-SYS-A
Custom COM Express based embedded PC in custom housing.
Intel i7 processor – other options available.
4 channels of USB 3.0 inputs designed for "USB3 Vision".
4 channels of 3G-SDI outputs.
1 x RS-232 port.
Two internal SSD drives (M.2 SATA).
Standard interfaces for development: 4 x USB 3.0, 1 x GigE, 1 x DisplayPort.
PCIe/104 expansion slot.
Enquire About This Product
Description

Product Specs

Downloads
Description
Products Specs
Downloads
The USB3 Vision Processing Unit has been custom designed for a specific medical application in the field of computer vision assisted surgery. The unit has four inputs for USB3 VisionTM cameras and four 3G-SDI outputs arranged as two channels of 3G-SDI video, each with a duplicate output.  The unit satisfies various medical and quality standards and is designed for long term use in an environment where high reliability and ease of use are paramount.
A development port provides interfaces for keyboard, mouse, monitor and network which may be conveniently closed-off for runtime embedded use.
If you have a requirement for an embedded system with high reliability and long product life, please contact us for further details.
Specification Summary
Processor:

COM Express Type 6 module utilizing an Intel i7-4700EQ processor. Other processor options available on request.

Memory:

2 x 8GB DDR3 1600.

Hard Drive:

1 x 120GByte SSD.

USB3 (for cameras):

4 x USB 3.0 ports designed to support USB3 Vision cameras via PCIe/104 expansion card. (Active Silicon part number: AS-FBD-4XUSB3-5-104-2PE2)
A dedicated power supply for USB VBUS provides each USB 3.0 port with a nominal 5.1V at 900mA. To cope with very long cables, this voltage can be increased as a hardware option.

USB3 (general purpose):

2 x USB 3.0

3G-SDI outputs:

4 x 3G-SDI outputs using BNCs connectors arranged as two pairs such that each pair has the same data on each output.

RS-232:

1 x RS-232 port.

Reset Connector:

3-pin connector for standard PC reset/reboot and power down.

LEDs:

5 x 3mm bi-color green/red LEDs for user status feedback.

Development Port:

1 x GigE network, 1 x DisplayPort and 2 x USB2. (Under panel marked "Factory Use Only".)

Earthing Point:

M4 threaded blind hole, 7mm minimum thread depth.

Expansion Options:

PCIe/104 format expansion slot pre-fitted with 4-port USB 3.0 Host Controller.