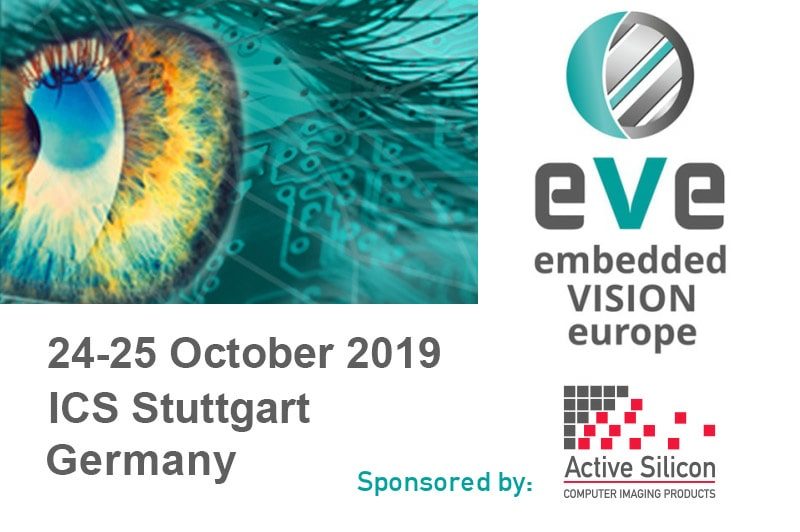 Highlight on Embedded Vision
September 19, 2019
Active Silicon are proud sponsors of the second Embedded VISION Europe conference, taking place in Stuttgart from 24-25 October. Organized by the EMVA and Messe Stuttgart, the biennial event provides a platform for discussion and learning, covering all aspects of embedded vision.
Keynote speakers from Intel, Micron Technology, IDS and NVIDIA will open the conference, which has a strong focus on Machine Learning and AI. Attendees will also hear how embedded vision technologies are making visual inspection processes faster and more accurate. With the option of pre-booking one-to-one meetings with selected participants and plentiful networking breaks, the show promises to bring together developers, users, suppliers and integrators to share knowledge and provide solutions in this fast-moving sector.
Observe embedded vision in action
We will be in the exhibition area with a demo of our USB3 Vision Processing Unit, an embedded system developed for a specific application in the field of computer vision assisted surgery. The unit will simultaneously acquire and display images from four individual cameras. The VPU processes the image stream in real-time and provides several data output options, including 3G-SDI. The demo will comprise a combination of USB cameras and ultra-compact Tamron MP1110M-VC autofocus zooms cameras fitted with our Harrier USB/HDMI interface board. Visitors will be able to see how the system, based on a high-performance Intel i7, allows for flexibility in system design and the acquisition of video data from a variety of sources. Available now for medical and industrial OEMs seeking to integrate multiple cameras into their systems.
Get involved
Book your pass now to attend the event and widen your embedded vision knowledge. Take a look at our embedded systems, frame grabbers and interface boards and contact us to understand how our solutions could be adapted to your vision needs.