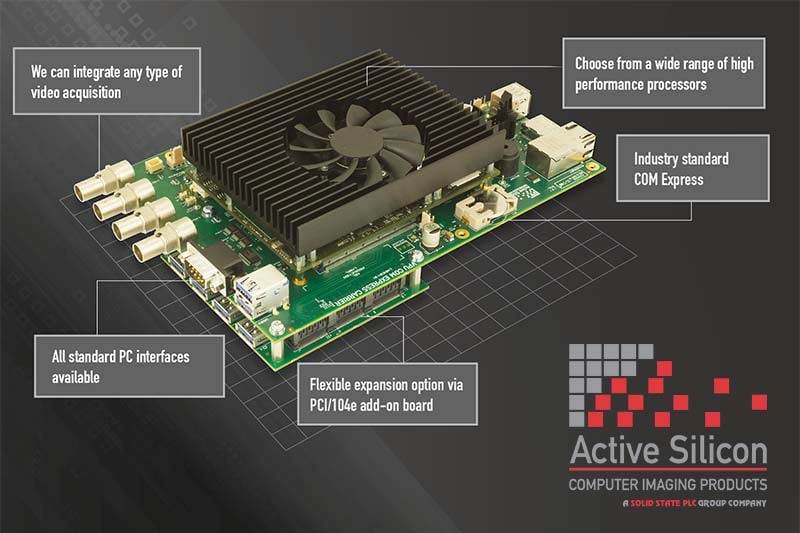 Embedded vision systems for demanding applications
March 8, 2022
Active Silicon designs and manufactures a range of embedded systems for use in sectors including medical imaging, computer vision assisted surgery, security & surveillance and gaming.
Our units are custom-designed and built to accommodate a range of video formats and PC interfaces, providing total flexibility and compatibility for OEMs. Various expansion options allow for easy upgrades and scalability via additional PC/104 Express boards and a COM Express mezzanine carrier card ensures reliability and ruggedization. Design and components are carefully considered to guarantee the same form, fit and function for many years.
An embedded system can typically offer a smaller, more reliable and longer life solution. It can be designed very precisely to meet the requirements of a specific function, for example, one of our units which has four inputs for USB3 Vision cameras and four 3G-SDI outputs arranged as two channels of 3G-SDI video, each with a duplicate output. Being certified to meet various medical standards, it is currently in use in computer vision assisted surgery.
Embedded systems also lend themselves well to encompassing other areas of functionality in addition to vision, such as machine control, communications, networking and other custom input/output (I/O) functions.
Take a look at our in-depth article which explains more about the benefits of embedded vision. There's more about our embedded vision products on our website, and more details about our custom design services which can be applied to a huge range of applications and sectors.
Follow us on social media and sign up to our newsletter for more product and industry news: