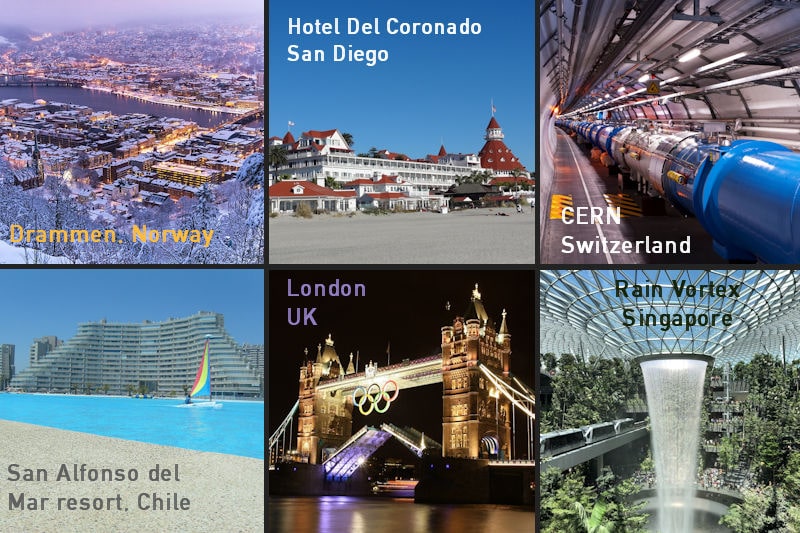 Imaging the world: Top spots to visit and see our computer vision products in action!
October 26, 2021
We've supplied imaging components for some seriously cool projects in our 30 year history, and our frame grabbers, camera solutions and embedded systems are imaging the world in some really fascinating destinations.
In this final part of our "Imaging the World" series, we'll look at some examples of where our vision products are bringing cutting-edge imaging to applications in some stunning locations – and what else is worth seeing in these spots.
Drammen, Norway
Starting our trip in Europe, one of the most stunning destinations for our products has to be Drammen in Norway. Here, digital data storage company, Piql, are using our Firebird Quad CXP-6 frame grabber to digitize data from various mediums, apply OCR and indexing (for fast searching) then digitally print the data onto highly-durable 35mm film using coding technology similar to QR codes. In this way, film can be safely stored for up to 500 years, safeguarding massive volumes of legal documents, historical media assets, national heritage manuscripts, audio recordings and works of art. Piql chose our frame grabber to integrate into their readers due to its high-speed image acquisition, cost-effective pricing and its off-the-shelf compatibility with other system components.
The relatively large town of Drammen is split in two by the Drammenselva river, popular for its salmon fishing. For a more physical challenge, visitors to the city can enjoy gorge jumping, mountain biking or golf. If you're looking for culture, Drammen's Museum displays a broad history of material objects, buildings and art from ancient and modern times. The city is also home to one of Norway's oldest theaters, and has an active music culture with Union Scene as a location for major Norwegian and international acts.
San Diego, USA
San Diego has been evolving as a hub for healthcare and biotech development and our customer here is using our product in pioneering DNA sequencing. Using scientific CMOS cameras from our partner, this market-leader in developing and manufacturing life science tools has installed our Phoenix and FireBird frame grabbers in instruments designed to help create maps of gene variations associated with health, disease and drug response.
Tourism is huge business in San Diego, and the city has the world's busiest single runway airport. As well as enjoying the clement weather, visitors can stay in the Hotel Del Coronado (one of the largest standing wooden structures in the world) and ride on the Giant Dipper (the only roller coaster in the country to be listed on the National Register of Historic Places). Defense and military operations also make up a large share of San Diego's economy and, with the US Navy as the top employer, it's home to the largest naval fleet in the world.
Valparaiso, Chile
Which leads us neatly onto our next stop where we've supplied vision components to the national navy, headquartered in Valparaiso, Chile. Our PC/104 LFG acquisition card in PMC form factor was chosen by a private supplier to the navy fleet to deliver tracking and targeting data. This customer specializes in radar processing and navigation systems, optronic directors and gyroscopes for stabilizing line-of-sight instruments.
Did you know that Chile is the southernmost country in the world and the closest to Antarctica? It boasts seven indigenous languages alongside the primary Spanish, and even German in some southern regions. Chile is, unsurprisingly, one of the most volcanically active countries on earth and, surprisingly, encompasses the world's largest swimming pool at the San Alfonso del Mar resort, stretching over a kilometre in length!
London, UK
Remember when Olympics were held in the year they were supposed to be? We were delighted to lend our expertise to the opening and closing ceremonies at London 2012. As official suppliers to the events, our Phoenix HD-SDI frame grabber delivered the high-speed image capture and transfer required to make these ceremonies truly awesome. Our accompanying software, ActiveSDK, makes for simple integration of our frame grabbers, which is especially important for one-off projects such as this where time and budget are constrained. The London games were the first ever to have female competitors in every sport, and Saudi Arabia, Brunei and Qatar entered women athletes for the first time.
London is a top global tourist destination, supporting more than 80,000 jobs in the sector and generating over £3bn[1]. Visitors enjoy its landmarks steeped in history, bustling nightlife, and top-end retail, but on the more peaceful spectrum, the density of trees per square mile actually qualify the city as a forest according to the United Nations' definition.
Switzerland to Singapore
Our final stop spans continents, with one foot in Europe and the other in Asia. One of our customers develops surgical microscopes and imaging instruments designed in state-of-the-art Swiss laboratories which are then manufactured in Singapore. Our LM01 COM Express Embedded System is at the heart of their imaging capabilities, used in a medical application in the field of computer vision assisted surgery. The unit has four inputs for USB3 Vision cameras and four 3G-SDI outputs arranged as two channels of 3G-SDI video, each with a duplicate output.
Perhaps most famous for chocolate, cheese and luxury watches, Switzerland offers an impeccably clean and safe destination for travellers. The country is so determined to maintain its impartiality that it hasn't been involved in any global conflict since the 16th century! While you're there be sure to stop by CERN (Conseil Européen pour la Recherche Nucléaire), the laboratory dedicated to understanding the fundamental structure of particles. The Large Hadron Collider (LHC) built here is the world's largest and most powerful particle accelerator, consisting of a 27km ring of superconducting magnets with a number of accelerating structures to boost the energy of the particles along the way.
Singapore demonstrates a spectacular engineering accomplishment as soon as you arrive – the Rain Vortex is a seven-story-tall indoor waterfall located at the Changi international airport. A stunning water feature by day, at night, the cascade becomes a giant screen onto which a light and sound show is projected. For a while, Singapore held the world record for the longest human domino chain. In 2000, over 9,000 participants created the 4.2km record, only to be outdone by more than 10,000 Chinese volunteers in 2015 reaching 7.2km.
Extensive expertise for global projects
Computer vision and image processing are enjoying massive global growth as adding vision to computer-driven tasks is making smarter machines, instruments and robots worldwide. We're proud to be at the heart of supplying this diverse and exciting industry, and love to hear about where our products are supporting new and innovative technologies. Contact us to discuss your vision product and add your location to our ever-growing list of awesome destinations!
Follow us on social media for more updates!
Sign up to our newsletter


[1] Tourism worth £3.2billion to capital, London and Partners – City Matters
Photo credits: Drammen – Harald Johnsen, CC BY 3.0 <https://creativecommons.org/licenses/by/3.0>, via Wikimedia Commons
San Alfonso del Mar: Andrew Latham, CC BY-SA 3.0 <https://creativecommons.org/licenses/by-sa/3.0>, via Wikimedia Commons
Singapore: Matteo Morando, CC BY-SA 4.0 <https://creativecommons.org/licenses/by-sa/4.0>, via Wikimedia Commons