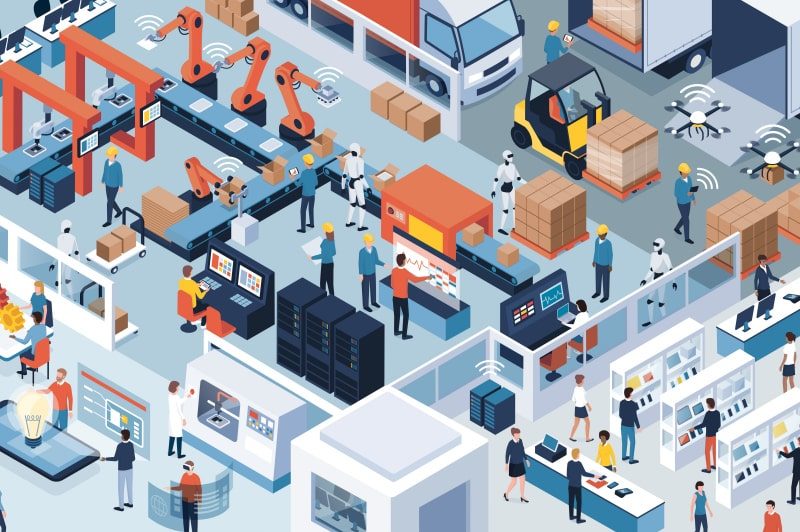 Technologies and processes for Industry 4.0
June 12, 2020
We've been keeping an eye on the implementation of Industry 4.0, or IIOT, for a while now (see our previous articles from 2017 and 2018). It's clear that making IIOT a reality in any field requires organization-wide changes. We look here at some of the procedures and technologies that need to be addressed and adopted for success.
Change your technology
When anyone mentions technology and IIOT together, the first thing that comes to mind is nearly always robotics. Indeed, robots with increased levels of autonomy and awareness are entering the workplace in growing numbers. A partnership between General Motors (GM) and Fanuc is a great case study of the benefits that connected robotics can bring to manufacturing. Fanuc's Zero Down Time (ZDT) service remotely collects data from GM's 13,000 connected robots around the world, analyzes it and feeds back instructions on which robots require maintenance or repair prior to them actually failing. Regularly recognized by GM with a Supplier of the Year Award, Fanuc's predictive maintenance system was credited to have saved 100 potential failures in the first two years of introduction. GM are also looking to increase the number of collaborative robots on the production line and have put a drone to work inspecting pipes in one of their casting plants. All of these employ advanced computer vision to bring benefits to factory floors.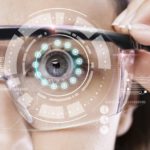 Another technology massively influencing the adoption of IIOT is the use of augmented reality (AR) in the form of industrial augmented reality (IAR). IAR uses computer vision (usually in the form of embedded systems) to create visual prototypes and digital simulations which can massively reduce R&D costs and time to market. It can aid with assembly, allowing schematics and instructions to be displayed in the field of view of the worker, assist training and even improve quality control. However, these technologies often require headsets or smart glasses which can be problematic, especially if operators are expected to wear bulky kit for long periods of time, such as during an entire shift picking orders in a warehouse. In the automotive industry, we've seen Ford, Volvo, Audi and Toyota experiment with Microsoft's HoloLens, and many product designers are adopting the technology to be able to bring their designs to digital life prior to production. Spanish shipbuilder Navantia has introduced IAR to its transformed shipyard, alongside a dozen other Industry 4.0 technologies, to improve its modeling and simulation processes. As AI continues to become more accessible and commonplace, we can expect to see IAR tools become smarter and more predictive, and, doubtlessly, more interlinked with supporting technologies such as voice control.
Evaluate your network
The role of image processing is well-established in IIOT. Data from cameras and sensors across the factory floor must be collected and analyzed in a range of tasks from predictive maintenance to part selection. Machine learning is increasingly adding to the processing burden as more inspection lines adopt an AI approach. Data is having to come down from the cloud due to the requirements for reduced latency, more bandwidth and greater security. New solutions to support edge processing are emerging and bringing greater speeds and flexibility to network management. However, these solutions can be tricky to implement compared to managing data in the cloud or data center, where tried and tested IT systems may have been in place for a number of years. The combination of industrial cameras with more cost-effective CMOS image sensors and more accessible FPGAs is beginning to change this as a greater amount of preprocessing can be carried out by the vision system itself. Of course, it doesn't have to be a one-way street – data collected at the edge can be sent on to the cloud for further processing, and, in the case of training machine learning systems, information fed back to the edge for enhanced future performance. Foghorn's Lightning Edge AI platform brings processing as close to the edge as possible while supporting AI and machine learning capabilities. They cite some interesting case studies on their website which prove the benefits of rethinking industrial image processing.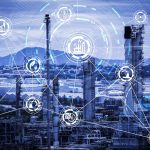 5G, the new generation of mobile telecom technology, is being seen as a major contributor to smart factories as processing demands escalate. The technology will feature low latency, high reliability and the ability to support numerous devices. Ericsson have conducted a study into the 5G Business Potential and quote the addressable market to be $113bn by 2026[1], with industrial digitalization at the forefront of this. They've been working on a Swedish government-supported project with bearing manufacturing company SKF and Chalmers University of Technology, developing the network to enable connected machines to increase output and better accommodate product customization. Mobile 5G technology is promising superior connectivity for a multitude of operations – from production lines in the heart of the factory to surveillance cameras at the perimeter, and all the remote video meetings in between.
Look after your people
Implementing IIOT is as much an HR issue as an IT one. At the earliest stage, management and HR teams must identify what skills will be required by the current workforce or any new employees in order to embrace digitalization. This may well be a vastly different skill set to what has traditionally been required, and gaps in the knowledge and experience of the workforce must be identified and filled by training or recruitment. Furthermore, current staff may well feel threatened by the introduction of new technologies (robots in particular) and it's important for the leadership team to manage the expectations and aspirations of the employees. The UK Health and Safety Executive (HSE) reported that 15.4 million working days were lost in 2017/18 due to work-related stress, depression or anxiety, of which 22% were quoted as being due to changes at work or a lack of support[2]. Developing and motivating the human side of the business is every bit as important as addressing the technological side.
Machine vision – essential to IIOT success
Machine vision has played an integral part in industrial production and automation for many years. Now that vision systems are being taught to "think" as well as to "see", its role is becoming even more indispensable as global businesses embrace Industry 4.0 processes and technologies. At Active Silicon, we've been involved in producing advanced vision systems and cutting-edge technology for over 30 years and can help you implement tools and skills to bring increased productivity and profitability to your business. Contact our experts to understand what our products could do for you, and sign up to our newsletter to stay abreast of the latest industry developments.

[1] https://www.ericsson.com/en/networks/trending/insights-and-reports/5g-for-manufacturing