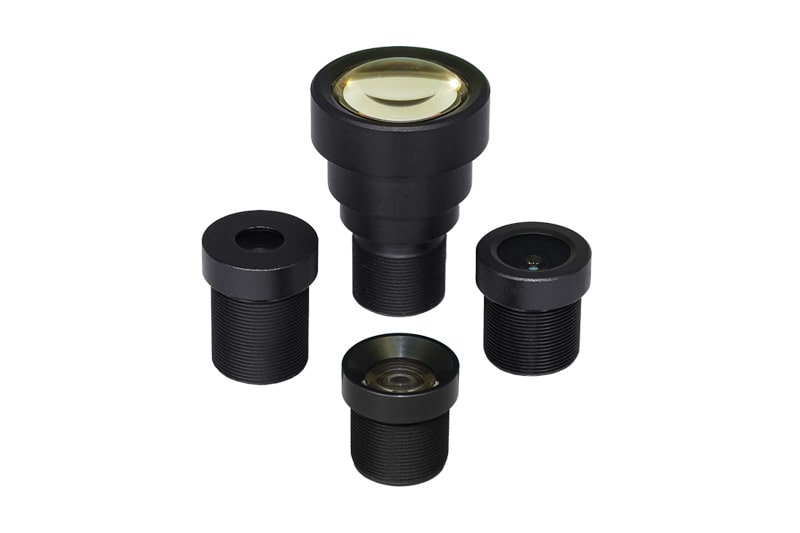 Click image to enlarge
M12 lenses for the Oriole HD-SDI Board Camera
Part Number: AS-LS-M12-021-F20-A, AS-LS-M12-025-F23-A, AS-LS-M12-028-F20-A, AS-LS-M12-036-F20-A, AS-LS-M12-060-F20-A, AS-LS-M12-080-F25-A, AS-LS-M12-100-F25-A, AS-LS-M12-250-F20-A, AS-LS-M12-350-F18-A, AS-LS-M12-500-F28-A
M12 lenses for board-level cameras
Focal lengths ranging from 2.1mm to 50mm
Suitable for the Oriole HD-SDI Board Camera
Suitable for similar embedded cameras with M12 lens mount
Enquire About This Product
Description

Downloads

Ordering Info
Description
Downloads
Ordering Info
Find the best M12 board camera lens for your imaging application. We offer a selection of lenses with focal lengths ranging from 2.1mm up to 50mm. These lenses are suitable for the Oriole HD-SDI Board Camera and similar embedded cameras with M12 lens mount.
Available lenses:
Lenses with the following focal lengths: 2.1mm, 2.5mm, 2.8mm, 3.6mm, 6mm, 8mm, 10mm, 25mm, 35mm and 50mm.
See download tab for datasheets with a detailed description of each lens.
Contact our team for more information and about ordering lenses.
Cable assembly
Connectors

Both ends: USL00-30L – KEL USL series, 0.4 pitch, insulation-displacement connector (IDC), horizontal.

A->B connection: Pin 1->Pin 30

Cable

AWG#42 micro coaxial cable; various lengths available, see order information
Connector specifications
Pitch

0.4mm

Number of contacts

30

Mating width/length/height

width: 5.6mm
length: 0.5mm
height: 1.0mm

Current rating

0.25A

Contact resistance

100 mΩ max

Type

Receptacle (female), horizontal

RoHS

Compliant

Operating temberature range

-40 to +85°C
Ordering Information
Part number
Description

AS-LS-M12-021-F20-A

M12 lens 2.1mm for the Oriole HD-SDI Board Camera (and similar cameras).
For up to 1/3″ sensors; focal length: 2.1mm; aperture: F2.0; resolution: 3MP; Datasheet

AS-LS-M12-025-F23-A

M12 lens 2.5mm for the Oriole HD-SDI Board Camera (and similar cameras).
For up to 1/3″ sensors; focal length: 2.5mm; aperture: F2.3; resolution: 2MP; Datasheet

AS-LS-M12-028-F20-A

M12 lens 2.8mm for the Oriole HD-SDI Board Camera (and similar cameras).
For up to 1/2.7″ sensors; focal length: 2.8mm; aperture: F2.0; resolution: 3MP; Datasheet

AS-LS-M12-036-F20-A

M12 lens 3.6mm for the Oriole HD-SDI Board Camera (and similar cameras).
For up to 1/2.7″ sensors; focal length: 3.6mm; aperture: F2.0; resolution: 3MP; Datasheet

AS-LS-M12-060-F20-A

M12 lens 6mm for the Oriole HD-SDI Board Camera (and similar cameras).
For up to 1/3″ sensors; focal length: 6mm; aperture: F2.0; resolution: 3MP; Datasheet

AS-LS-M12-080-F25-A

M12 lens 8mm for the Oriole HD-SDI Board Camera (and similar cameras).
For up to 1/3″ sensors; focal length: 8mm; aperture: F2.5; resolution: 2MP; Datasheet

AS-LS-M12-100-F25-A

M12 lens 10mm for the Oriole HD-SDI Board Camera (and similar cameras).
For up to 1/1.8″ sensors; focal length: 10mm; aperture: F2.5; resolution: 8MP; Datasheet

AS-LS-M12-250-F20-A

M12 lens 25mm for the Oriole HD-SDI Board Camera (and similar cameras).
For up to 1/2″ sensors; focal length: 25mm; aperture: F2.0; resolution: 2MP; Datasheet

AS-LS-M12-350-F18-A

M12 lens 35mm for the Oriole HD-SDI Board Camera (and similar cameras).
For up to 2/3″ sensors; focal length: 35mm; aperture: F1.8; resolution: 5MP; Datasheet

AS-LS-M12-500-F28-A

M12 lens 50mm for the Oriole HD-SDI Board Camera (and similar cameras).
For up to 2/3″ sensors; focal length: 50mm; aperture: F2.8; resolution: 5MP; Datasheet