Camera Link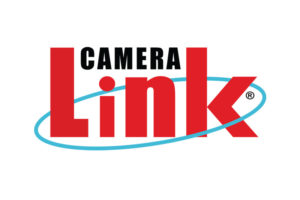 Camera Link is an industry standard hosted by the Association for Advanced Automation (A3, which includes the former AIA) and was released in 2000.
Machine Vision standards such as Camera Link provide product interoperability between different vendors, thus giving users choice in the marketplace – the ability to swap between vendors and the convenience of upgrading a single component without having to change the whole system.
Camera Link standardizes the connection between cameras and frame grabbers and encompasses data transfer, camera timing, serial communications and real-time signalling. It is one of the most widely used and well-established standards within machine vision due to its simplicity and proven interoperability.
Camera Link includes the ability to acquire in different image resolutions as well as frame and pixel rates. Available configurations are:
Base (255 MBytes/sec)
Medium (up to 510 MBytes/sec)
Full (up to 680 MBytes/sec)
80-bit (850 MBytes/sec). The 80-bit configuration is also known as "Camera Link Deca".
One or two cables can be used per camera, although 2 cables are required for Medium, Full and 80-bit configurations.
Camera Link – past, present and future
v1.0 of the Camera Link standard was introduced in October 2000. Later versions included greater support for software functionality, support for the smaller HDR/SDR connector (in addition to the original MDR connector), Power over Camera Link (PoCL®) and improved cable performance. The current version is 2.1.
At present it is not a requirement for Camera Link frame grabbers to support GenICam, and while many manufacturers have chosen to offer a certain level of support, Active Silicon is unique in its ability of providing full GenICam compatibility and support for all our FireBird Camera Link frame grabbers.
In May 2012 Camera Link HS™ was released and offered increased bandwidth and speed, but at the expense of a significant increase in complexity. It is hosted as an additional industry standard, though not widely adopted at this point.
Find out more about Machine Vision Standards.
Download the Guide to Understanding Machine Vision Interface Standards brochure.
Camera Link Features
Real-time, high speed – 255 MBytes/sec over one cable, up to 850 MBytes/sec over two cables.
Robust and well-established standard.
Easy interoperability over standard cables – cable length up to 15m dependent on camera clock rate.
Power over Camera Link (PoCL®) up to 8W.
Optional GenICam support for plug-and-play interoperability.
Two different connector sizes available (MDR and the smaller HDR/SDR).
Active Silicon plays a key role in Camera Link development, and are leading the way with Camera Link frame grabbers offering full GenICam support.
Active Silicon's Camera Link frame grabber products
As well as PC form-factor frame grabbers, we offer embedded formats such as 3U cPCI, PMC, PCI/104-Express and PC/104-Plus.
Resources
Machine Vision Standards
A3 – Camera Link
Wikipedia – Camera Link
"Guide to Understanding Machine Vision Interface Standards"  by the Future Standards Forum/G3 (November 2018).