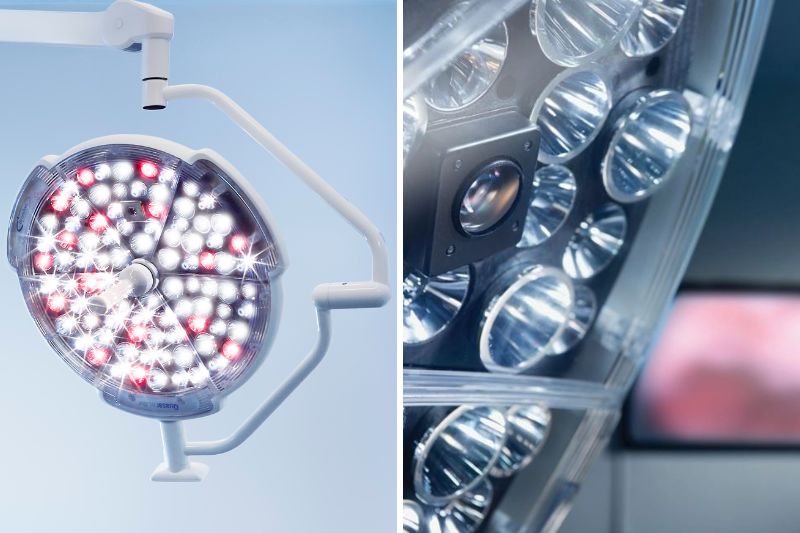 Case Study: Active Silicon partners with Brandon Medical for superior surgical lights
September 27, 2023
Introduction
Brandon Medical is an award-winning UK company that delivers SMART turnkey equipment for acute and primary healthcare worldwide. The company prides itself on having provided healthcare professionals with reliable, high-quality and affordable medical equipment packages for operating theatres and critical care for more than 75 years.
An area of expertise is medical lighting and Brandon Medical has numerous recommendations from UK and global hospitals for their operating theatre lights. Its Quasar® eLite is the only surgical light with near perfect color rendition across the full visible spectrum, optimized to enhance the visualization of red tissue which ensures strong and vibrant imaging of tissues. Every component of these high-performance lamps must meet stringent medical standards (ISO 13485, MDR) while delivering unbeatable quality and reliability.
The Challenge
Unlike most operating lights, Brandon Medical have designed their industry-leading Quasar 60 and Quasar 30 lamps with HD cameras fully embedded within the lamp head rather than in the central handle, which improves cleanliness and reduces cost. This means they require a very compact camera solution.
Video is used in the operating theatre for two primary reasons. Firstly, live video can be streamed to a wall-mounted display so the whole surgical team has visibility over the procedure. For this, real-time video transmission is vital so that everyone involved can watch critical maneuvers exactly as the surgeon conducts them.
Secondly, videos from the procedures are used for training purposes so images must be extremely high-quality in order to allow students to see precise movements and distinct tissues. Footage from previous operations can also be viewed by surgeons prior to conducting similar procedures, so professionals are better prepared for the operation.
As medical solutions must be certified to several industry standards, changing the design of a surgical light requires considerable and detailed technical and administrative effort. Therefore, cameras need to have a long product life to ensure continuity and avoid frequent re-designing of the entire operating boom.
The solution
Brandon Medical approached Active Silicon when their current HD camera was announced end-of-life. Our technical experts had several calls with the Brandon Medical team to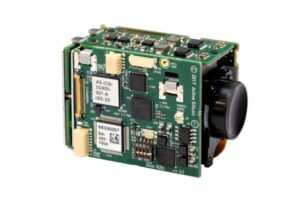 understand the exact requirements of the application and suggested the Harrier 10x AF-Zoom 3G-SDI Camera as a solution.
The Harrier 10x AF-Zoom 3G-SDI Camera uses a Tamron MP1010M-VC module with our Harrier 3G-SDI Camera Interface Board integrated. The camera is extremely compact, measuring only 58.4 x 34.7 x 41.5mm and weighing only 81g. It provides real-time low-latency 3G-SDI or HD-SDI video which is SMPTE 274M and SMPTE 296M compliant up to 1080p30 Full HD. Additional features include color blur reduction, high contrast and simple control using VISCA protocol serial communications over TTL, RS-232 or RS-485.
The camera also supports HD-VLC® technology – a long-reach video solution which delivers low-latency video over longer cable lengths. This option is currently being examined by the technical team at Brandon Medical as an alternative to the current SDI output, as is our wireless IP solution.
The results
The cost-effective, high performance Harrier 10x AF-Zoom 3G-SDI Camera has enabled Brandon Medical to maintain competitiveness at the leading edge of medical device technology. The camera has proved to be reliable and effective, and our renowned customer support team has been on hand to assist with integration and troubleshooting.
Brandon Medical are so pleased with the imaging solution we provided for the Quasar® eLite 60 that they are now evaluating our new Harrier 10x AF-Zoom 3G-SDI/HDMI Camera (with the Tamron MP3010-EV) for their Quasar® eLite 30 light. We will also be working with the engineering team to investigate a 4K option for their world-leading surgical light series.
Expertise for a range of applications
We're proud to support front-line healthcare professionals with our high-quality medical imaging solutions. Harrier autofocus-zoom cameras are also ideal for applications in traffic & transport, surveillance and remote monitoring. Their compact size and powerful zoom options make them a great choice for UAVs, ROVs and AMRs. The numerous models we offer within the Harrier range means that we can suggest an ideal camera for any imaging challenge.
View the full range of cameras and which sectors we are currently supplying. Contact our team to see how a Harrier block camera with powerful zoom and precise autofocus could bring high-resolution to your vision system.