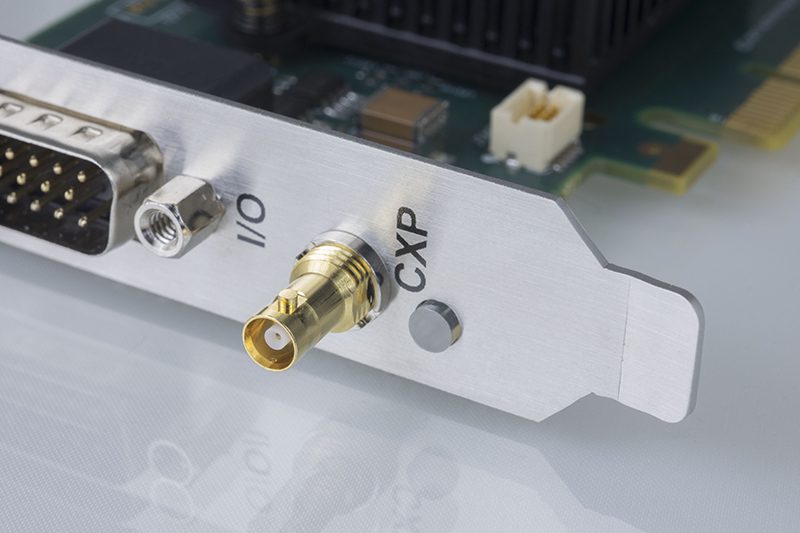 Considering the qualities of CoaXPress
April 10, 2018
After introducing the industry's first CoaXPress frame grabbers to the market in 2011, Active Silicon is proud to be supporting the development of the latest version of the CoaXPress standard, expected to be launched in the second half of this year. Our CTO, Chris Beynon, chairs the Technical Committee and has been heavily involved in progressing the technology from its infancy in 2008. A recent article in Vision Systems Design outlined the high-speed advantages of the interface, and as it grows in popularity, we wanted to take a closer look at the features.
The current version, V.1.1.1, supports data rates of up to 6.25Gbps and allows for multiple cables to be used, increasing the bandwidth available between camera and frame grabber. The high speeds and low latencies combined with the simplicity, scalability and robustness of the cabling is particularly appealing to the vision industry, where certain applications have been limited by the slower speeds of Camera Link, high costs of 10 GigE and limited cable length of USB3 Vision. In particular, the adoption of CoaXPress in the inspection and metrology sector has led to faster image processing of more data using higher resolution cameras, and ultimately more efficient production lines. Our single, dual and quad FireBird CXP-6 frame grabbers support an 8-lane Gen2 PCI Express interface running on 32- and 64-bit Windows or Linux, and guarantee zero CPU intervention. Combined with our new software application, ActiveCapture, we now support enhanced access and control of multiple cameras and frame grabbers within a system. Each CoaXPress link offers power up to 13W and device control up to 20Mbps for camera control or triggering – for faster devices, the links can be concatenated to provide multiples of the single coax bandwidth.
Innovation made affordable
2018 will see the launch of our new FireBird single CXP-6 board (with more variants to follow), bringing all the benefits of our current boards to a lower-cost frame grabber. As CoaXPress enjoys wider adoption throughout a greater market share, we've been working hard to develop a cost-effective solution and bring machine vision to even more systems. Similarly, camera manufacturers are also working to bring down the cost of cameras, such as Adimec's new single-link CXP NORITE series.
The future of CoaXPress
CoaXPress v2.0 will introduce even greater speeds across multiple frame grabbers and cameras as CXP-10 and CXP-12 will offer up to 10 Gbps and 12.5 Gbps respectively. Additionally, the revision will introduce forward error correction (FEC) and support for 3D data. The increased speed per link will mean high-end systems could require fewer cameras and frame grabbers, making the technology more affordable to a wider audience. As Andy Wilson mentions in the Vision Systems Design article, developers will also be able to implement the new protocol efficiently using FPGA cores.
The benefit of standardizing machine vision interfaces is the resulting wide choice of cameras and frame grabbers – so users can pick and choose to create an optimal solution for every application. Whether your priority is speed, processing capacity or image resolution, engineers are enjoying unprecedented choice in hardware, software and integrations. CoaXPress is undoubtedly playing an important part in making machine vision accessible to more industry sectors, and driving efficiencies in automated inspection.
You can see details of all the machine vision standards on our dedicated webpage, and more about the CoaXPress standard on our dedicated CoaXPress Resource page. Click here to see our range of CoaXPress frame grabbers, and contact us to discuss your machine vision needs.