CoaXPress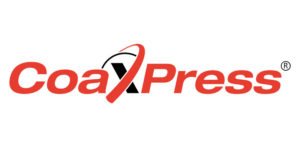 CoaXPress is an asymmetric, high-speed point-to-point serial communication standard for the transmission of video and still images. The standard is hosted by the Japan Industrial Imaging Association (JIIA) and the current version 2.1 was released in February 2021.
CoaXPress was first demonstrated at VISION 2008 in Stuttgart and subsequently became a machine vision standard in 2011 after several years of development by a consortium of companies including Active Silicon. In 2009 the technology was awarded the prestigious Vision Award for technical innovation.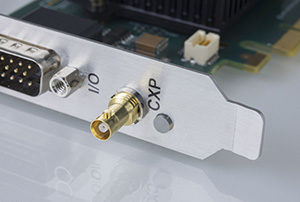 Since version 2.0, CoaXPress supports data rates of up to 12.5 Gbps per cable ("CXP-12"), so up to 50 Gbps in a typical 4-cable system. The new Micro-BNC connector shown in the photo supports the new higher speeds. The high speeds and low latencies combined with the simplicity, scalability and robustness of the cabling are particularly appealing to the vision industry, where applications have been limited by the slower speeds and short cable lengths of Camera Link and USB3 Vision, and the slower speeds and high CPU loading costs of 10 GigE. In particular, the adoption of CoaXPress in the inspection and metrology sectors has led to faster image processing of more data using higher resolution cameras, and ultimately more efficient production lines.
The benefit of standardizing machine vision interfaces is the resulting wide choice of cameras and frame grabbers – so users can pick and choose to create an optimal solution for every application. Whether your priority is speed, processing capacity or image resolution, engineers are enjoying unprecedented choices in hardware, software and integration components. CoaXPress is undoubtedly playing an important part in making machine vision accessible to more industry sectors, and driving efficiencies in automated inspection.
CoaXPress features
High-speed data rates: up to 12.5 Gbps over a single coax cable.
Speed is scalable for multiple cables (e.g. 4 cables give 50 Gbps, 8 cables give 100 Gbps).
Up to 42 Mbps uplink channel for camera control, triggering and firmware updates.
Power over CoaXPress up to 13W per cable.
Runs over cable lengths up to 35m at CXP-12 and 100m at CXP-3 using Belden 1694 cable (longer lengths possible using thicker cables).
Full GenICam support including mandatory GenTL gives an easy "out-of-the-box" user experience.
Since v2.1, support for GenDC included (learn more)
Precise triggering capability and real-time behaviour with virtually no latency.
Flexible and reliable via use of standard 75 Ohm coax cable leading to cost-effective and easy to integrate cabling solutions.
CoaXPress over Fiber (an add-on to v2.1) allows the CoaXPress protocol being used with fiber optic links.
Hot pluggable.
Royalty-free.
Active Silicon and CoaXPress
After introducing the industry's first CoaXPress frame grabbers to the market in 2011, Active Silicon is proud to be supporting the development of the latest version of the CoaXPress standard. Our CTO, Chris Beynon, chairs the Technical Committee and has been heavily involved in progressing the technology from its infancy in 2008. Active Silicon recently launched the following new CoaXPress cards – a low cost single channel frame grabber card and dual channel cards, plus new high-end CXP-12 quad channel Gen3 PCI Express frame grabbers. As CoaXPress enjoys wider adoption throughout an ever-growing imaging market, we've been working hard to develop cost-effective product solutions and bring machine vision to many more applications.
You can see details of all the machine vision standards on our dedicated webpage.
View more information about our CoaXPress frame grabbers.
Resources
https://www.activesilicon.com/resources/machine-vision-standards/
http://www.coaxpress.com
https://en.wikipedia.org/wiki/CoaXPress
Guide to Understanding Machine Vision Interface Standards Brochure
Active Silicon's update on the new CXP 2.1 release
Chris Beynon explains CoaXPress v2.0