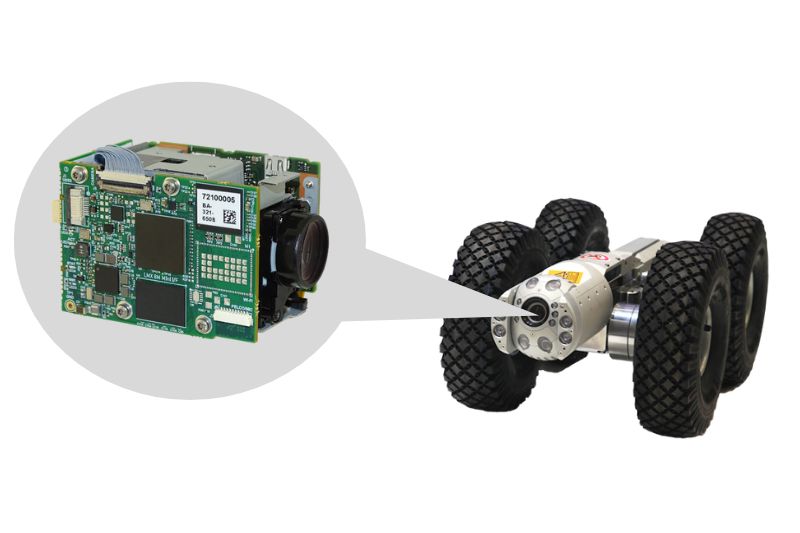 ROVs use Ethernet IP cameras for superior pipe inspection
February 9, 2023
With the global market for pipe inspection robots predicted to grow at a CAGR of over 15% between 2022 and 2028, reaching an estimated US$4,200m[1], designing inspection ROVs is a big business needing small solutions.
When we launched our first Harrier camera interface board back in 2018, one of our earliest customers was from the pipe inspection sector. Since then we've made customizations to many of our autofocus-zoom cameras and interface boards to meet the demands of this market, one of the most recent being the addition of IP Ethernet output.
Size matters
Our Harrier 3G-SDI Camera Interface Board was designed to exactly fit the dimensions of the smallest Tamron and Sony cameras, allowing for retro-fitting into pipe crawler ROVs without requiring a system re-design. As we expanded our range, we created a series of long-reach imaging solutions which remain the smallest on the market. Compactness is essential for in-pipe inspections robots (IPIRs) and our Harrier autofocus-zoom cameras bring powerful video transmission to the smallest ROVs even over long cable lengths.
Imaging over Ethernet
Our most recent requests from sewer inspection companies frequently asked for Ethernet IP capability.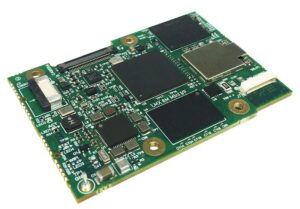 IP cameras are a versatile solution for pipe inspection. Low-cost Ethernet cables can be used and fewer additional components are required. They can be integrated as a temporary or permanent solution, and easily relocated as and when required. As well as being able to view video footage and listen to audio streaming, the camera can often be controlled remotely.
Our Harrier IP interface boards capture image data from the camera and, if needed, can perform further image processing such as adding overlays or image scaling. The images are then H.264 compressed and converted to a data packet format (IP/UDP) that can be sent over the network. At the receiving device, the data packets are then reassembled for viewing or analysis, in near-real-time even when very long cables are used.
Operators had encountered challenges from previous suppliers with latency issues but our Harrier IP Camera Interface Board features incredibly low latency, adding only around 80ms to system latency, depending on the mode used. 
High quality imaging for precise inspection
Pipe inspection requires very high-resolution imaging as flaws in pipe structure can be hard to spot with the human eye, and even more so with an inspection robot. Mis-identifying a crack or introducing artefacts to an image can lead to costly and even dangerous mistakes.
Harrier IP cameras offer10x to 40x optical zoom, offering a range of flexible inspection options. Our Harrier 23x AF-Zoom IP 4K Camera brings high-resolution 4K imaging to applications, and the Harrier 36x AF-Zoom IP Camera features a global shutter sensor which can eliminate blurring when imaging moving objects.
Long-reach video transmission
Maintaining superior quality imaging over long cable lengths is a challenge for any industrial pipe inspection system. We have developed an SDI interface solution for transmitting HD video with no visual loss using HD-VLC™ technology.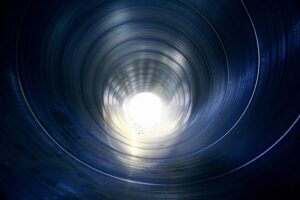 HD-VLC™ technology, developed by Semtech Corporation, comprises a unique CODEC, which encodes 3G-SDI or HD-SDI data to the same rate as standard definition video, i.e. 270Mb/s or 540Mb/s serial data rate. In this way HD-VLC™ ensures superior image quality without adding any latency to the system.
Using this technology, our Harrier autofocus-zoom cameras can transmit video digitally over twisted pair cables up to 150m and coax cables up to 700m, with fiber optic adding the option of many kilometers.
Ethernet IP imaging solutions for pipe inspection robots
Active Silicon offers an extensive range of image capture and video transmission solutions for Ethernet IP cameras. Several customers have, or are in the process of designing-in our IP cameras to enhance their industrial surveillance tools. Take a look at the full range and contact us to find out more.

[1] At 15.80% CAGR, Global In-Pipe Inspection Robots Market (globenewswire.com)