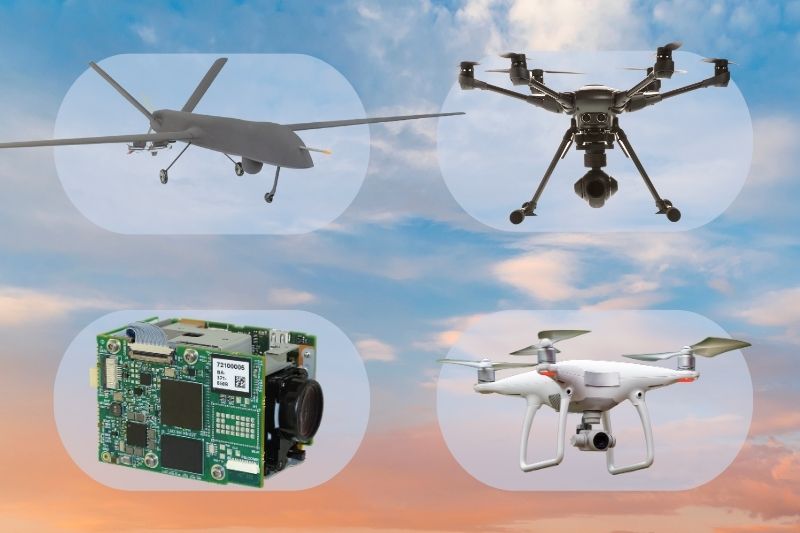 Selecting a camera for your UAV
July 25, 2023
With the industrial drone market increasing exponentially, is there a single best option for UAV imaging systems? Certainly not – the optimum set-up is hugely dependent on the individual application, associated requirements and many factors.
We've compiled a brief guide below with a summary of the most important design options when selecting a camera for UAVs. Additionally, our flyer, "Cameras for UAVs and Gimbals" contains a reference table where you can easily compare the features of our Harrier range of AF-Zoom and board cameras and quickly identify the best camera for your particular requirements.
Size and Weight
Almost every UAV application imposes limits on the payload capacities. Therefore, it's crucial to choose a camera that is lightweight and compact to minimize the impact on the overall weight and balance of the aircraft.
Our smallest board-level camera, the Oriole HD-SDI Board Camera, weights just 26g and measures 32 x 38 x 31mm; it also includes a switchable IR-cut filter for optimal day and night vision. Should you require the flexibility of a high-performance AF-Zoom camera, we offer the Tamron MP3010M-EV, one of the smallest block cameras on the market, with dimensions of just 59 x 33 x 43mm and weighing only 70g.
Image Quality
Depending on the application, you'll want to consider factors such as resolution, dynamic range, color accuracy and low-light performance. Higher resolution cameras capture more detail, while a wide dynamic range helps to manage contrasting lighting conditions. Additionally, good low-light capabilities are essential for capturing clear images in challenging lighting situations.
Security and defence UAVs may well operate in the dark, and cameras with the ability to view infrared (IR) may be a benefit. Our Harrier 10x AF-Zoom Camera uses an Infrared Cut filter Removal (ICR) to optimize image capture in scenes with low lighting levels. In well-lit conditions, the IR filter remains in place in front of the lens to block infrared light from reaching the sensor, this delivers more accurate color reproduction. In low-light conditions, the camera switches to Night mode and retracts the IR filter, allowing both visible light and near infrared light to reach the image sensor and enhancing the resulting image.
The Harrier and Oriole ranges also include cameras with global shutters for sharp acquisition of fast-moving objects, and the Oriole 3x AF-Zoom HD-SDI Board Camera with Global Shutter is an excellent lightweight option for drones.
Stability and Image Stabilization
UAVs are susceptible to vibrations and movements during flight, which can negatively impact image quality. Therefore, it's best to look for cameras with built-in stabilization mechanisms, such as optical or electronic image stabilization, to minimize blur and ensure sharper images.
The Sony FCB-EV9520L and FCB-EV9500L, which we supply with a range of output options, incorporate a Super Image Stabilizer feature which enables the capture of high-resolution video with reduced blurring even in harsh environments, or with strong vibrations, by greatly improving blur suppression and image stabilization. Other models in our portfolio have similar features.
Power Requirements
UAV designers must assess the power requirements of the camera and ensure that it matches the use case and the capabilities of the UAV's battery. Operators will want to optimize power consumption to enable longer flights, carry additional payloads or support other functions that require electrical power; so camera efficiency is paramount.
The Harrier 10x AF-Zoom 3G-SDI Camera has a power consumption of around 4W when running at 1080p60, leaving plenty of battery power for other critical UAV functions, and the Harrier 10x AF-Zoom 3G-SDI/HDMI Camera runs even lower at around 3.5W.
Solid State Group UAV capabilities
As part of the Solid State group of companies, we also have access to expertise across all of Steatite's business units and Solid State Supplies' portfolio. This means we can assist with designing UAV battery packs, datalink communications, onboard or ground control computing and navigational components. Our capabilities, and advice on how to select your components, can be seen in our white paper, Selecting the Right Technology for UAVs.
Get in touch to see what we can suggest to optimize your industrial drone application, and download our flyer complete with comparison table.