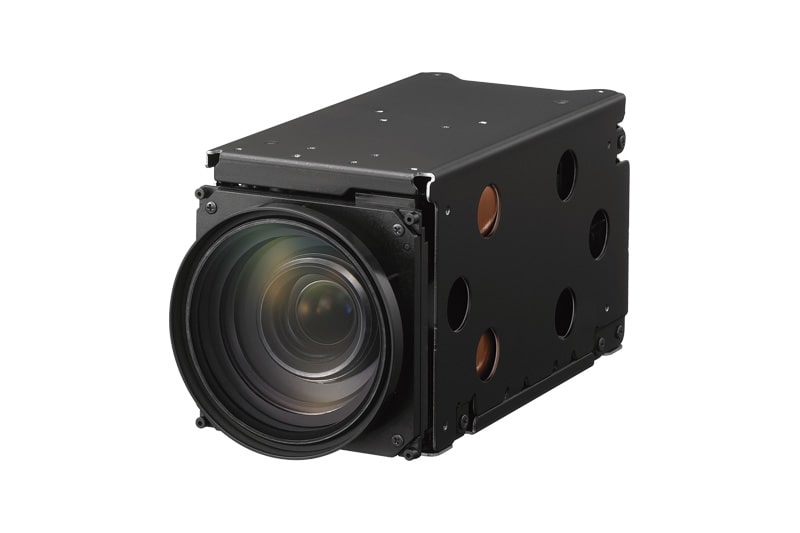 Click image to enlarge
Sony FCB-EV9500L
Part Number: AS-SONY-FCB-EV9500L
High resolution and high sensitivity autofocus-zoom camera.
30x enhanced optical zoom, 12x digital zoom.
Full HD 1920 x 1080 60 fps output.
Dimensions (L x W x H): 125 x 56.0 x 64.0mm.
HD Digital image output (LVDS).
Visibility Enhancer function.
Super Image Stabilizer.
1/1.8″-type Sony IMX64AR STARVIS anti-reflective-coated CMOS sensor.
F1.6 to F4.8 aperture.
Shutter speed 1/1 to 1/10,000 sec.
Compatible with all Active Silicon Harrier camera interface boards.
Enquire About This Product
Description

Product Specs

Downloads

Ordering Info
Description
Products Specs
Downloads
Ordering Info
The Sony FCB-EV9500L autofocus-zoom camera features a 30x optical zoom lens and a 1/1.8″ AR-coated CMOS sensor. The camera can be used in a wide variety of applications, including scenarios with low-light and harsh conditions.
This camera provides an upgrade from the Sony FCB-EV7520 and FCB-EV7520A and offers many sophisticated camera functions. Among others, the camera features VISCA command protocol, Flare Reduction, Noise Reduction (NR), Wide Dynamic Range Mode (Wide-D), Visibility Enhancer (VE), Defog, and  Super+ Image Stabilizer.
Active Silicon is an approved partner of Sony and EV-series cameras, including the Sony FCB-EV9500L are compatible with Harrier camera interface boards, which extend the video output options of the camera to 3G/HD-SDI, Ethernet IP, USB 3, as well as high quality analog and HD-VLC for long cable length solutions.
Additional versions of the EV9500 with native MIPI (FCB-EV9500M) or HDMI (2160p/60, FCB-EV9500H) video output are also available, please contact our team for more details.
Camera Specifications
Image sensor

1/1.8″-type Sony IMX64AR STARVIS anti-reflective-coated CMOS sensor.

Number of effective pixels

4.17M Pixel

Output pixels (H x V)

1920 x 1080, 1280 x 720

Video format

1080p/60, 1080p/59.94, 1080p/50, 1080p/30, 1080p/29.97, 1080p/25, 1080i/60, 1080i/59.94, 1080i/50, 720p/60, 720p/59.94, 720p/50, 720p/30, 720p/29.97, 720p/25

Minimum illumination (50%, High Sensitivity mode ON)

ICR-Off mode: 0.009lx (shutter speed 1/30 sec), 0.0012lx (1/4 sec or 1/3 sec)
ICR-On mode: 0.00008lx (shutter speed 1/30 sec), 0.000005lx (1/4 sec or 1/3 sec, 30%)

Minimum illumination (50%, High Sensitivity mode OFF)

ICR-Off mode: 0.09lx (shutter speed 1/30 sec), 0.012lx (1/4 sec or 1/3 sec)
ICR-On mode: 0.00063lx (shutter speed 1/30 sec)

Recommended illumination

100lx to 100,000lx

Image S/N

50 dB (Weight On)

Gain

Auto / Manual (0dB to 50.0dB), 0 to 28 steps

Shutter speed

1/1 to 1/10,000 sec, 22 steps

Sync system

Internal

Exposure control

0dB to ± 10.5dB, 15 steps

Backlight compensation

Yes

Gamma

Standard / Straight gamma

Aperture control

16 steps

White balance

Auto, ATW, Indoor, Outdoor, One Push WB, Manual WB, Outdoor Auto, Sodium Vapor Lamp (Fix / Auto / Outdoor Auto), Spot AWB

AE (Auto Exposure Mode)

Full Auto, Manual, Priority mode (shutter / iris), EV compensation, Spot AE, Slow AE

Zoom

30x Enhanced Optical Zoom
36x StableZoom*
12x Digital Zoom

*StableZoom increases the magnification by combining optical zoom and digital zoom.

Lens (wide to tele)

f=6.5mm to 162.5mm, F1.6 to F4.8

Zoom mode

Standard Mode / Variable Mode / Direct Mode

Zoom Movement Speed

Wide end to Tele end:
4.8 s (Focus Tracking ON), 2.9 s (Focus Tracking OFF)

Wide end to Digital 12x tele:
6.1 s (29.97p/59.94p), 6.4 s(25p/50p)

Digital wide to Digital 12x tele:
1.4 s (29.97p/59.94p), 1.6 s (25p/50p)

Focusing system

Auto focus (Normal AF, Interval AF, Zoom Trigger AF [sensitivity: normal, low]),
Manual (Standard, Variable, Direct),
One Push Trigger,
Full Scan One Push Trigger,
Near Limit,
IR Correction,
Spot Focus

Focus Movement Time

∞ to Near: 1.4 s

Horizontal viewing angle

58.1° (Wide) to 2.3° (Tele)

Minimum object distance

100mm (Wide) to 1200mm (Tele)
Camera Functions
| | |
| --- | --- |
| Auto ICR | Yes |
| Wide Dynamic Range (Wide-D) | Yes |
| Visibility Enhancer | Yes |
| Defog | Yes (low / mid / high) |
| Noise Reduction | Yes [3D + 2D / independent setting (3D, 2D)] |
| Progressive Scan Mode | Yes |
| Image stabilization | Yes: Super image stabilizer (Super / Super+) |
| Spot Light Avoidance | Yes |
| Motion detection | Yes |
| Privacy zone masking | Yes |
| Alarm | Yes |
| Slow AE response | Yes |
| Picture effects | Black & white (monochrome image) |
| Picture freeze | Yes |
| Electronic flip (e-flip) | Yes |
| Mirror image | Yes |
| Slow shutter | Yes |
| Temperature readout | Yes |
| Title display | Yes (20 characters / line, max. 11 lines) |
| Camera mode display | Yes (English) |
General
Power requirements

7.0V to 12.0V DC

Power consumption

Max.: 7.8W (when motor operates)
Typical: 5.5W

Operating temperature

-5°C to +60°C

Storage temperature

-20°C to +60°C

Operating humidity

20% to 80% (absolute humidity: 36 g/m3)

Storage humidity

20% to 95% (absolute humidity: 36 g/m3)

Dimensions (L x W x H)

125 x 56 x 64mm

Weight

Approx. 439g
Interface
Video output (HD)

Digital : Y/Pb/Pr 4:2:2 (LVDS)
(Y: 8 bit, C: 8 bit, Vsync, Hsync, Field, Clock) (SMPTE274M / SMPTE296M)

Camera control interface

VISCA protocol (CMOS 3.3V Level, 5.5V tolerance);
Baud Rate : 9.6 kbps, 19.2 kbps, 38.4 kbps, 115.2 kbps, Stop bit: 1 bit
Ordering Information
| Part number | Description |
| --- | --- |
| AS-SONY-FCB-EV9500L | Sony FCB-EV9500L autofocus-zoom camera. |
| AS-CIB-3GSDI-002-9500L-A | Harrier 30x AF-Zoom 3G-SDI Camera (Sony FCB-EV9500L). |
| AS-CIB-USBHDMI-002-9500L-A | Harrier 30x AF-Zoom USB/HDMI Camera (Sony FCB-EV9500L). |
| AS-CIB-HDMI-001-9500L-A | Harrier 30x AF-Zoom HDMI Camera (Sony FCB-EV9500L). |
| AS-CIB-IP-00x-9500L-A | Harrier 30x AF-Zoom IP Camera (Sony FCB-EV9500L). [x= 1 (regular Ethernet). x=2 (wireless, Ethernet). x=3 (PoE), x=4 (wireless, PoE)] |
| AS-CIB-USL30-100MM | 30-way micro-coax cable for connecting the interface board to the camera. Length 100mm (Manufacturer: KEL, part number: USL20-30SS-010-C). |
| AS-CIB-BRK-007-A | Metal bracket, screws and spacers for mounting Harrier camera interface boards to a Sony FCB-EV9500L camera. |