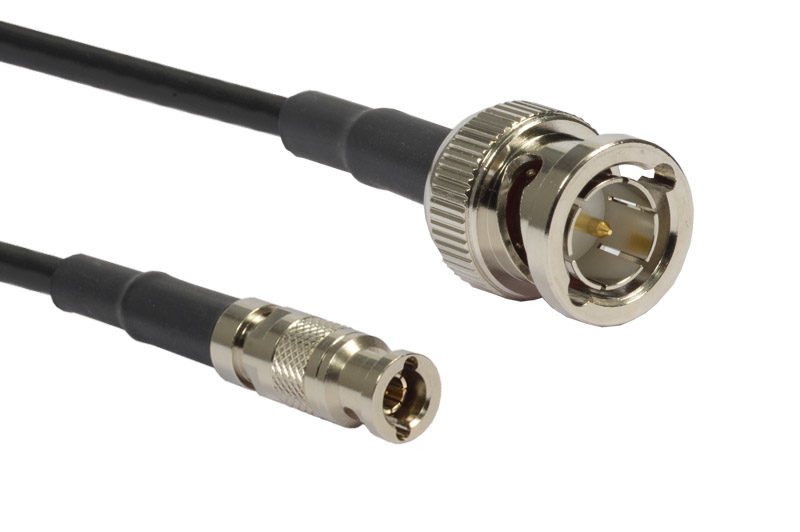 Click image to enlarge
CoaXPress cable BNC to Micro-BNC
Part Number: AS-CBL-1BM-0010-xM
End A = BNC
End B = Micro-BNC (HD-BNC)
Supports speeds up to 12 Gbps
75 Ohm
Available in 3m and 10m lengths
Alternative connectors and lengths available
Enquire About This Product
Description

Product Specs

Downloads

Ordering Info
Description
Products Specs
Downloads
Ordering Info
CoaXPress cables from Active Silicon are supplied with a variety of connectors. AS-CBL-1BM-0010-xM is a BNC to Micro-BNC (HD-BNC) cable designed to support bidirectional data transfer and is compatible with CXP-12 hardware. Cables of 3m and 10m are available from stock, other lengths are available for higher quantity orders, please contact sales@activesilicon for options.
CoaXPress is an ideal interface for high-quality, high-speed image processing and is used widely in industrial vision systems, medical imaging and aerospace.
Download a table listing all cables available from Active Silicon.
Specification summary
| | |
| --- | --- |
| End A | BNC |
| End B | Micro-BNC (HD-BNC) |
| Length | 3 meters or 10 meters |
| Speed rating | 12 Gbps |
| Cable type | Belden 4855R |
| Color | Black |
Alternatives
| | |
| --- | --- |
| Micro-BNC to Micro-BNC | CoaXPress cable, Micro-BNC to Micro-BNC, available in 3m and 10m lengths, 12 Gbps, 75 Ohm. View here. |
| BNC to BNC | CoaXPress cable, BNC to BNC, available in 3m and 10m lengths, 6 Gbps, 75 Ohm. View here. |
| DIN to Micro-BNC | CoaXPress cable, DIN to Micro-BNC, available in 3m and 10m lengths, 6 Gbps, 75 Ohm. View here. |
Ordering Information
| Part number | Description |
| --- | --- |
| AS-CBL-1BM-0010-3M | CoaXPress cable, single BNC to Micro-BNC, 12 Gbps, 75 Ohm, black, 3 meters |
| AS-CBL-1BM-0010-10M | CoaXPress cable, single BNC to Micro-BNC, 12 Gbps, 75 Ohm, black, 10 meters |