Computer Vision Video Interface Standards
Computer vision applications usually involve video processing and display, but to do this the video or images must be transmitted from a camera to the host vision system. There are many video interface standards that can be used for this and each offers different features including data rates, cable lengths, power delivery options and so on.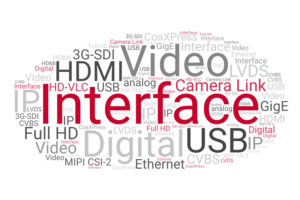 System designers must select the standard that is best suited to their application. This article explores some of the most commonly used video interfaces in computer vision and compares their main features. Generally, all video interface standards fit into one of two classes, those that use digital signal transmission or those that use analog transmission.
Digital Interface Standards
HD-SDI and 3G-SDI (High Definition and 3G Serial Digital Interface)
HD-SDI supports video resolutions up to 1080p (1920×1080) and 30Hz (1.48 Gbps). 3G-SDI is an upgraded version of HD-SDI that supports the same 1080p resolution but at higher frame rates (1080p60/59.94/50 up to 3 Gbps). 3G-SDI/HD-SDI signals are carried by a single 75Ω coaxial cable and are suitable for applications that demand high fidelity, real-time video transmission. The maximum cable length supported depends on the specification of the cable and connectors used but is usually at least 100m. HD-SDI/3G-SDI is widely adopted in professional video production and broadcasting environments.
Data rates up to 3 Gbps
Cable lengths up to 200m (with RG59/RG6)
Resolutions up to 1080p @ 30/60Hz
USB 3 (Universal Serial Bus 3)
USB 3, also known as SuperSpeed USB, is a widely used interface standard. It is compatible with the USB sockets found on most PCs and provides plug-and-play capability with high data rates (up to 5/10 Gbps). USB 3 is suitable for computer vision applications that require video up to 1080p 60Hz and shorter cable lengths (typically up to 3m, although active cable extenders can be used up to >100m). It also supports the ability to deliver power over the cable, eliminating the need for a separate power source for the camera.
Industrial automation and surveillance are applications which commonly use the USB 3 interface because of its simple integration and low cost. However, for specific machine vision tasks, one of the newest machine vision standards, USB3 Vision, was released in 2013. USB3 Vision builds upon the advantages of the USB 3 interface and defines a set of specifications and protocols for reliable and efficient data transfer, allowing off-the-shelf USB host hardware and custom-designed machine vision components to integrate seamlessly.
Data transfer speeds of up to 10 Gbps
Cable lengths up to 3m (passive)
Supports power delivery of up to ~7.5W
Resolutions up to 1080p @ 60Hz
HDMI (High-Definition Multimedia Interface)
HDMI is a popular video interface for consumer electronics and computer displays. It supports high-definition video and audio transmission over a single cable. HDMI offers high data rates (up to 18 Gbps) and is suitable for applications where high-quality video output is required, supporting resolutions up to 4K. HDMI is typically used for cable lengths of up to 15m but does not provide power over the cable.
Data rates up to 18 Gbps
Typical cable length up to 15m (passive)
Resolutions up to 4K Ultra HD
Ethernet IP (Internet Protocol)
Ethernet IP/IP video refers to the use of Ethernet-based communication for video transmission over local area networks (LANs). It uses standard Ethernet protocols and cabling and can support data rates ranging from 10 Mbps to 100 Gbps, depending on the network infrastructure. Usually, before transmission, H.264 or H.265 codecs are used to compress the video data. Ethernet IP is suitable for both short-range and long-range applications, depending on the network configuration. Power over Ethernet cable options are available with several different standards in common use that offer different levels of power/network capacity.
A 100Mb link (standard Cat 5/6 cable) will support compressed 4k video up to 100m
Supports Power over Ethernet (PoE), IEEE802.3af, class 0 ~12W
Simple integration into existing network infrastructure
Low-cost, standard Ethernet cables available off the shelf
GigE (Gigabit Ethernet) Vision
GigE is a video interface that enables high-speed transmission of uncompressed video data over a Gigabit Ethernet (1 Gbps) network. The interface can be implemented in any standard Ethernet system and hence will also work in higher speed networking infrastructure and support higher data rates e.g, 10/40/100 Gbps. GigE is commonly used in industrial automation, robotics and machine vision but is also being applied in other applications. Its compatibility with standard network infrastructure makes it a convenient choice for integrating video streams into existing Ethernet networks. The GigE Vision specification supports transmission of non video data (e.g. 3D imaging data) and camera control (using GenICam™ to describe the features supported by the camera).
100m cable length with standard Cat 6 cable and 1000Mb link
Transmission performance/bandwidth can be easily scaled up (1/10/25/40/100 Gbps)
Supports a wide range of video formats and application specific cameras
Supports multiple cameras and displays
MIPI CSI-2 (Mobile Industry Processor Interface Camera Serial Interface 2)
MIPI CSI-2 is a video interface standard made popular in mobile devices and embedded systems. It enables the connection of image sensors or cameras to application processors. MIPI CSI-2 supports high-speed serial communication and offers low power consumption. It provides data rates up to 2.5 Gbps per lane (most implementations are 2 or 4 lanes) and is suitable for very short-range applications, typically up to 30cm. Power over cable options are not specified in the MIPI standard so they depend on the implementation.
CoaXPress
CoaXPress is an asymmetric, high-speed point-to-point serial communication standard for the transmission of video and still images over coaxial cables. It is suitable for high-resolution and high-frame-rate applications, such as machine vision. The latest version, CXP v2.1, supports data rates up to 12.5 Gbps, so up to 50 Gbps over a 4-channel system. Power can also be provided over the coaxial cable, and lengths of up to 50m are supported.
Camera Link
Camera Link is a very robust and high-speed digital video interface primarily used in industrial and medical imaging applications. It includes the ability to acquire in different image resolutions as well as frame and pixel rates. Available configurations are: Base (255 MBytes/sec); Medium (up to 510 MBytes/sec); Full (up to 680 MBytes/sec); and 80-bit (850 MBytes/sec). Optimum max cable length is up to 10m.
High-Definition Visually Lossless CODEC (HD-VLC™)
HD-VLC is a digital video format, similar to HD-SDI, that was specifically developed for long-reach applications. It involves a unique CODEC which encodes and compresses HD video data enabling it to be transmitted at the same rate as standard definition video, i.e. 270 Mb/s or 540 Mb/s serial data rate. Due to the lower data rate, HD-VLC works over coaxial cable lengths of up to 700m, twisted pair cables up to 150m and fiber optic cables over many kilometers; it can also be passed through multiple slip rings. The CODEC is implemented in hardware in the transmitter/receiver devices so no significant additional latency is introduced to the system.
EX-SDI (Extended Serial Digital Interface)
EX-SDI is a video interface designed for transmitting high-definition digital video over coaxial cables. It compresses the video and can support both HD and 4K resolutions; it offers very long cable length capabilities (up to 500m) and high image quality. EX-SDI is commonly used in surveillance systems and other applications that require long-range transmission over coaxial cable infrastructure.
LVDS (Low-Voltage Differential Signaling)
LVDS is a widely used digital interface, it employs differential signaling to achieve noise immunity and moderate speed data transmission. LVDS is commonly found in industrial vision systems and many autofocus-zoom block cameras. It is well-suited for short-range applications; it can comfortably support cable lengths of up to 50cm, offers low power consumption and can be easily integrated into existing systems. Typically, an AF-Zoom camera will use 4 lanes of LVDS to deliver uncompressed 1080p30 video (1.485 Gbps).
FPD-Link III
FPD-Link III is a high-speed SERDES based video interface originally developed for connecting to flat panel displays. It is commonly found in automotive applications, however, it is becoming increasingly popular in other application areas such as robotics. It supports data rates up to 4.16 Gbps and offers cable lengths up to 15m. FPD-Link III is designed to operate in harsh environments, offering robustness against electromagnetic interference and other disturbances.
Analog Interface Standards
AHD (Analog High Definition)
AHD was designed to offer higher video rates over standard CVBS cable infrastructure; it supports 720p and 1080p, and more recently 4K, over coax cables. It is primarily used for connecting CCTV cameras to DVRs and can support camera control over the same cable used for video transmission (known as UTC). There can be limitations in camera compatibility and configurability, and, since it is not a digital system the quality degrades with increasing cable length. While the implementation cost is very competitive, the image quality is not as good as that available with other technologies.
CVBS (Composite Video Baseband Signal)
CVBS is an analog video interface originally designed for television systems, it is commonly used in legacy systems. It carries standard definition video signals and is compatible with many display devices. The video data is encoded in a single analog channel and is transmitted using standard formats such as PAL, NTSC and SECAM. CVBS has limited data rates and is suitable for shorter cable lengths.
HD-CVI (High-Definition Composite Video Interface)
HD-CVI is a technology created in 2012 which began to see wide release in 2014. It supports video, audio, camera control and power signals simultaneously transmitted over a single coaxial cable of up to 500m. It delivers two HD video formats: Full HD 1080p or 720p through progressive scanning.
HD-TVI (High-Definition Transport Video Interface)
HD-TVI is a digital video interface commonly used in surveillance systems. It supports high-definition video transmission over coaxial cables. HD-TVI offers long cable lengths and provides power over cable, simplifying installation. HD-TVI supports 1080p video resolution over cable lengths up to 500m.
Computer vision video interface standards play a crucial role in enabling high quality image and video data transfer, powering applications that require real-time processing, high-resolution imaging, and seamless integration. The choice of a video interface depends on various factors, including data transfer speed, compatibility, cost and specific application needs. Designers should consider these factors carefully to ensure optimal performance and compatibility when integrating vision systems.
As computer vision technology continues to advance, these interfaces will doubtless evolve and adapt to meet the ever-growing demands of industry. At Active Silicon, we are committed to contributing to these developments and designing our hardware to encompass the best features of each standard and ensure that we provide leading-edge products to support a wide range of interfaces to offer our customers the widest choice for their individual application.