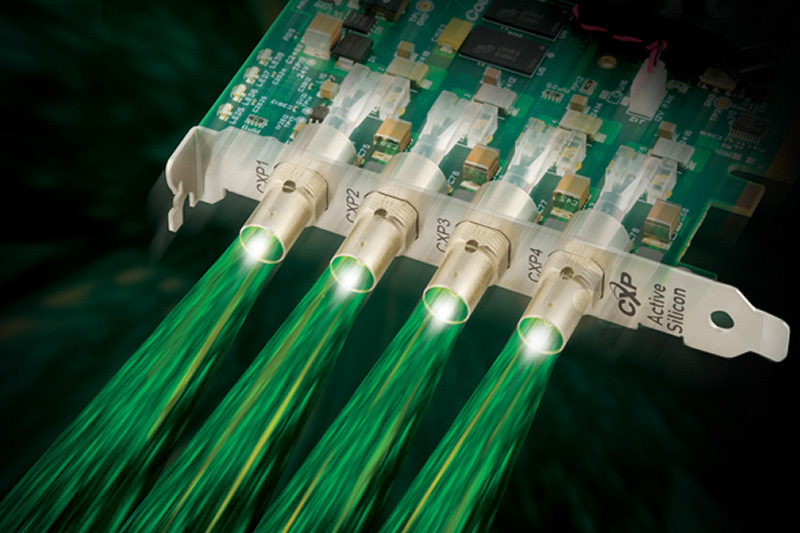 Where there is a camera, there is a frame grabber
January 31, 2017
In his latest article on Novus Light, Dave Wilson reports on PCI Express as a potential advancement in camera interface technologies. At the Vision Show 2016, cameras with built-in PCIe interfaces were on display, available with a copper cable interface with up to 7 meters length or – more costly – fiber link cables from the camera to a PCIe interface card in the PC. With PCIe Gen3 x8, a nominal bandwidth of a stunning 64 Gbps became achievable.
Only a few applications will benefit from the high data throughput and this approach has its price. On the one hand, the costs of the overall system increase due to more expensive camera hardware, specialized cabling and a dedicated PCIe interface card.  Given a frame grabber is essentially an interface card itself, to the user the physical setup is the same.  On the other hand the setup can be considered to have the intelligence of the frame grabber embedded into the camera. This, however, implies that no standardized machine vision camera interface, such as CoaXPress or Camera Link, is available and the system developer would need to stick to the same camera brand to avoid major re-designs in hardware and software.
Although in the early days of machine vision frame grabbers were complicated to use, interoperated with just a certain range of certified cameras, and were quite costly themselves, times have changed for the better. Thanks to enormous advancements in standardization of standards like GenICam and CoaXPress, cameras and frame grabbers of the same standard are fully compatible and work plug'n'play. CoaXPress, for example, relies on low cost coax interconnects, which can operate reliably over many dozens or even a few hundreds of meters. In the upcoming release of the new CoaXPress standard, up to 50 Gbps of nominal bandwidth will become available via four aggregated links.
Consequentially, if your application needs extreme high bandwidths beyond 25 Gbps right now, and you can afford additional costs and dependency on a single camera OEM, PCIe is one of the options you have today. In all other cases, dedicated and well-adopted machine vision interface standards such as Camera Link or CoaXPress are the usual path. Yet, when selecting components for these standards, we advise to ensure the long-term availability of the components and evaluate the expertise of your vendor of choice by requesting in-depth application consulting.