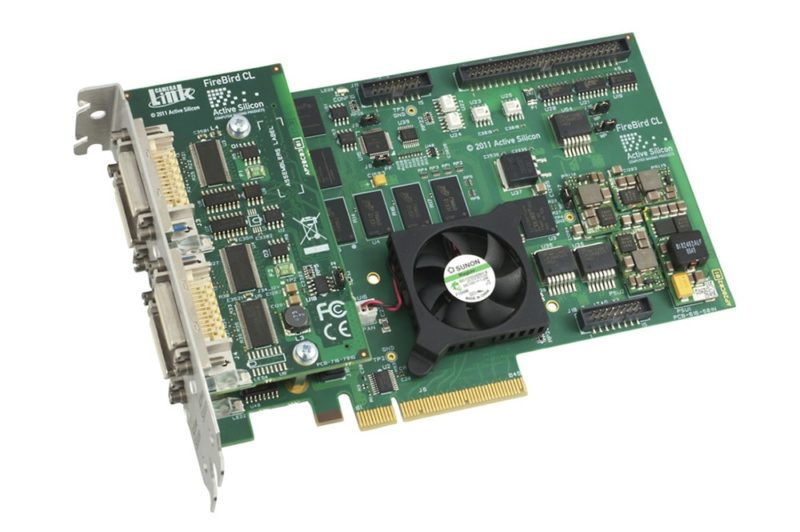 Click image to enlarge
FireBird Camera Link Frame Grabber (2xCLD-2PE8)
Part Number: AS-FBD-2XCLD-2PE8
Supports the latest v2.1 Camera Link interface.
ActiveDMA engine – acquisition without CPU usage.
High speed PCI Express 8-lane Gen2 interface.
Comprehensive I/O.
Supports PoCL (Power over Camera Link).
Standard half-length PCI form-factor.
Supported by the proven ActiveSDK.
Supports GenICam for CLProtocol and GenCP cameras.
Includes GenICam GenTL Producer.
Enquire About This Product
Description

Downloads

Videos
Description
Downloads
Videos
This product is now end-of-life. Please contact sales for remaining stock and alternative products.
FireBird Camera Link Dual 80-bit (Deca) is a member of Active Silicon's FireBird frame grabber family.
FireBird is designed for ultimate performance using Active Silicon's proprietary DMA Engine technology, "ActiveDMA". This technical innovation applies RISC based processor techniques and guarantees zero CPU intervention, high-speed and low-latency image data transfers.
FireBird supports the latest version 2.1 Camera Link specification, including both 80-bit modes: 8-bit 10-tap and 10-bit 8-tap modes – often referred to as Camera Link "Deca", at clock rates up to 85 MHz.  Developed for high-end multiple camera applications, the FireBird Camera Link Dual 80-bit supports capture from two simultaneous Camera Link cameras, which could be two Medium, two Full or two 80-bit cameras.
FireBird is supported by Active Silicon's software development kit, ActiveSDK. This is available as a separate item, and allows rapid system development and integration. It provides comprehensive example applications and optimized libraries, and supports a variety of operating systems via a common API, including Windows, Linux and QNX. Drivers for third party applications are also available such as Cognex VisionPro, HALCON, Common Vision Blox, StreamPix, LabVIEW etc. In addition to functions that control the hardware, the libraries include general purpose functions for the manipulation and display of images. A separate datasheet describes ActiveSDK in detail.
FireBird also supports GenICam for Camera Link cameras which support CLProtocol, including those using GenCP. A GenTL Producer is provided as part of the FireBird driver installation which allows the frame grabber to be used with GenICam GenTL compliant applications.
Further information and compatibilities
Application notes
Specification summary
Camera Link Interface:

FireBird is fitted with 26-way Camera Link MDR connectors and screwlocks as specified in the Camera Link v2.1 specification.  LEDs by each connector show the link status.

Camera Clock:

FireBird supports effective clock rates from DC to the Camera Link maximum of 85MHz, using the Camera Link Strobe (STB) and Data Valid (DVAL) signals.

PoCL:

FireBird supports Power over Camera Link (PoCL) functionality and is able to provide power to PoCL enabled cameras via the Camera Link data cable therefore removing the need for a separate power supply. In addition to this the FireBird implements SafePower, an intelligent sense mechanism which detects the presence of a PoCL camera before applying power to it. This safety mechanism ensures that power is not applied to conventional non-PoCL cameras.

FireBird can supply up to 4W at a nominal 12V to a Base mode PoCL camera, or 8W to Medium/Full/80-bit cameras, as required by the Camera Link specification. Both Camera Link connectors support PoCL, which with SafePower allows the use of any combination of PoCL and conventional cameras.

Buffer Memory:

512 MBytes of DDR3 memory is fitted for buffering between the Camera Link interface and the PCI Express bus.

PCI Express:

8-lane Gen2 interface typically providing 3.4 Gbytes/sec transfer from FireBird to the PC, subject to PC performance.

I/O:

The following I/O lines are provided for triggers, shaft encoders, exposure control
and general I/O:

4 opto-isolated inputs.
4 opto-isolated outputs.
4 TTL inputs, 5V tolerant.
4 TTL I/O, 5V logic.
4 RS-422 inputs.
4 RS-422 outputs.

All these I/O signals are provided on a 50-way header on the FireBird board.

Fan Controller:

The fan speed is linked to the temperature of the FPGA die for optimum cooling and noise level.
Conformance
PCI Express Interface:

PCI Express bus eight lane Gen2 interface to Specification Revision 2.0, with a max payload size of 512 bytes.

FireBird Camera Link Dual 80-bit supports both Short (32-bit) and Long (64-bit) Address packets. It also generates Posted Writes for image data, thus achieving transfer rates in excess of 3.4 GBytes/sec, subject to host performance.

The board requires 16 MBytes of address space.

Camera Link:

FireBird Camera Link Dual 80-bit conforms to v2.1 of the Camera Link specification.

Approvals:

EU

CE-mark for compliance with EMC EN 55022:2010 (class A) and EN 55024:2010 in accordance with EU directive 2014/30/EU.
RoHS compliance to RoHS3 directive 2015/863/EU.

USA

The printed circuit board is manufactured by UL recognized manufacturers and has a flammability rating of 94V-0.
Physical and environmental details
Dimensions:

PCB: 168mm by 111mm.

Overall: 174mm by 111mm.

Width: Dual-slot.

Approximate Weight:

244g.

Power Consumption (typical):

+3.3V
650mA

+12V
910mA

(Measured during simultaneous acquisition from two 80-bit cameras running at 85MHz.)

Storage Temperature:

-15°C to +85°C.

Operating Temperature:

0°C to +60°C (ambient environment).

Relative Humidity:

10% to 90% non-condensing (operating and storage).
Ordering Information
Part number
Description

AS-FBD-2XCLD-2PE8

FireBird Camera Link Dual 80-bit (Deca) frame grabber.

AS-ACTIVESDK-xxx

Software Development Kit for xxx operating system. For a full list of all supported operating systems please refer to the ActiveSDK datasheet, or contact your distributor.

AS-CBL-CL-MPSP-y-xM

Camera Link cable x metres in length, Camera Link (MDR) to Camera Link Mini (SDR/HDR), suitable for both PoCL and conventional cameras.
y indicates different cable type options.

The standard stock length is 4m.

High-flex rating and longer length cables are also available, as well as Camera Link (MDR) to Camera Link (MDR) cables – contact your distributor for details.
ActiveCapture video tutorials
Video 1: Introduction to ActiveCapture
ActiveCapture is a consumer application for camera and frame grabber control that is provided with all FireBird frame grabbers.
Video 2: Setting up a pcf file in ActiveCapture when using a non-GenICam Camera Link camera
FireBird CoaXPress and Camera Link frame grabbers
Frame grabbers from Active Silicon bring real-time, high-resolution image acquisition to your vision system. Learn more about Active Silicon range of frame grabbers, about possible customization and additional benefits by watching this video: